External Doors
Prices starting from: £209.00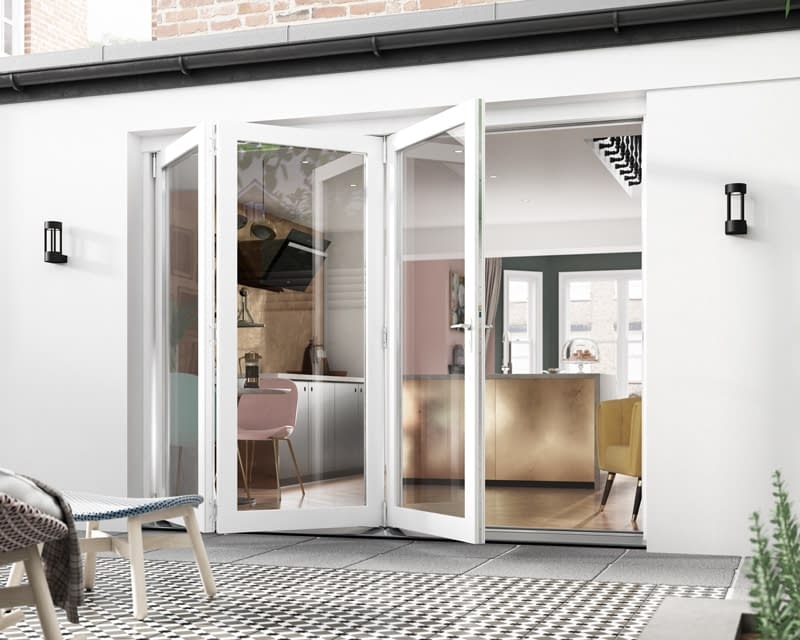 Explore Aspire Door's range of external doors. From beautiful traditional front doors and back doors to our range of contemporary patio doors.
External front doors & back doors
The right front door is an easy way to create a great first impression at your home's entrance. We have a range of traditional and contemporary front doors to chose from with plenty of glazing options. With options like the Westminster Glazed Oak door and some foliage as front door furniture, you can create an enviable look. For more modern options, check out the Newton Glazed Oak door which looks wonderful in more modern properties.
Our back doors collection has beautiful glazing options so you can let in plenty of light to your home. All of our back doors designs have been created to perfectly complement our oak french doors and bi-fold door sets.
Further information about External Doors
External patio doors
If you want to add lots of natural light to your home, a patio door is the perfect external door type for your home. Patio doors are the perfect door type to blur the boundaries between inside and outside the home. Take advantage of the large, toughened glass panes inside luxurious, energy-efficient frames to extend your living space into the garden and floor your home with natural light all year round.
The Aspire Doors patio range can cater to every home type and need thanks to our wide selection of
bi-fold doors
,
french doors
, and
sliding doors
.
French Doors
Our french door type of external doors offers two doors, side-by-side, that are both able to open outwards. This external door type offers a wonderful European look and is available in a variety of oak choices, as well as contemporary aluminium options, such as
Revere Grey French
doors.
Bi-folding doors
If you're looking to save a little space when choosing your new external doors, bi-fold doors are a great option. Bi-fold door panels fold back on themselves in a concertina style so take up less space than traditional french doors.
Sliding doors
Sliding doors give you the best of both windows and doors. With large glazing that can be slid to one side, you can open up your entire home. This is the perfect type of door if you want to maximise light in your home.
All of our patio door styles are perfect for maximising space in your home. They also help to make rooms appear bigger because of how much natural light they allow to pass through.
External Doors for Every Home Style
Whatever location you're fitting your external doors in, Aspire Doors has a size to fit so our products can cater to almost any home or patio. Our external doors range in size between 2-door 1.2m French door pairs all the way up to 6-door 4.8 bi-fold door sets.
Our variety of materials and finishes, from rustic oak to contemporary aluminium frames in modern colour choices gives you the opportunity to find the perfect door set for your makeover project. We provide ourselves on providing the highest quality projects for every homes budget.
All exterior doors from Aspire come with the necessary hardware, including door handles, hinges and security locks. Our doors are designed to be easy to fit and hang, thanks to our high-quality parts and instructions bespoke to all of our products.
Whilst they are relatively easy to install, you still always have the option of enlisting a professional joiner or builder to fit your Aspire external door system. This ensures your door is fit to a professional standard and you can just focus on enjoying the new additions to your property.
The woods, metals and plastics that we use in our manufacturing process are of the utmost quality, delivering long-term style as well as incredible thermal efficiency, wind resistance and security too. The UK has very strict standards when it comes to being energy-efficient and safe; all Aspire products pass every regulation with flying colours. The double glazed doors provide thermal insulation that far exceeds the UK benchmark, helping to reduce your energy bills and keep harsh weather outside.
Our most popular styles are our luxury fully finished engineered oak doors and versatile unfinished pine doors, thanks to their stylish yet durable stainless steel and aluminium fittings.
French Doors Vs Bi-Fold Doors: How to choose?
The choice between whether to choose a
french door
or
bi-fold door
style for your external door normally comes down to space. French doors open outward on a hinge so require patio space for the doors to sit. Bi-fold doors fold to one side of the doorway so are more space-efficient.
Sliding doors
won't take up any extra space as one pane will simply slide behind the other.
Are Patio Doors Safe?
Because of their large glazing, there can be a concern that patio doors are not as safe as solid doors. At Aspire Doors, all of our doors have additional security features to keep your home as safe as possible. We use high quality, toughened glass, which also has a low U-level for extra insulation. Many of our exterior doors, like our
Horizon Bi-Fold Door
, come with multi-point locks for additional safety.
What type of external door is the most energy-efficient?
The most energy-efficient type of external door are doors that combine timber with an insulating foam core. The foam and timber work together to reduce heat loss from the home to almost zero, with the timber also providing a strong, durable and weather-resistant finish.
What is the most common type of external door?
The most common type of external door is a uPVC door. uPVC doors are very affordable,  available in wide a range of styles and designs, and can be fitted with a variety of security features. The material itself however lacks strength and is vulnerable to warping and cracking. uPVC doors are also easier to break into than many other types of external doors.
More secure, and energy efficient external home door options include timber doors, and doors that combine a timber exterior with a foam core.
What are the most secure external doors?
The most secure type of external door is a steel door. However, steel doors are very heavy, very expensive, and are rarely installed in residential homes.
For most homeowners, solid timber doors are offer a much more practical solution to home security. They are much lighter than steel doors, making them easier to install, and they can be painted or stained to match the exterior of your home. Timber doors are also very affordable.
Aluminium doors are also a good security option, as they are very strong and durable, but they are also quite expensive.
Do external doors need to be insulated?
Yes, external doors should be insulated to keep your home warm in winter and cool in the summer. Insulated doors will also help to soundproof your home, which can be useful if you live on a busy street.
How do you insulate an external door?
You can insulate an external door by adding weatherstripping around the door frame, adding an insulating layer to any glass, and applying door strips along the bottom of the door.
High-quality, modern external doors however are built to be fully thermally insulated and do not require any additional insulation. Replacing external doors is an option if your door is no longer providing sufficient insulation for your home.
What is the best type of handle for an external door?
The best type of handle for an external door is a Lever or Lever handle. This is because it is much easier to grip than a knob, especially when your hands are full or if you are wearing gloves.
Another option is a Lever/Pad handle which is similar to a Lever/Lever handle but has a flat plate instead of a lever. This can be easier to operate if you have limited mobility in your hands.
Do external doors come in different sizes?
Yes, most external doors come in a variety of standard sizes, with typical aperture widths (that's the width of the door opening) in the UK standing at 762mm, 813mm and 838mm. However, custom doors can also be made to fit any opening.
What is the best material for an external door?
The best material for an external door depends on your needs and preferences. Some homeowners prefer the traditional look and feel of natural wood timber, while others prefer the low maintenance and versatility of uPVC.
Price and security are other factors that help determine the suitability of different external door materials. Generally, doors made from uPVC will be the cheapest available, with aluminium and steel doors occupying the top end of the market.
For most homeowners, timber offers an ideal balance of price, durability, looks and energy efficiency.
Are wooden front doors in style?
There is no definitive answer, as trends come and go. However, timber doors have been popular for many years and show no signs of losing popularity any time soon. Both classic and contemporary timber door designs are now widely available. Contemporary timber doors can be very sleek and minimalist, while more traditional designs often feature ornate detailing.
What are the most popular front door colours?
Black and white doors are very popular, as they create a strong contrast that can really make a property 'pop'. However, natural timber and wood grain effect doors are ever popular choices, offering a warm, welcoming and classic aesthetic.
What type of glass is best for an external door?
The best type of glass for external doors is almost always tempered glass (and in many cases it's the only legal option too). Tempered safety glass is up to four times stronger than standard annealed glass, and when broken it shatters into small, blunt pieces rather than sharp shards. External doors made with tempered glass are therefore much safer than those made with annealed glass, as there is a greatly reduced risk of serious injury if the glass is broken.
Another consideration with glass in external doors is privacy. For this reason you may want to choose a type of privacy glass such as frosted glass in place of clear glass.
Can all types of external doors be painted?
Most types of external doors can be painted, but it's always best to check with the manufacturer or supplier  to make sure that your chosen paint is compatible with the surface material of the door. External doors made from uPVC or composite materials are usually supplied with a pre-finished surface that doesn't require painting, but if you do want to paint them, then you'll need to make sure you use the right type of paint.
Can I install an external door myself?
It's generally advisable to have external doors fitted by a professional, especially if they need to be trimmed to size, or you're not confident you can carry out the work yourself. If you do decide to install an external door yourself then make sure you follow the instructions carefully and take all the necessary precautions, such as wearing protective equipment and ensuring another person is on hand to assist when needed.
Bear in mind that installing an external door yourself may also void its warranty.
Get in touch with Aspire Doors
We want to ensure all of our customers have the best experience when shopping with Aspire Doors. All of our friendly customer service team are well versed in all of our external door products and are available if you need any help choosing the right style of door for your home. You can visit our
contact page
to find the best way to get in touch with us.
Read more about External Doors