French doors are a very popular option in contemporary homes. Their classic design combined with their balance and symmetry allow natural light to flood through the home. All in a classic style that's been appreciated for centuries.
When you install a set of internal French doors, there's more you can do to make them match the rest of your home. In this post, we're going to go over how you can dress your internal French doors to suit your style.
We have a wide range of  internal French doors for you to shop on our website, all made from premium timber and exuberant materials. All available at low trade prices, check them out and see if you can't snag yourself a great deal!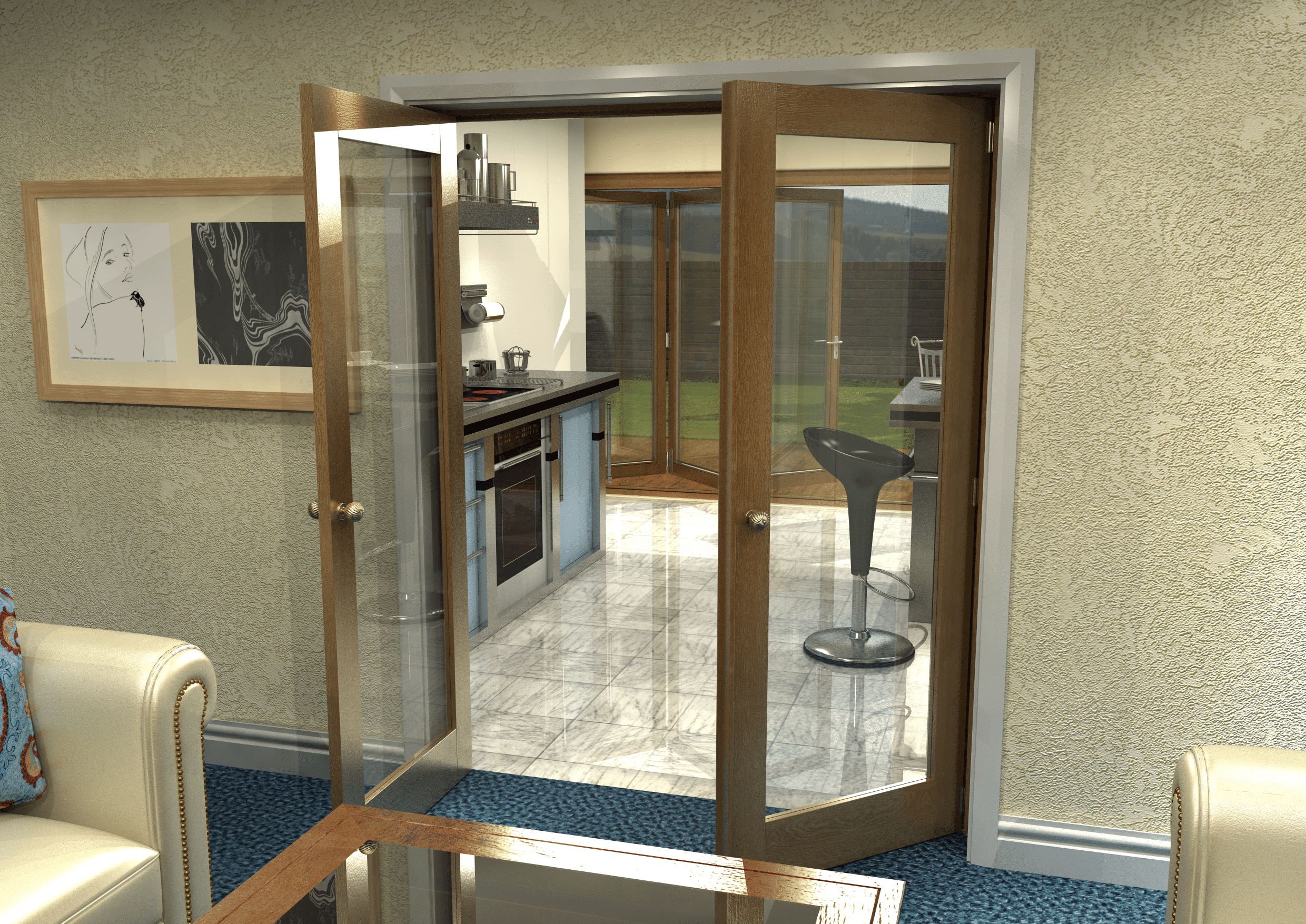 Blinds or Curtains?
For French doors, there are two primary options when it comes to dressing them: blinds or curtains. These two options are easy to install, they're a favourite in so many homes up and down the country and they have differing applications, in both function and style. 
So, do you opt for curtains or blinds?  It's down to your preference. There's no discernible added benefit to going for one over the other really. The curtain and blind options you'll have will be able to filter or block light in some way and really it is a question of style.
There will be some slight differences that will appeal to different people in different measures. For example, blinds will generally be neater. However, curtains are likely to be cheaper to install and you have more options with curtains. 
Some types of blinds will give it a very contemporary, modern look whilst some curtains will achieve a cosier, homely style. You can, of course, go for both curtains and blinds for a layered look in the home.
What Blinds for Internal French Doors?
Blinds are a really good option for internal French doors. You have a fair few styles to choose from. We're going to go over the main three which are:
We'll compare their different pros and cons.
Venetian Blinds
Venetian blinds are made up of horizontal slats. These can be installed to go over each glazed panel of the door. You can then adjust the light by opening and closing the slats or raising the blind entirely, letting all the light in. 
They're good value, they're hard-wearing and you have an option of different material and looks. They are, however, often used in public and professional settings. You're as likely to find Venetian blinds in your office or doctor's surgery as you are in a home, so be careful to choose some that still reflect the style of your interior.
Roller Blinds
These are a very popular choice for French doors. These will roll down from the top of the doors. You will find a huge variety of roller blinds, differing in materials, styles, colours and more.
These are good for colour blocking, you could opt for some marine blue roller blinds for example if you have a bit of a nautical theme going on, or whatever colour is going to pop in the room you're installing your French doors. 
You can also get blackout roller blinds, so if your French doors are in your bedroom for example, or you want to completely shut out any light in the room they are installed, blackout roller blinds are very effective in doing this. 
Roman Blinds
Roman blinds pleat up when they are open, which creates a very distinctive look. There is an air of class about them, casting the mind back to decadent days of old. Their name is an indication of the sort of loftiness they're supposed to achieve. 
They also often come in very luxurious materials too, like velvet. These are really good for creating a refined look in the home. Despite their airs of grace, they're very affordable.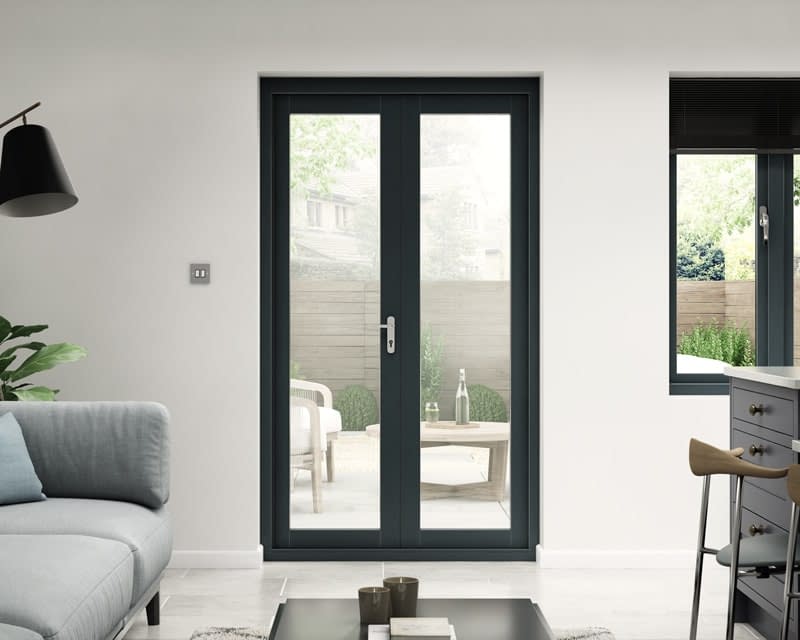 How Can I Dress Internal French Doors with Curtains?
Curtains are always a good option for internal French doors. Not only for privacy, or blocking light, but they are big, eye-catching and seriously contribute to the aesthetic of your home. 
You can choose to have on curtain that goes across the length of your French doors, or two separate curtains. You can be decorative with the curtain rail, using it as an extra detail. 
You can go for a lightweight curtain, if your doors are in your lounge or dining room this is a good option, neutral colours, lightweight materials, these all lend themselves to a modern home. 
You can also go maximal with them too, you can get big grand curtains in bold patterns with a valance installed across them for a big eye-catching feature.  
Blackout curtains can be very useful in the same way blackout blinds are. You can go the other way and get some semi-transparent curtains if privacy isn't really any concern but some light filtering is needed. Lacey voile curtains will cast intricate patterns in the light which can be a nice touch. 
If you do get some lightweight curtains, then you may want to consider investing in some weights so they hang nicely. 
For French doors, you'll want to invest in some tiebacks if you get curtains to dress them in. For full operation and access to the doors, the curtains need to be completely out of the way. 

For more informational guides, see the following:
Shop our full range of internal French doors for a supremely stylish door options for your home. Find them amongst our entire selection of internal doors, with our internal bi folds. We have an expansive range of external doors for you to shop too.
All doors are made from premium timber and exuberant materials. Save money if you buy online today!