Internal doors are available in many different "types" including single doors, double/French doors and bi-fold doors. They also come in lots of different sizes.
Why do doors come in so many sizes?
Internal doors are available in a number of different sizes, however 1981mm door size is the traditional UK "standard" height, while 2040mm is the standard in Europe.
That said, older homes often have smaller doors, while newer accessibility regulations recommend wider doors for better wheelchair access. In addition, some architects opt for narrower doors for walk-in cupboards, or in areas where wall space is at a premium.
Before you make your purchase, ensure you're buying the right size door by measuring the frame carefully.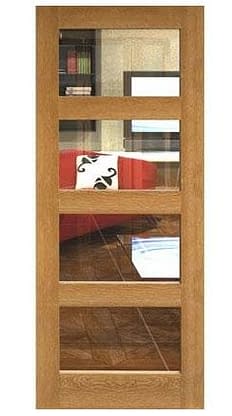 Do doors warp?
This primarily depends on the materials used. Our doors are made from the highest quality materials, with options including engineered cores with oak veneers. This kind of construction is designed to be rugged and durable, but to also resist humidity. Because the doors are made from several pieces of engineered wood, you get the same look you would with hardwood, and the doors still feel heavy and robust, but you'll find that they do not warp in the presence of moisture.
To understand how doors are made, and why some doors warp and some do not when they are exposed to excess moisture, take a look at our guide to the difference between solid and engineered wooden doors.
Wooden doors may swell a little when exposed to moisture. If your home is very humid then you may want to look at using a dehumidifier, or just ventilating the room to get rid of excess humidity. This is because too much humidity can cause damp problems.  That said, a little humidity is a good thing, because dry air can be uncomfortable. However, if your home has a relative humidity of more than 45 percent then using a dehumidifier will help to prevent wooden furniture and doors from warping, cupping or bowing, and could also stop paintwork from peeling or blistering.
How long do doors last?
With proper care, quality internal doors will last a lifetime. Our doors are made from high quality, durable wood that will not crack or warp, while the oak veneers offer a luxurious appearance. Our engineered softwood doors are manufactured to a similar quality.
Our doors come with generous lippings which can be planed or sanded to allow them to fit unusually sized openings, and that also make the doors easy to repaint or stain. If you wish to revitalise the door or give it a new look, simply sand down the existing paint and refresh it with a new colour.
Our hardwood veneered doors have a strong core, and the oak veneer is thick, so you do not have to worry about it being easily dented, or peeling over time.
Better yet, all our doors come with generous manufacturer's warranties, although these do vary depending on the type of door and the finish. You can find details about the warranty on each individual door's product page.
Do internal doors need to be painted?
This depends on the doors. We stock both unfinished and finished doors. The unfinished doors are plain, so they're ready to paint, stain or treat to suit the rest of your decor. The finished doors are pre-treated and can be hung as they are. We also offer white primed doors to make painting your internal doors even easier.
We recommend that you treat your doors with a high quality varnish, paint or stain because this will help protect the door in the long term. You can learn more about how to paint internal doors here. A high-quality internal door should last for many years without needing to be repainted. If the paint starts to flake or blister (which can happen more easily with bathroom or kitchen doors that see rapid temperature changes and a lot of humidity), then you should strip the paintwork and repaint to give the door a new lease of life.
If you don't like the look of a door and the paint job is in good condition, then it is usually OK to simply paint over the top – especially if the new paint is darker than the existing paint.
How much does it cost to deliver and install doors?
Again this varies from company to company, but bear in mind that doors are heavy and consequently, expensive to ship. Low delivery costs will simply mean the price of delivery is included in the price of the door.
At Aspire, all of our prices include delivery within five working days, to any UK Mainland address. If you would like faster delivery, or delivery to a non-mainland UK address, then there will be an extra charge.
The amount included for delivery for a door set depends on the size of the set – for a single door, delivery of £54 (including VAT) is already included in the price, so you will not be hit with the shock of an extra charge when you reach checkout.
Installation is not included in the price, however most customers simply have their builder or carpenter fit their doors for them. If you need any advice or assistance, then give us a call to discuss your options.
All of our glazed doors come with toughened safety glass as standard. This will be clarified on the product page.
If you have any other questions about our doors, how to install them, or how to fix common issues such as sticking doors, then take a moment to look at the guides on our blog. Alternatively, call our team on 020 3744 0704 or use the contact form at the bottom of the page. We would be happy to offer you advice.