External doors are a key focal points of a home's design, and provide an elegant accent to a new patio or a rustic complement to a freshly landscaped garden. Are you considering replacing your external doors?
There are many different styles of door on the market today, and prices can vary massively depending on the size, design, what the doors are made of, and the type of glazing used.
How much are External Doors?
External doors tend to cost more than internal doors, because they must be made from more durable materials, and because security and insulation are important concerns.
UK building regulations dictate that all external doors must have a certain level of thermal performance, and energy efficiency is a priority with every style of external door.
Prices will vary depending on:
Style: Single, wooden doors will usually be more affordable than French doors, and bi-fold doors will typically cost more again (because of their comparative size and more complicated hardware).
Construction materials: At the lower end of the price spectrum you will typically find uPVC doors, while engineered wood with a veneer offers a balance between affordability, durability and appearance.
Hardwoods like oak tend to cost a little more, but for that you get a premium, more robust feel.
Aluminium framed bi-fold doors would be at the upper end of the price spectrum, but for the extra money you get something that resists weathering and requires next to no maintenance.
Size: A single back door will cost less than a pair of French doors. Three-door bi-fold setups cost a little more, and a six-door, 4.8m bi-fold setup would cost more still. The extra door panels mean a greater material cost, and there are costs for the complexity of the design too – French doors are simply formed of two single doors fitted opposite each other.
Bi-fold doors hinge, fold and slide, which means that they need to be fitted to a track, and installed properly to make sure they move smoothly.
Finish: External doors are often sold 'prefinished' or 'unfinished'. Prefinished doors will cost a little more because they are ready to install and go – you are paying for that additional work and the paint/stain too.
Unfinished doors will cost less up front, but you will need to paint the door yourself, which means supplying primer, paint or stain, tools (sandpaper, rollers, brushes, etc), and of course a significant time investment. Prefinished doors typically come with a much longer warranty from the manufacturer too.
Glazing: Even basic French doors will come with double glazing these days, to meet modern building regulations. The energy efficiency of modern doors is described using something called the U-Value, which is a measure of how good an insulator a given material is.
The lower the U-value, the better the insulation. There are some bi-fold doors that are triple glazed, and you can get many different types of double glazing too. This can mean different gases used in the gap, thermal breaks added to reduce the amount of heat conducted through the frame, and thermal coatings added to the glass itself.
These added extras can help to not just keep heat in during the winter, but also to stop your home getting uncomfortably hot in the summer.
Quality: It's safe to say that any external door you purchase from a reputable UK supplier will be secure and have decent thermal performance, but one thing you might want to think about is the little added extras – the build quality of the hinges and the seals around the bottom of the door, the type of hardware supplied with the door (if you opt to get hardware with it), and the quality of the finish.
You want something that looks good, and that will last for many years, because even a lower-cost door is still a big investment and something that will create a lasting impression on visitors to your home.
You might also want to consider the door installation cost. This is because it's critical to get an exterior door installation right. Get it wrong and the energy efficiency and security of the door will be compromised. Unless you're really confident at DIY you'll want to factor this cost into your purchase.
What Are the Cheapest Exterior Doors?
Bi-fold doors start at a little over £800 for a 1.8m, three door configuration with double glazing and a timeless wooden frame. You can get folding, sliding doors in a range of different finishes and configurations. A three-door configuration would give you a nice, large opening compared to a single door or French door. If you want to extend the opening further, up to 4.8m, then you can expect to pay more.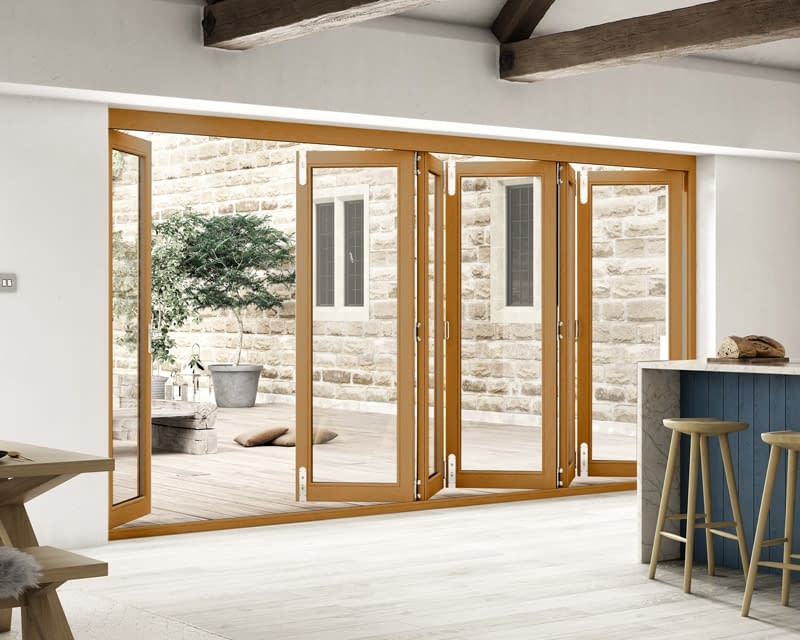 Shop Our External Bi-Fold Doors
Simple, classic French doors start at a little over £500. For your money, you get toughened double glazed windows, a robust, solid multi-point locking mechanism, and wooden frames with a simple, elegant design.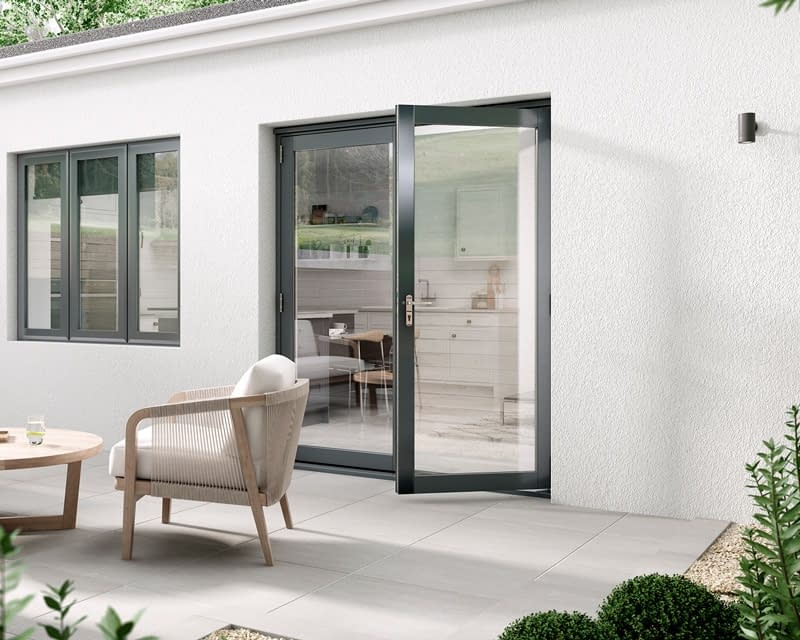 Check out our External French Doors!
For those wondering where to buy cheap exterior doors, single doors are available for less than £200 for a door with a large glass panel, and prices go even lower than that for solid doors.  You can purchase single external back doors that are made to match the French doors and bi-fold doors, so you could have French doors at the front, and then a more modest rear door that matches the rest of your property.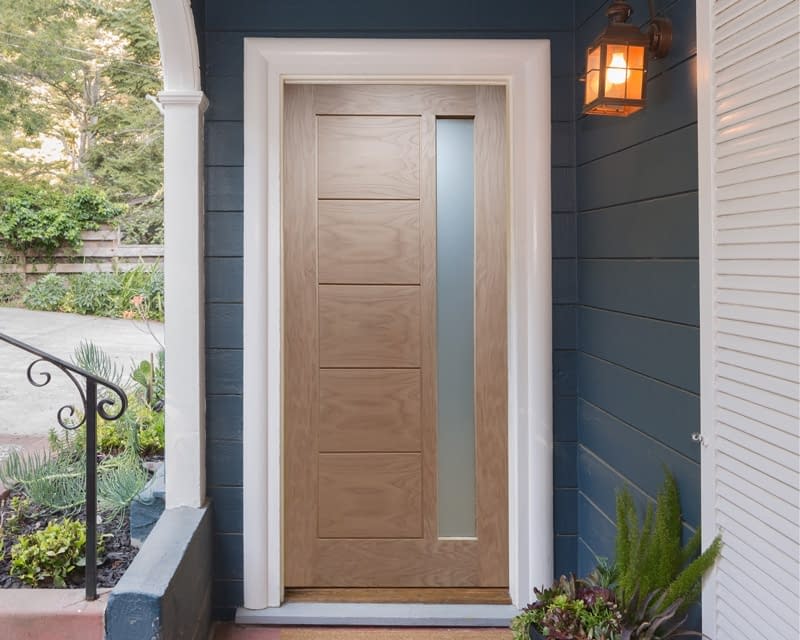 Shop our External Front Doors and Back Doors!
Whatever your budget, you should be able to find external doors that will work for your property. Single doors tend to be more modestly priced than other varieties, with French doors being slightly more expensive, and bi-fold doors costing more again because of their size and the comparative complexity of the design.
It is well worth paying a little extra to get higher quality glazing, because the better insulation will help keep your heating bills down in the long run. Higher quality wooden frames will last longer than uPVC frames, and have a timeless look to them, which makes them well worth the investment.
If you live in a conservation area, or have a period property, then there may be restrictions on the type of door that you can install. In most cases, however, you do not need planning permission to fit a new door, so you can pick and choose between French doors, bi-fold doors or a single door, depending on your personal tastes.