Your external door is one of the first things visitors will notice about your home, especially if you don't have a large garden area.
A stylish, modern door will offer a grand entryway, and will set the tone for what people expect to see when they come into the property.
If you have a large patio, then French patio doors are a popular option, because they open up into a large, open-plan area. Bi-fold doors and single doors are popular where space is at a premium, and robust, painted timber doors can give a stunning, slightly rustic or traditional look.
Which of those three options you should choose depends on where you live and the type of property you have, as well as what you're looking for; i.e. whether you want the best exterior doors for energy efficiency or the best exterior doors for security; but all three options have a place in modern home design.
What Are the Best External Doors for Patios?
External patio doors feature large windows, which offer lots of natural light. They can give you a beautiful view of the garden, and when fully open, provide easy access to and from your home. Patio doors are wider than standard single doors, and can open fully to provide easy access to and from the property. Most patio doors are either French doors or bi-fold doors.
French Patio Doors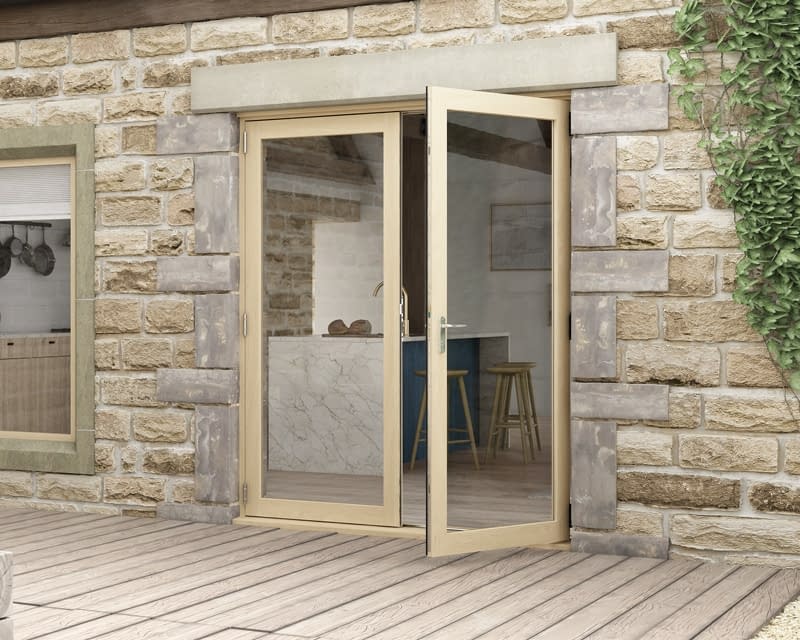 When most people think of patio doors, they think of French doors. These are double doors, often with multi-paned windows. French doors have one locking handle, and one 'dummy' handle. They open out onto the patio to give a nice wide space and easy access to the house.
French doors have a lovely rustic feel. They can be made from wood or uPVC, and they usually have double glazed window panes for both sound and thermal insulation and for security. They are the traditional option, and for good reason – they look beautiful, and perform well, too.
French doors offer good security, and if they are properly installed and maintained then they offer good draught protection and insulation, too. In recent years they have become popular than sliding patio doors, because they can be installed in any property – there's no requirement for a large cavity or space on either side of the door.
There are French style doors that are only slightly bigger than a single door opening (think of these as two just-over half-width doors), or, more commonly, you can install them in areas where you have a large opening and want two standard sized doors.
For very big openings, you may opt for two standard sized door leaves, and then sidelights.  Remember that each door opens onto the patio, so you would need space on either side for the door to swing.
Bi Fold Doors for Patios
Bi-fold doors tend to have a much larger glass area, which means that they let even more natural light through than French patio doors, and offer unobstructed views of the garden or patio.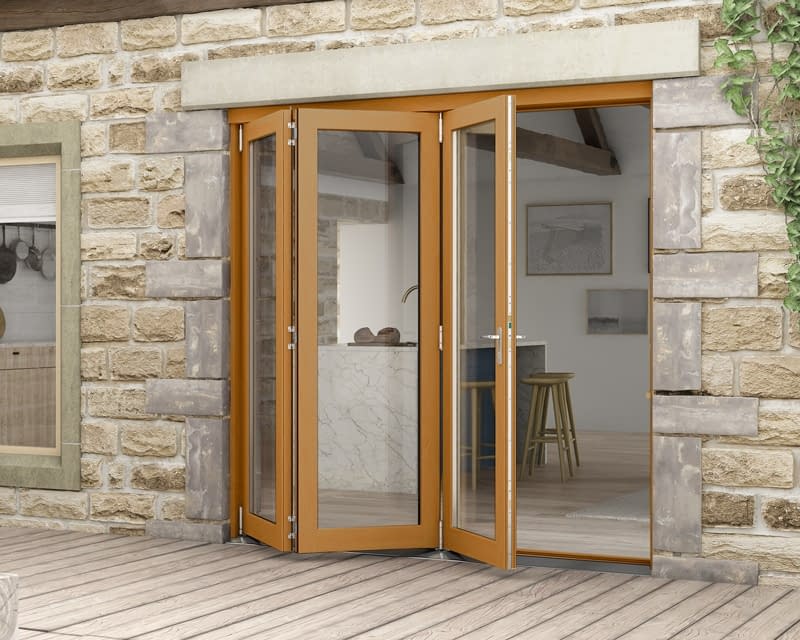 These doors come in a range of different widths, starting at three 'leaves' wide, and going up to five or six leaves wide. The doors are arranged in a way that allows them to slide open, folding back onto each other.
Usually, there is one door that acts like a normal door, while the others fold. The way the doors are arranged is written out to show which doors are on each side – so with a 3+1 configuration, there is one 'normal' door, then three that fold back on each other. With a 5+0 configuration there are five panels; five on one side, and none on the other.
Bi-fold doors are versatile and take up less space than French doors. They are popular not just as patio doors, but also for internal doors in a more open-plan arrangement. There is a modest space requirement with folding doors, but it is much smaller than it would be with other options, since the doors fold onto each other and run along a track to the side of the wall.
In addition, you don't need to open the doors all the way every time you use them. If you are simply going in and out of the house, moving one leaf or the standard door at the side would suffice. The option to fully open the doors is there, though, for when you want an open plan set up.
What Are the Best External Doors for Space Saving?
If space is at a premium and you want to make full use of your patio, then you will naturally want to look at either single doors, or space saving bi-fold doors, over French doors.
Bi-fold doors are a great option if you have a large space and want a bigger door opening, but you want to make full use of all of your available space. Single doors, in contrast, are a simple, effective and modest solution if all you want is a small back door to your garden or yard.
Many people opt for French doors at the front, and then a smaller, single door at the back if they don't have a garden they want to show off with bi-fold doors.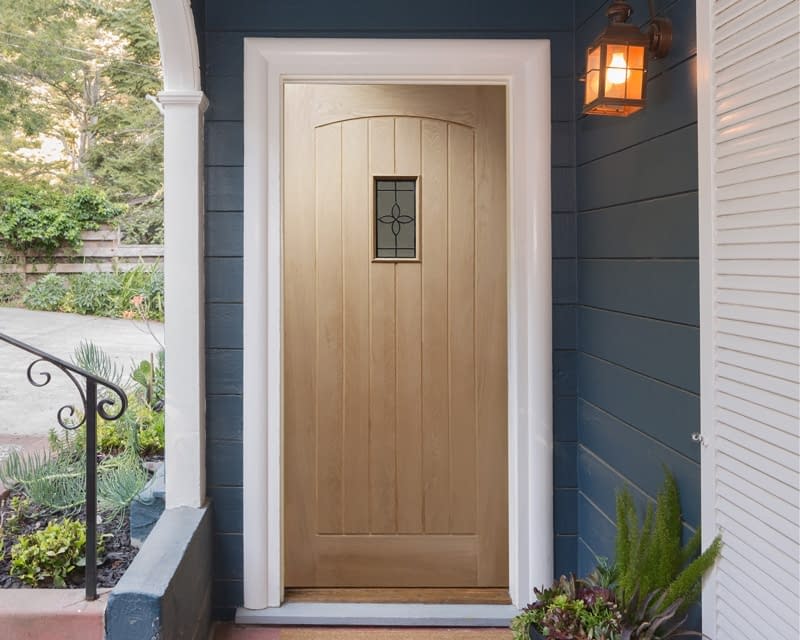 What Are the Best External Doors to Paint?
Any door frame could be painted, but single doors tend to feature more wood and less glass, which means there's a larger surface to paint. Timber doors look stunning when painted or stained, and they can really stand out as an accent to the rest of the property.
Painting your back door the same colour as your guttering and window ledges gives you an exterior design that really 'pops' and that will catch the eyes of passers-by. It's those little details that can make the difference between a property that blends in and one that stands out on the street. Here's our guide on how to paint your external doors.
For more helpful guides, read the following: