Internal bi-fold door systems are an eternally popular door choice and it's easy to see why.
They are a simple way to open up your home, making it a happy, sunny place where energy and light flow together. They can also make the high traffic spaces of family homes easier to navigate. Especially when your arms are full of clothes, toys or food.
The decision to install a bi-folding door system might be an obvious one, but once it's made there are plenty of other choices you still need to settle.
When should you use a bi-fold door?
There are no hard and fast rules about when you should or shouldn't use internal bi-fold doors. There are many benefits of bi-fold doors that they will bring to any room they feature in.
That said, one thing people do question is when are bi-fold doors and sliding doors better for your doorway? Again, this is often down to preference but you should always consider the space where you're installing the doors. Bi-fold doors open out completely, giving you a much wider opening and completely breaking down the barrier between rooms. 
In contrast, sliding doors have a more limited aperture, and won't give the same sense of flow. However, they do open completely within the door opening and need no extra space. You can only install bi-fold doors as long as they don't cause an obstruction when they open. A narrow hallway, for example, might not accommodate bi-fold doors.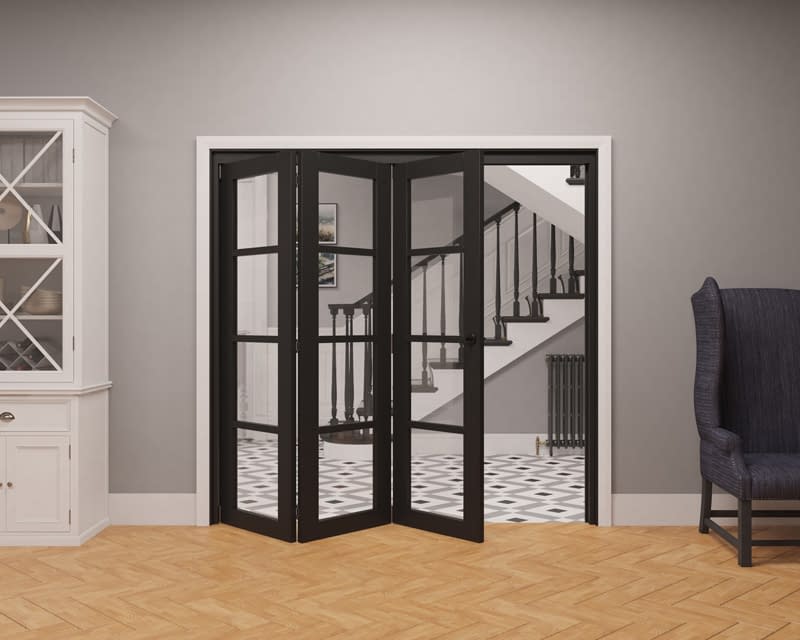 How do you choose internal bi-fold doors?
If you do decide that bi-fold doors are the right style of door for you, there are still many decisions you need to make in order to get the perfect doors for your home. Some decisions will be entirely beyond your control, like the question 'what size bi-fold doors do I need?' Other choices will be guided by your practical requirements such as the material the door is made from, and the finish of the doors.
Then there will be the fun decisions. Picking the colour, material and style of your doors to help you tailor them to your home is usually an interesting but hard choice to make.
Here are a few things you will need to consider when you shop for internal bi-fold doors.
If you are replacing existing bi-fold doors, you will need to measure up for your replacements. If this is the case, you can check out our guide on bi-fold door sizes for help.
Alternatively, if you're starting completely fresh with your doors, you will obviously have a lot more freedom in choosing a size. 
When it comes to picking the number of panels, a lot of people seem to be drawn to having two sets of doors that open in the middle.
Maybe this setup will work for you. But it is always worth considering having all doors open on a single side. It is sometimes said that the small hassle of still having to open two doors to leave your door completely clear, can take away from the fully flexible experience of bi-fold doors.
Where To Put The Door Tracks
Like all internal doors, bi-fold doors are available in a choice of finishes, depending on what you need and how much effort you would like to the final look of your doors.
Fully finished (or prefinished) doors will be delivered to your home ready to install. They will already be looking their best, sealed to resist moisture, dirt and damage.
These are a great option if you don't want the hassle of finishing your doors yourself, and are happy to stick with a classic colour such as white, black or oak.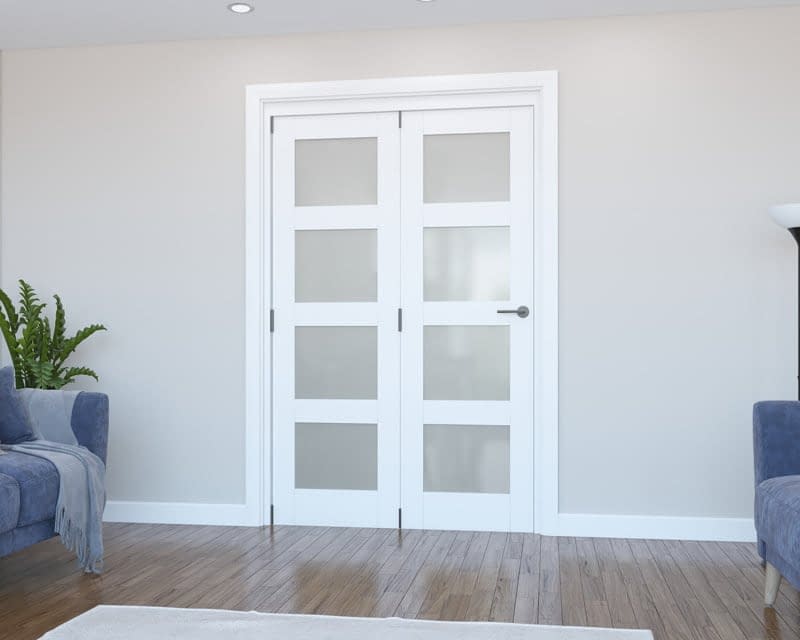 If you want a little more flexibility in the final look of your internal bi-fold doors, then primed doors will make a good option.
These doors are ready to paint, with a primed surface that means your paint will go on quickly and easily without the need for too many coats or touch-ups. Primed doors are perfect for turning into bright blocks of colour that will contrast beautifully with neutral walls.
Unfinished doors come with a completely raw surface. They are the doors to choose if you want full flexibility to match your door to your interior. Like primed doors, they can be painted, but internal bi-fold doors with a wood veneer can also be stained or varnished to preserve the beautiful wood grain and to help them fit into traditional interiors.
A decision linked directly with your choice of finish will be what colour doors you want.
If you're going for a rustic or cottage style in your home, oak veneer bi-fold doors will give you a modern door design that suits a country interior. This is the classic internal door colour though, and it has the flexibility to fit perfectly into any interior.
In contrast, a contemporary or minimalist aesthetic could be beautifully complemented by the addition of monochrome doors. A set of gloss white bi-fold doors will help emphasise the light, bright feel that the doors bring to the room, even when the doors are shut.
And if you are into the current trend for industrial design, black primed bi-fold doors, particularly glazed ones, can slip seamlessly into this style. They make a great alternative to expensive Crittal style windows, with their sharp black lines.
Glazed Bi-fold Doors Or Solid Panels
One of the biggest decisions you will need to make when choosing your bi-fold doors is whether you want glazed doors or solid panels.
It might not be a difficult decision for some to make. When you choose bi-fold doors to maximise the sunlight streaming through your home and to help it feel as open and airy as possible, picking internal bi-fold doors with glass panels will seem the obvious option.
For others, the reason they pick bi-fold doors is the ability to close the doors and separate the rooms to maintain privacy. If this is the case then obviously solid panels will be a sound choice, as they will create a true barrier between the rooms.
If you're looking for a compromise, where natural light can still flood through the doors, but visibility is obscured, then internal bi-fold doors with frosted glass are a wonderful middle ground.
Another option is to pick doors with smaller glass panels. This can also add an extra decorative level to the design of the door.
It can also help the doors fit into the design scheme of a room. If you're trying to build an industrial style for your home, a black frame with multiple smaller glass panes echoes the appearance of the large leaded windows that dominate this aesthetic. Whereas the same configuration in an oak veneer will sit neatly within in a cottage style home, echoing a vintage window with muntins.
Curtains, blinds or bare glass
This might seem a strange thing to consider before you've even purchased your bi-fold doors. However, when it comes to choosing internal bi-fold doors you should decide whether you want any dressing for them before you order.
Due to the way they open, putting curtains or blinds around the doorway of a bi-fold door is usually impractical. There is little space for a curtain rail, and the open curtain will often be visible. If you opt for blinds they might get caught up in the workings of the door.
So if you would like the extra privacy of blinds for glazed internal bi-fold doors, make sure to order doors that have this feature built-in.