Having a top-of-the-range front door is great but the hardware that you use is just as important. There's no point having a durable and sturdy front door with a cheap handle and locking system. If you're investing in your front door, put a chunk to one side for your door's hardware.
There is an abundance of hardware to choose from for external front doors. Hardware comes in a variety of colours, materials, finishes, and styles. Do you want a yale locking system as a backup for your main lock? Do you want a handle or a knob? Do you want a stylish brush-finished aluminium handle or a country-cottage style black doorknob? The possibilities are endless!
What Is Considered Door Hardware?
Door hardware is also known as door furniture, which means that door hardware is simply attachments that you add to your door to enhance its functionality or appearance.
Hinges

Locking system

Doorknobs

Door handles

Accessories such as a door chain or door stop
Usually, your door will come with the correct hinges. The locking system, doorknobs and handles, and door accessories will be extras that you can purchase to personalise your door.
As a start, we'd suggest purchasing a multi-point locking system and the door's hinges. These are the two most vital parts of your door. The hinges will provide easy installation, and the multipoint locking system will usually come with the correct handles for the locking system to operate. If the locking system doesn't come with handles we'd advise that you purchase your handle or knob alongside the locking system to ensure the handle fits correctly.
Why Is Door Hardware Important?
The hardware that you choose for your external door could be the reason you become a target for burglars or not.
By purchasing inexpensive hardware you run the risk of your external door failing against force or the lock being picked.
For optimum security, we'd advise that you purchase a lock in addition to your main lock; whether that's a door chain or a separate yale lock. This doubles your chances of the door holding against an attack.
Ready to change your locks? Check out our guides for Choosing the Best Front Door Locks and Front Door Lock Replacement.
Can You Use Internal Door Handles Outside?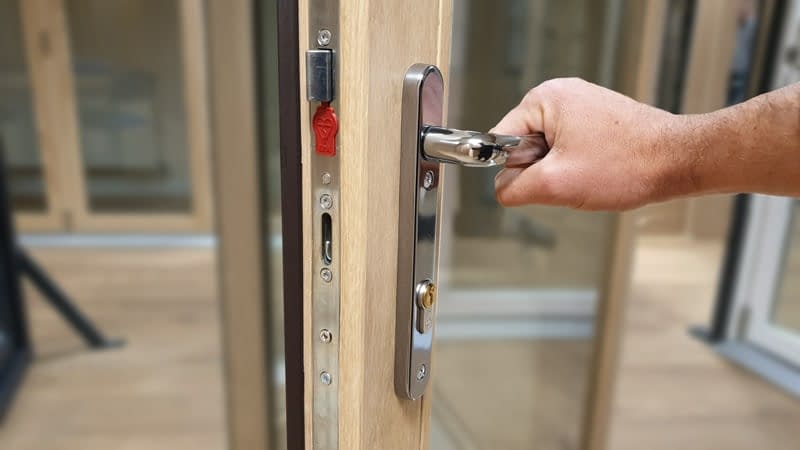 While there is nothing to prevent you from using internal door handles for external use, we'd advise that you refrain from doing this.
Internal door handles aren't built the same as external handles. They tend to be more flimsy if they're designed for internal use. Internal door handles also won't be protected from the elements; it's highly likely that if you use an internal door handle for an external door, the handle will quickly deteriorate during cold and wet weather. While it may save you a bit of cash in the short-term, you'll likely need to replace the handle fairly quickly after installation.
What Is the Best Entry Door Hardware?
There isn't a best for external hardware; however, there are definitely things you should consider purchasing:
The material that you use can alter the hardware's lifespan. We'd advise that you purchase a handle made from a high-quality material like aluminium.

If you want to add a doorstop to your door, ensure that your door is suitable first. If you attach a doorstop to a door that can't handle being manipulated you may end up damaging the door and ruining its performance.

Research brands and read reviews for your locking system before purchasing. Expensive doesn't always mean the best. Make sure that the locking system you choose is right for you and the type of external front door that you have.
External front door hardware not only needs to look good and match the aesthetics of your home's exterior, but it should also increase the durability and security that the door offers. Don't compromise quality over cost; it's not worth it.