Some people have very fixed ideas about where they should use bifold doors. They are often considered purely an external door, a way to open your home to your garden and allow fresh air to flow into your living space. 
But this misses many of the wonderful benefits of bifold doors. They make an incredible choice for internal doors as well. They can help you draw together a living room and dining room, a bedroom and an ensuite, even a conservatory and a kitchen, to help your home feel lighter, brighter and bigger.
Are internal bifold doors a good idea?
Installing an internal bi-fold door system can completely change the way you use your home without the commitment of removing any walls.
By creating a large opening between two spaces, you increase the flow of energy and natural light between them. If you have small rooms, you can help them feel twice the size by installing bifold doors.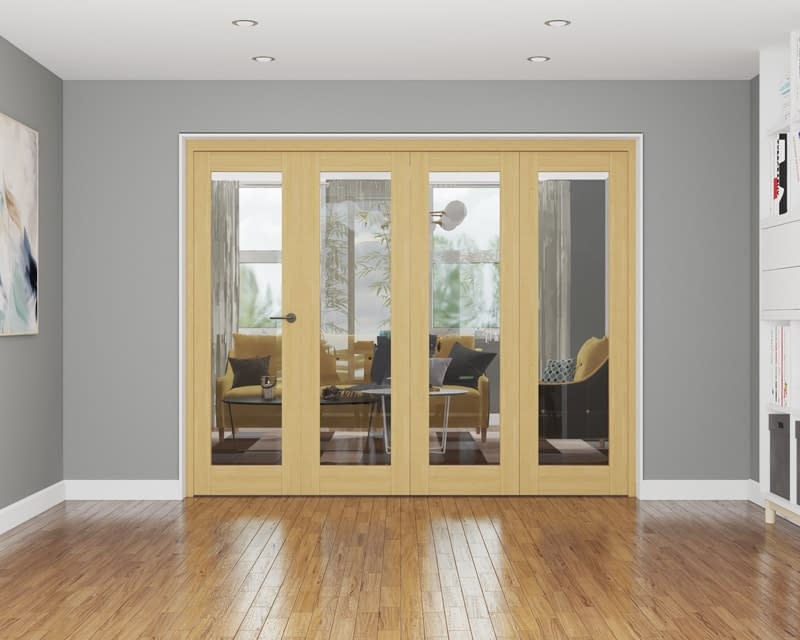 Can you fit bifold doors to a conservatory?
Conservatories could be the best place to use bi-fold doors. They are usually designed and situated to be soaked in sunlight during summer and capture the scant rays that appear during winter.
Using bi-fold doors to lead in from your home to a conservatory will help you share this sunshine through the rest of the house. Using doors with glazed panels will help you catch views of your garden throughout your home too. Even with the doors pulled shut.
The one thing you should consider before investing though is do you need external bifold doors on a conservatory?
Unfortunately, there is no easy answer to this. It will depend on the energy efficiency of your conservatory. Take a look at the relevant building regulations before you start looking for your doors.
Can you use bi-fold doors for the kitchen?
Kitchens can often be one of the smallest rooms in the house, where space is at a premium. And with walls stacked high with cupboards, natural light can also feel scarce.
For this reason, many people move towards an open-plan kitchen/dining space, sharing the square footage to help both rooms feel bigger. This isn't always the best solution though.
Kitchens are busy, noisy places and however good you are at cooking, they usually feature some intense smells. Even the delicious scent of slowly simmered spices loses its appeal when it hangs around till the next day. And no one wants to relax in their home with their nose stuffed with stale smells.
Using a bifold door in your kitchen gives you the best of open-plan living but allows you to shut the kitchen off when needed. Whether it's to keep kids out and away from hot stovetops or to keep the fragrance of frying fish away from your sofa, using a glazed bifold door in your kitchen gives you the best of all worlds.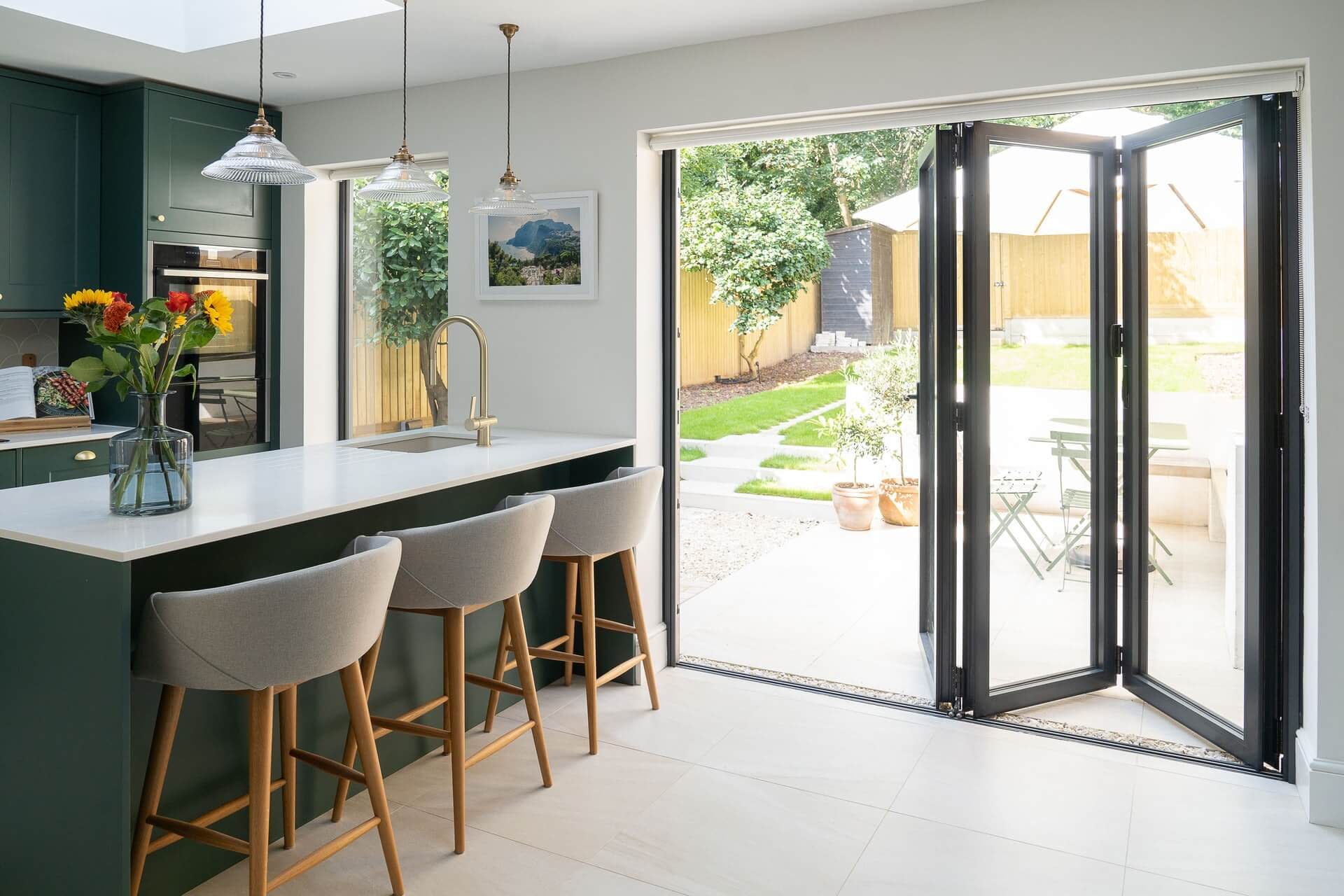 Is a bi-fold door suitable for a bathroom?
The bathroom is another small room that could benefit from the flexibility of a bifold door. They are often lacking in windows and light too.
Despite being small, there will always be times when your bathroom needs privacy from the rest of your home. Solid panel bifold doors in your bathroom give you the opportunity to switch between a bright flowing space and a safe place when the door is shut.
Using bi-fold doors for bedroom spaces
The bedroom is another place where your desire for a bright, airy flow for your room will be tempered by a need to occasionally block the world out. Whether you live alone and want to keep early morning sunlight from waking you before you're ready, or whether there are other people around who could disturb your sleep, there will be times when you need absolute peace, quiet and darkness.
Installing an internal bifold door in your bedroom means you can balance both these benefits neatly. As with a bathroom, you probably won't want to have glazed panels in your doors, though you can fit curtains to the panels of the doors themselves to keep the light out.
Bifold doors make sense for use inside the bedroom, as well as to create an impressive entrance to your room.
Internal bifold doors for wardrobes
If you've got built-in cupboards or a walk-in wardrobe, bifold doors are a great way of turning your functional spaces into a design feature, which the decorative panels. You will also be able to match them to the look of the other doors in your home, helping them fit in seamlessly and feel like natural space instead of furniture.
Many people will plump for sliding doors on built-in wardrobes, but they will mean constantly chasing your doors open. Bifold doors will allow you the joy of opening your wardrobe right up, so you can consider all of its contents at once.
Where would you like to use internal bifold doors? ​
Internal bifold doors are a really versatile choice. There are few rooms in the house that would benefit from the free flow of movement and sunlight that an open bi-fold door provides.
Whether you're taking stacked plates through to the kitchen, tidying toys from the conservatory to the living room, it's always easier if there is no door to struggle with when your arms are full.
With all the design options available, different woods, metals, weights and glazing, you can tailor the door to fit the vibe of your home and make your doorways work for you.