Internal French doors are a fantastic option for the home,. They can really revolutionise a space, bringing two separate parts of the home together in a stylish and contemporary way, allowing natural light to flood into the room. 
Their design has been favoured since their inception centuries ago, with their balance and symmetry shining throughout the years. They are still a very popular option to this day, and they can also be a striking feature of the home in their own right when you know what you're looking for.
So, in this post, we're going to go over how you might go about choosing an internal French door. We'll look at three options: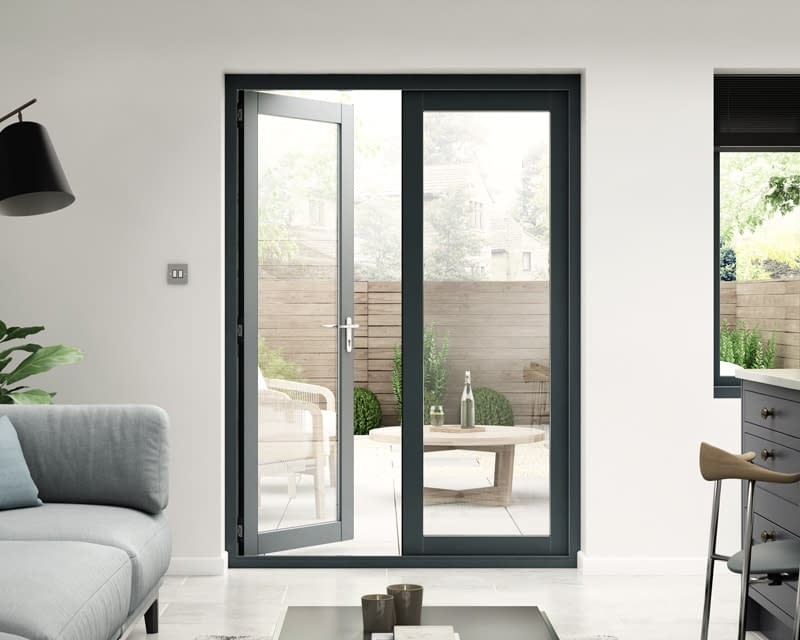 How Do I Choose the Right Material for My French Doors?
So there are a few options for French doors. You can get them in the following:
uPVC

Aluminium

Timber

Engineered Wood
uPVC and aluminium French doors are preferred if they're being installed externally. These materials naturally lend themselves to be on the exterior of the home, but they tend to not be a good option for internal French doors. 
If your French doors are going to be separating, say, an orangery or conservatory from another room of the house, then a uPVC or aluminium door could work well in that setting, but generally they're better suited to the exterior. 
For internal French doors, the favoured material is engineered wood. Unlike hardwood or softwoods, engineered wood doesn't warp as easily. Hardwood and softwoods doors aren't flimsy by any means but they are more receptive to warping over time than engineered wood.
Engineered wood also offers that authentically wooden feel whilst offering strength, thermal efficiency and affordability. 
Your wooden doors can be painted over too, so if you're not too keen on how the wood would contrast with the rest of the room, you are able to modify them so they match. 
If you are going to thinking about painting the door before you hang them, then think about getting an unfinished or primed door. These will require a bit more work when you're installing them but you have the widest modification options. Alternatively, buy a fully finished door if you're not going to make very minor or no changes at all.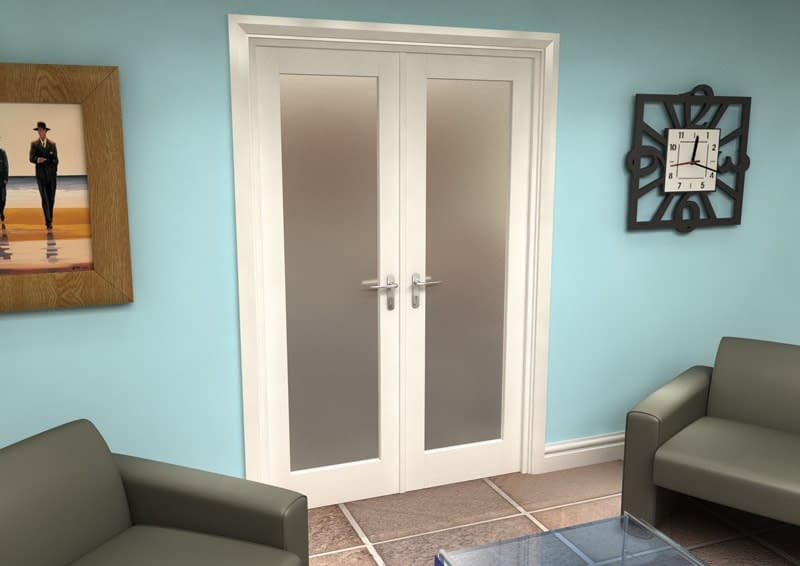 What Are the Designs for Internal French Doors?
After you've landed on which material your set of internal French doors are going to be, next you should think about their design. You can get French doors with full length glass panels in them, much like our internal bifolds. 
Alternatively, you can get French doors that are made up of several much smaller lights. These give it that symmetrical and intricate look and you can even customise the lights so that they are in rectangles, circles, squares and so on. 
On top of that, consider whether your set of doors would benefit from transom windows and sidelights for that extra burst of light. 
What Are the Glazing Options for Internal French Doors?
There will be some kind of glazing for your French doors and you can also customise this to match your style. There are four main options with French door windows:
The first option is the standard, clear glass. This is your most likely choice, French Doors are generally bought for their light spreading abilities and you need clear glass to do this. If they're going in an entertaining area, then clear glass is often preferred. 
Next is frosted glass which has its benefits. If you still want some privacy between the rooms, or the light coming through the French doors would be too intense, you can get frosted glass to counteract it. It will let some light through and actually looks great when the sun strikes it. You may be better off using blinds when you need to filter light instead of permanent frosted glass however. 
Etched glass is purely decorative, and will also dull the light coming through the windows as well. A popular choice is to get any transom windows and sidelights in decorative etched glass and keeping the door glass clear. This can be used to great effect.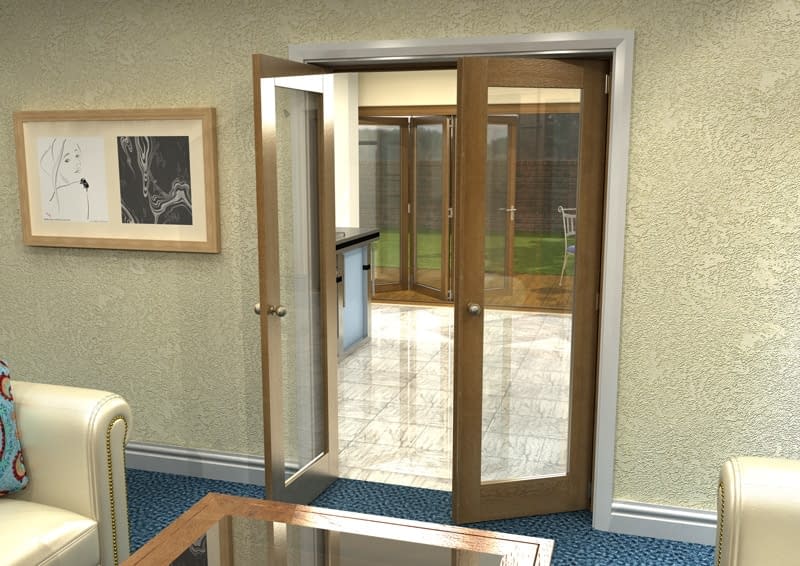 For more helpful information on our internal French doors, see the following:
For our full range of internal French doors, shop our selection on the internal doors page. With a wide choice of external doors, we can supply doors for whatever project you're working on, with options to suit any budget and interior. Save money if you buy online today!