Internal Door Handles
Prices starting from: £12.00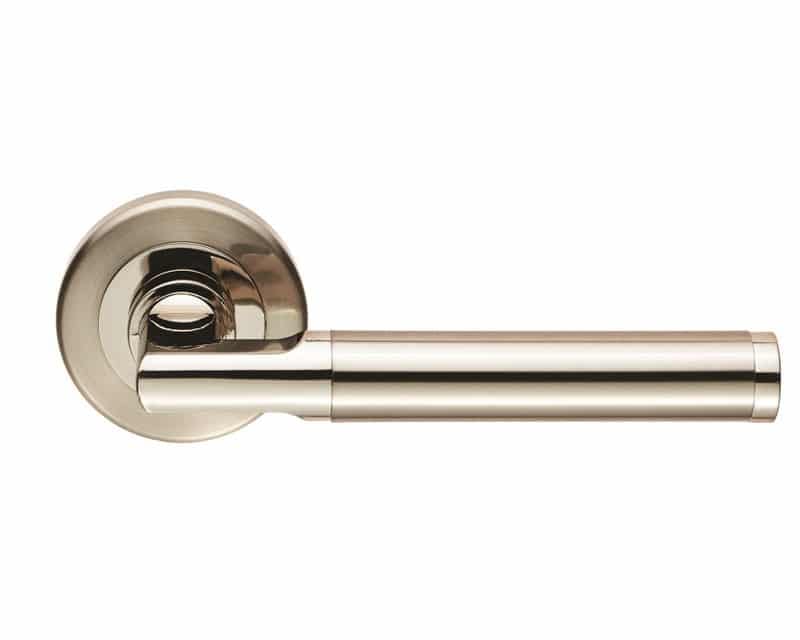 The perfect door handle is the finishing detail to your internal door set, so select the ideal style from our range of options that truly compliments your home.
Our lever handles on round roses offer a sleeker, more contemporary look to older backplate designs. This means the available handles are equally suited to new builds as they are to traditional properties.
Choose from polished nickel to match the exising handles in your house or opt for satin nickel to match the hardware supplied with our internal bi-folds and internal French doors.
Further information about Internal Door Handles
What Are The Benefits Of An Internal Door Handle From Aspire?
When picking out door handles, your initial instincts might be guided by function. You want a handle that is comfortable to use, with a lever that sits comfortably in your hand and a smooth action that is easy on your wrists.
At Aspire Doors all our door handles offer these functional benefits. However, a door handle is more than just a practical addition to your internal doors. It is a stylish finishing touch that can complete the look of your interior door.
From matt black door furniture to match an
industrial-style bifold door
to a flash of polished chrome contrasting with a pair of crisp
white French doors
, a handle is part of a door's personality. Picking the right one can make a big difference.
Internal Door Handles To Suit Every Home
There's no point poring over a wide variety of door designs to find the perfect one for your home if you're just going to finish it with the first handle you see.
As much as you need your door to fit seamlessly into your interior, your door handle needs to suit your design dreams too. Whether you're looking to complete your period project with a brass doorknob or finishing your minimalist style decor with a polished chrome lever-on-rose, you want to find one that matches the overall look of your room.
Modern, traditional and flexible designs
We stock handles in a number of different styles, all chosen specifically because they add a beautiful final flourish to our range of internal doors.
They all feature a round rose design, to help minimise their impact on the door and keep them looking sleek and understated.
Matt, Polished or Satin Finishes
Our handles are also available in a range of materials and finishes. Whether you're looking for polished chrome to finish your bathroom door, or a sleek matt black handle to match new bifolds, search our collection and we're confident you'll find a handle that fit your needs.
Ergonomic Design
While looks will play part in the suitability of any door handle, how they function is always going to top the list of importance.
Every handle we supply is ergonomically designed. Their smooth edges fit comfortably in your hand, while they press down smoothly and release slowly. They are designed for comfort and designed to last.
Fixings Included
Our range of door handles come with all the fixings you need to get them installed when they arrive. This includes a pair of handles and a through bolt to keep your handle secure even in high-traffic areas.
Matching Internal Latches Available
We also stock a collection of
internal latches
that will fit in any door unit that we supply. Like our handles, these latches are perfectly suited to our doors in terms of both looks and quality.
10 Year Mechanical Guarantee
Our robust, high-quality internal doors will last for at least 10 years. We know you'll want a handle that can match that lifespan, so every door handle we stock comes with a 1o-year mechanical guarantee.