External French Doors
Prices starting from: £810.00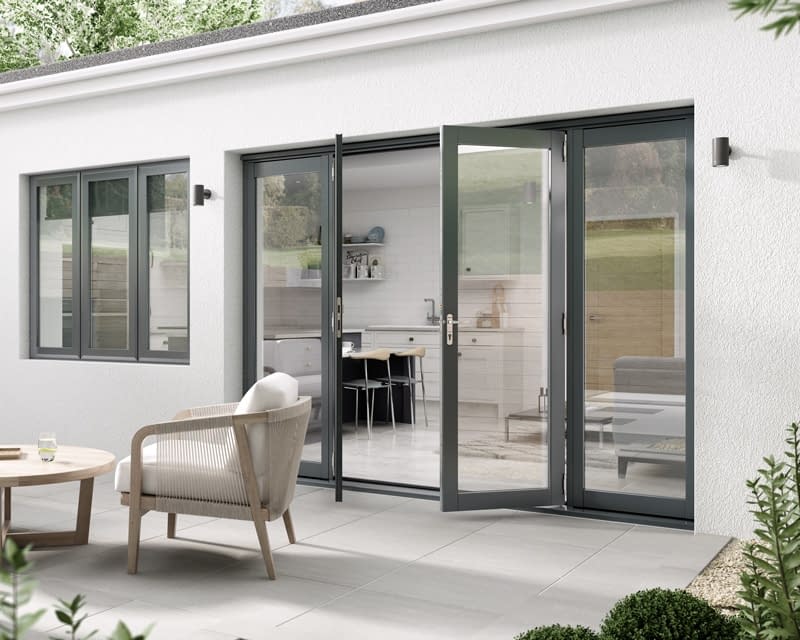 Simple yet classic, French doors offer the perfect transition between your interior and exterior. External French doors are fantastic for smaller openings, where external bi-fold doors may be too big.
The French patio door style offers two doors side-by-side that open outwards into your external living space. Our range of exterior French doors opens outwards, as opposed to inwards. This helps extend your living space and giving you the feel of a larger home, as well as improving the weatherproofing of the set.
All of our wooden French doors are manufactured with style and security as equal priorities. Toughened double-glazed windows and solid multi-point locking systems help keep intruders at bay. All the while luxury premium materials and timeless design help to give your home an added hint of luxury.
Further information about External French Doors
French Patio Doors Benefits
The Aspire range of external French doors has choices suitable for all projects. Perfect for any home, our selection of French doors have all been manufactured to the highest quality. Made from sturdy and durable materials, your new doors have been built for the long run.
External French Doors Efficiency
Our French patio doors are designed with energy efficiency in mind. That's why all of our French doors meet and exceed all security and environmental standards. Boasting energy-efficient U-values, our French doors are fantastic for improving thermal insulation.
With double glazed French doors available, you can be sure that your home will be energy-efficient in the winter.
Exterior French Doors Sizes
Our Esteem French patio door sets are a considerable 54mm thick, giving you the best thermal insulation out of all our French ranges.
From 533 - 5000mm wide, our large French doors can accommodate even the biggest of openings. Typically ranging from 44mm in thickness, all of our french doors are designed to fit any home.
External French Doors Finishes
As more stylish alternatives to sliding patio doors, we stock a variety of different finishes of French doors. We understand how important it is to find the perfect door for your home.
Our range of aluminium French doors is thermally broken to provide the best in thermal efficiency. Their thin and sleek frames allow an abundance of natural light into your home. We stock these as either anthracite grey French doors or white French doors.
For more budget-conscious homeowners, we also stock clear pine veneer French doors. These are manufactured with an engineered core for increased security, with a veneered surface for added style. These are provided unfinished so you can finish them to perfectly complement your style.
Whether you're looking for ready-to-install, made to measure French doors, or cheap French doors for your home, we have you covered.
All of our external French doors have engineered cores with veneers on all surfaces. This type of construction provides far greater durability and thermal insulation than older methods, the multi-directional timber being able to resist stresses that would make other doors warp and bow.
For more information on our range of external French doors,
contact us
today!
Read more about External French Doors