When it comes to modern home renovations, homeowners have recently become focused on creating open living areas that blur the distinction between indoors and outdoors. One of the most popular ways of doing this is by replacing tired back doors with more aesthetically pleasing alternatives, such as bi-fold or French doors.
Both of these styles of doors are perfect for bringing together your indoor and outdoor space. They can help these spaces flow, making your home feel airier and more sociable.
Bifold and French doors can both have these benefits, making it hard to decide which type of door is best for you. But there are benefits and drawbacks to both styles, and there can be a big difference between which is best for you.
What Is A Bifold Door?
A bi-fold door is distinctive in that it features multiple glass panes with frames that fold back onto themselves, allowing for the entire wall of glass to be opened up. The clever way these doors function allows them to stand out, and the easy tracking system that runs along the panels guarantees they'll operate with minimal effort.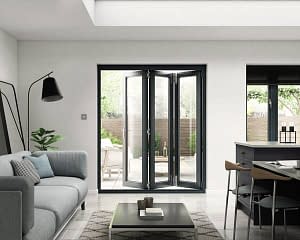 With many bifold doors you can also designate a 'traffic door'. This is just a single panel that can be opened or closed independently when you don't want to fold the whole door open but you do need access through it.
What Are French Doors?
French doors, on the other hand, have a traditional look and feel to them. They are made up of two separate door panels that open outwards from the centre, much like a standard interior or entrance door.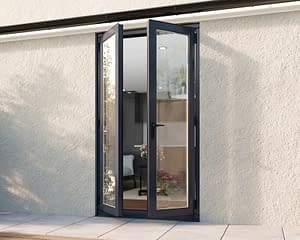 French doors usually come in pairs and are hinged on the outside. They offer a bigger opening than a single-leaf door without compromising the privacy of the room. They usually feature large glazed panels so they still allow lots of natural sunlight to shine into your home.
What Is The Difference Between French Doors and Bifold Doors?
There are plenty of differences between bifold and French doors. The way they work has a surprisingly wide range of impacts, though there are a number of other factors to consider as well.
Here are some of the advantages and disadvantages you should consider when picking whether to have French or bi-fold doors.
Benefits Of Bifold Doors
The beauty of a bifold door is that it opens completely within the opening of the door. This means that even when it is pulled fully open it barely protrudes into either the room or your garden. It takes up very little space.
Sit Perfectly In Modern, Minimalist And Industrial Interiors
The look of bifold doors is impressively flexible. They are understated enough to sit unnoticed in a minimalist interior, whilst their sharp edges suit any modern schemes perfectly.
They are also an excellent choice for industrial interiors. This modern design trend is incredibly popular, and a set of black bifold doors with a grid frame echo the classic industrial doors brilliantly.
The multi-panel construction of bifold doors gives you almost complete control over how big it is.
With the right infrastructure in place, you can replace almost an entire wall with a bifold door, allowing you panoramic views and breaking down the barrier between the interior and exterior of your property completely.
Seamlessly Draw Your Indoor And Outdoor Space Together
As well as giving you uninterrupted views out across your whole garden, an open bifold turns your home and your garden into one big living space.
As well as being the pinnacle of open plan living, this will make your home feel brighter, bigger and airier. Installing bifold doors can even add value to your property.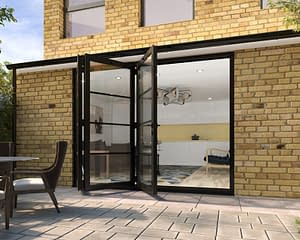 Disadvantages Of Bifold Doors
A major disadvantage of bifold doors is their complicated construction.
All the aspects that allow you to customise their look, like size, number of panels etc, also make it a complex job to install them. We always recommend seeking a professional to install your doors, to ensure they function at their best and last well.
Can Involve Significant Structural Changes To Your Home
As appealing as the idea of removing an entire wall and replacing it with a folding door system might be, it is no easy job. External walls are always load-bearing, which means you will need to significantly reinforce the opening before installing the door.
This is an expensive job and not necessarily a quick one. If you are replacing existing doors, and the opening is already quite large, then this is not a concern. But if you are starting from scratch, this could be a factor that dulls the shine of an indoor/outdoor living space.
Any one of the above disadvantages comes at a high financial cost, putting bifold doors out of some people's financial reach completely.
Even without these costs, bifold doors are the most expensive patio door option there is. They look amazing and can change the way you see your house, but they are a significant investment.
Benefits of French doors:
Compared to other types of patio doors, French doors are very simple to install. They work on a simple hinge system like traditional doors, meaning they can be installed by any competent DIYer with the correct tools.
Suit Period And Rustic Properties
Increasing the light and sense of flow in period and rustic properties can be a challenge. Breaking down walls and installing large glass doors will usually decimate an authentic period feel and leave a rustic property feeling disjointed and broken.
Being smaller, and more traditionally styled, French doors are the perfect compromise.
On average, French doors are less expensive than bi-fold doors. As they have a simpler construction, they cost a lot less to manufacture and this is reflected in the purchase price.
They are obviously cheaper in terms of installation costs too. Even if you do decide to invest in a professional to fit your French doors, the job is so much quicker that you will still see significant savings.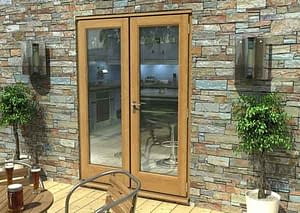 Disadvantages Of French Doors
Perhaps the biggest drawback to French doors is their limited size.
They usually come in pairs, but this does mean you only get double the space. Compared to the way a bifold door can remove a whole wall, this double doorway can feel small.
You can widen this opening by using sidelights. These glazed panels will increase the amount of light that soaks into your home, and open up your view, but they are fixed. They will create an unavoidable barrier that will break up your space.
You can configure most French doors to open either in or outwards. Either way though, the doors will protrude outside the frame. This takes away from any flow or feel of open plan living – it can also be quite a hassle. Particularly if you have a small room or small garden.
Which Type Of Door Is Better: Bi-fold Or French Doors?
The truth is that there is no easy answer to this question. The choice between bifold and French doors will always depend on personal preference and specific needs.
Both types of door are fantastic options. They can improve the appearance, the functionality and even the value of your property. When it comes to 'better' there is no wrong choice, it just comes down to which is better for you and your property.
If you're embracing a cutting-edge contemporary style, with sharp lines and industrial leanings then bifold doors will slip seamlessly in your interior and revolutionise the way you see and use the space.
When you're looking to build an elegant period look for your property, the classic look of French doors will help you bring a sense of openness without compromising your authentic period feel.
If you would like to find out more about our range of external bifold or French doors, get in touch and a member of our team will be happy to assist you.