Internal doors come in many different sizes and styles. Some of the most popular varieties of internal door include single doors, bifold doors, and French doors. These are versatile and can suit many different interior designs – giving you space, freedom, and a balance between privacy and natural light. If you're looking at renovating your property or working on a new build then why not explore some of the different door types on the market today?
What are the different types of Internal Doors?
Internal bifold doors are ideal if you want the freedom of open plan living, with the option to divide the rooms when needed. French doors make grand entryways while single doors are the staple for dividing rooms. Let's take a look at each one of these in turn.
Internal Bifold Doors
Repute White Primed Bifold Door
Bifold doors are multi-leaf doors that open by folding onto themselves. They come in a number of different configurations, which are advertised based on the leaf set up. So, a four-door set that has three doors that fold onto each other, and one that operates like a standard door, would be marketed as a 3+1 set. One with three doors that all fold onto each other on one side, and none on the other side would be a 3+0 set.
Internal bifold doors offer:
Huge space savings for the opening size that they allow.
When fully opened, a large set of bifold doors create an open-plan feel.
An easy way to improve both light and air flow.
The flexibility, in many configurations, to use one of the doors as a single door.
Why Buy Bifold Doors?
If you want to divide a kitchen area and a living room, or a living room and a conservatory, bifold doors are a great choice. They are easy to install, easy to operate, and low maintenance (not to mention the fact they look great).
Bifold doors are a good option for people who have large open spaces in their homes, but find other large door styles to be heavy and cumbersome. Bifold doors made with safety glass and lightweight aluminium running-gear simply glide open in a smooth and effortless fashion.
Internal French Doors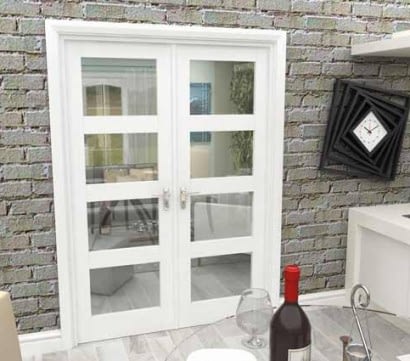 Vision White Primed Light French Doors
French doors have a distinctive look to them. They are a double door system with one door opening to the left, and one to the right. The doors are traditionally glazed, but the glazing can be clear, frosted or obscure.
Internal French doors offer:
A traditional look.
Increased natural light compared to many single door designs.
A wider opening than single doors.
Flexibility to just open one door when needed.
Why Buy French Doors?
French doors are an affordable and simple way to take advantage of a larger than average opening. They come in a few different styles, so you can use them to achieve a rustic, grand or sleek and modern look. This level of versatility is a part of the reason that French doors are so popular.
If you have a large door opening that you would like to fit French doors in, but the opening is too big for standard sized doors, then you might want to consider having sidelights fitted on one or both sides of the door. This is a popular option for external doors, but is suitable for internal doors as well.
Internal Single Doors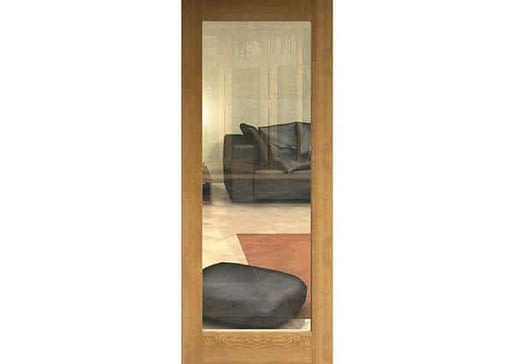 Unfinished Oak Light Single Door
Single doors are a staple in almost every home. You will most likely have single doors leading to your bathroom and your bedrooms, and potentially to other areas of your home if you're living in a smaller property or an older build. Single doors are exactly what their name implies – a single door that fits into a standard sized opening.
Internal single doors have several benefits:
They come in a huge choice of styles.
As well as a wide range of materials and glazing options.
Single doors are typically the most inexpensive of the three door styles.
Why Buy Single Doors?
Single doors are not only inexpensive to purchase, they are also easy to install. If you live in a house that was built in the last 40 years or so then you should have no issue finding off-the-shelf doors that will fit the openings in your property, since there are a few "standard" door sizes that comply with the International Residential Code standards. In addition, it is easy to sand or plane down the lippings on those doors to fit smaller openings.
As you can see, you have many options when it comes to fitting new doors in your home. If you're renovating your property and want to breathe a new lease of life into some boring or dated looking rooms, then replacing standard wooden or panelled doors with glazed doors is an option. For bigger spaces, sliding or French doors make a great addition.