Often, people come to us to buy doors as part of a wider refurbishment/construction project. We love discussing projects with our customers, and helping you realise the home design of your dreams with our high-quality doors. 
Something that crops up a lot when we talk with our customers is how to ensure new internal doors are kept safe and stored correctly whilst work is undertaken on the rest of your project. Doors can be a nuisance when you're working on a project like this. 
They're quite cumbersome and it often helps to have them out of the way as generally speaking, hanging the doors is one of the later steps on a refurbishment project. 
We've provided a host of informative guides on our website for our customers, and in this one we're going to run through how to properly take stock of and store your new internal doors.
Shop our full range of internal doors here, all made from sustainably sourced premium timber. With dynamic ranges of internal bifolds and French doors, there's lots of stylish options to choose from.
What Is the Best Practice for Storing New Doors?
There's a very good chance that when you're working on a project of that scale, you're not going to be hanging the new internal doors as soon as they arrive. So here are the things you need to remember when it comes to storing your door.
Make sure your door is stored horizontally, it is in all of its protective packaging and it's on a flat surface which is completely protected from moisture. 
Storing doors vertically can cause deformities and damage and try to avoid storing in a room that has excess moisture. Added moisture in the air can cause doors to warp. An example of this is a room that has been recently plastered. This is especially true if your doors are unfinished. 
If you have unfinished doors, it is imperative they stay dry whilst you are storing them as they won't be treated yet and could end up experiencing an unfortunate level of damage. 
We recommend thoroughly inspecting your new doors upon arrival, and before you store them. They will have been sent over in protective packaging but there is still a chance that something has gone wrong in transit and damage has been sustained. So make sure everything is in order. Don't dispense of the protective packaging it comes in though, this will be useful if you're storing them. Especially with untreated doors as the polyethene wrapper your doors will arrive in will prevent water damage. So this will be useful to keep a hold of.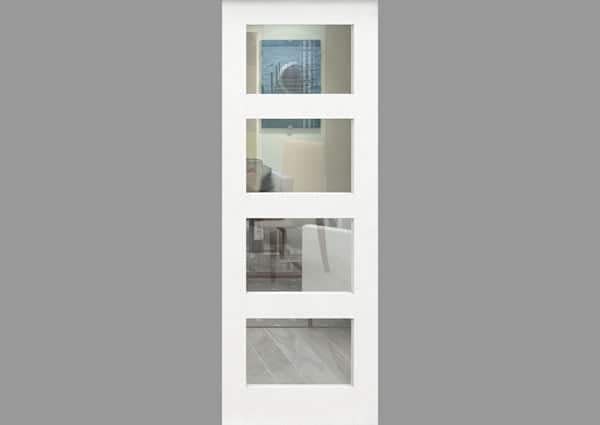 Treating Internal Doors
If your doors are unfinished, remember that you'll need to treat them before you hang them. Once your door has been hung, it is liable to be exposed to moisture and you'll find it much easier to treat your doors whilst they're off the hinges. 
You can treat your internal doors with a wood stain, oil, wax, varnish or gloss paint. We find white gloss paint to be the most popular method and generally you need a coat of primer underneath before you apply that.
Oil is getting more popular as it's very easy to apply. However, this is more for doors where the natural colour of the wood is being used, or at least with a wood stain. 
We've written a helpful guide on how to treat internal doors here. 
Shop our full range of internal doors, including bifolds and French doors for a wide selection of high-quality doors at trade prices. Find out more about how to paint internal doors, how to determine what size you need, the different types available and much more with our long list of informative guides.
Buy online today at Aspire Doors and save money!