External Bi-Fold Doors
Prices starting from: £1,250.00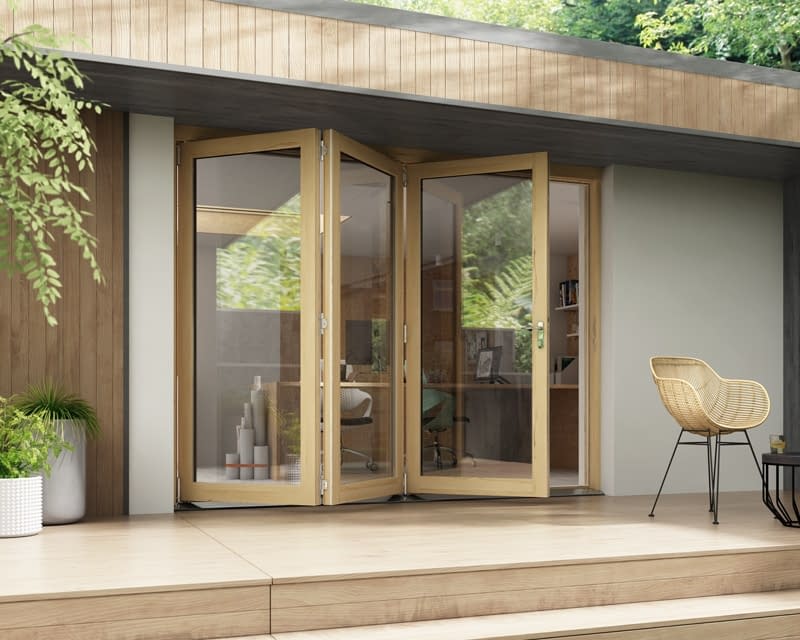 Our range of external bifold doors is perfect for traditional and contemporary homes. All of our bifold patio doors have cutting edge features and performance paired with an array of stylish finishes. Our Icon Oak bifold doors suit more traditional styled homes, and our Revere Grey range complement contemporary homes. Here at Aspire Doors, there's a door set for every style of home.
As their name suggests, bifold doors fold in on themselves in a concertina style. Also known as folding sliding doors, they are neatly pushed to one side of your doorframe which makes them very space-efficient. In contrast, exterior french doors open outwards on their hinge. This requires room in your patio or garden for the doors to sit.
Our bifold patio doors range has many sizes available; including 3 to 6 door configurations in standard door sizes, with openings from 1.8m to 4.8m. We have folding patio doors system suitable for almost any home.
Explore Aspire Door's range of exterior bifold doors, available in a variety of colours and finishes.
Further information about External Bi-Fold Doors
External Bifold Doors benefits
We offer a wide range of finishes and designs in our range of bifold doors so you can find a style that suits your exterior. We offer beautiful wooden bifold doors. These are available unfinished, like the 
Horizon Unfinished
 Bifold Door, or finished like the 
Icon Solid Oak
 Bifold Door.
Our prefinished bifold doors are ready to hang as soon as they arrive. Whereas our unfinished bifold doors can be finished at home to perfectly complement your home. You can stain or paint your new sliding patio doors the way you want, turning your dream home into a reality.
We've designed our external bifold doors for longevity, as well as beauty. As external doors, we offer the most modern constructions and safety features to ensure your patio doors will last. Using engineered cores, our doors aren't at risk of warping or bowing like solid doors but enjoy all the aesthetic benefits.
Engineered oak distributes stress by using separate pieces of wood. These are pressed together in multiple directions. creating a strong core that helps keep the door stable. Our engineered core bi-folding doors also benefit from this added strength. Their core takes the strain of any forces while the face veneers provide the luxury finish.
All of our bifold doors comply with UK building regulations. Our bifold doors either meet or exceed requirements set by national standards. With increased thermal insulation properties your new doors are set to keep your energy bills down. With toughened glass, our bifold doors help keep your property safe and secure.
Bifold Doors, French Doors & Sliding Doors: How To Choose Your Patio Doors Type
The three main types of patio doors are external bi-fold doors, 
french doors
 and 
sliding doors
. Each has its own benefits but bifold patio doors are one of the most popular choices in both traditional and contemporary homes.
French doors are famous for their European charm and open outward on a hinge. Sliding patio doors are a more modern option and open by one panel of glass sliding behind the other.
External bifold doors offer all the space-saving functionality of sliding doors. By folding in on itself, a bifold door can save your internal and external space. This is all achieved while retaining the charming aesthetics of french doors. Sliding doors allow for a lot of natural light to enter your home, but can't open as wide as a bifold door.
Our external bifold door security is second to none. With toughened glass, your glazing is at less risk of cracking or smashing. On top of that, our bifold doors also come equipped with multi-point locking systems. Our exterior bi-fold doors are fantastic for improving your home's security.
Whatever patio door you choose, you can be sure an Aspire Doors patio door set will be of the utmost quality.
What Is A Bifold Door U-value?
Our bifold doors offer excellent U-values, which relates to how energy efficient your bifold patio doors are. The lower the U-value, the better insulation properties your bifold patio doors offer.
Our patio doors low u value will help keep heat within your home. This is especially useful during colder months, as your heating will be trapped inside where you want it. Not only does this save on energy bills, but it's also more environmentally friendly.
Are bifold patio doors safe?
Security is always a concern when choosing a new door set for your home, and we take this seriously at Aspire Doors. Our bifold patio doors are 54mm thick for enhanced structural stability and fitted with toughened, double-glazed panes. As well as multi-point locking for extra security, our hardware includes a top hung high-security system.
Read more about External Bi-Fold Doors