External Bi-Fold Doors
Prices starting from: £1,250.00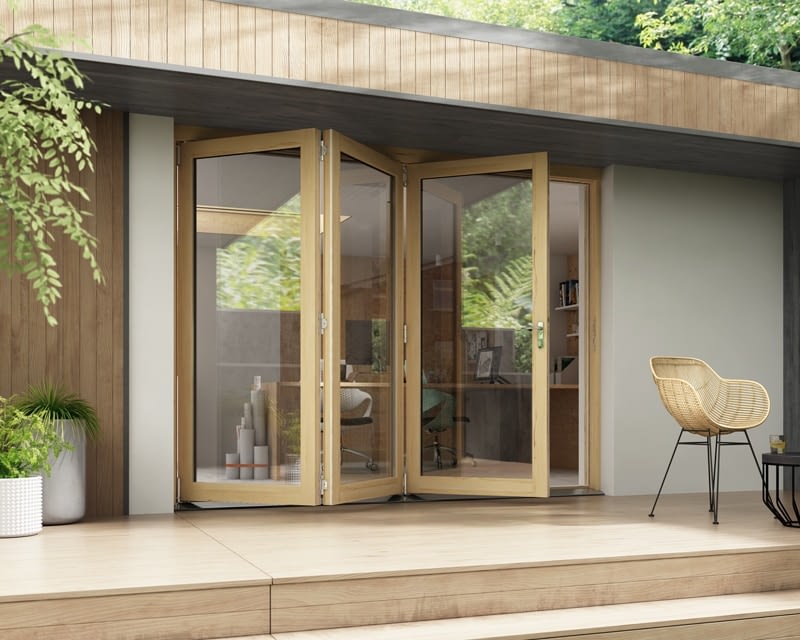 With cutting edge features and performance paired with an array of stunning finish options, our range of external bi-folding doors make a remarkable addition to any home. Our ranges come in 3 to 6 door configurations in standard opening sizes, for openings from 1.8m to 4.8m, meaning we've got a size of folding sliding door system suitable for almost any home.
External bi-fold doors open exactly as their name suggests; folding in a concertina style as opposed to folding outwards on standard hinges like an exterior French door would. While folding sliding doors more accurately describes how the doors operate, bi-folding has become the more popular name by far.
Further information about External Bi-Fold Doors
The advantages over standard hinged exterior and sliding doors is that they can fill a much larger space, whilst also allowing large openings in and out of the home should you ever need it. In addition to this, the huge amount of natural light they allow in has the benefit of making your home appear larger than it actually is.

Their easy-to-hang design meaning they can be installed simply and quickly; any builder or joiner will be able to follow our step by step installation guides. As much pre-machining is done as possible, minimising the work you have to do on site. Finally, their reversible design means that you can hang them to slide either way, depending on your preference or layout in the home.

Whether you want oak or pine with a fully finished or unfinished style, we have the bi-fold system you're after. We offer prefinished with high-build stains, white primed or unfinished bi-fold doors for you to stain or paint the way that you want; turning your dream home into a reality.

We've designed our bi-folds for longevity as well as beauty, so we offer the most modern constructions to make sure your doors last and last. Doors made of one solid piece are notorious for bowing and warping, so our Icon Solid Oak comprises of three oak sections pressed together in different directions. This distributes any stress, keeping the door stable. Our engineered core sets also benefit from this added strength, with the core taking the strain of any forces while the face veneers provide the luxury finish.

All of our bi-folding sets comply with UK building regulations. From thermal insulation properties to the safety of our toughened glass, our products either meet or exceed the requirements set by national standards. Paired with the toughened, double-glazed glass panes is Secured By Design hardware that makes our bi-fold doors a security feature that protects your home in the most stylish way possible.

Our bi-fold U-Values – which relates to how energy efficient the doors are - show just how effective they are at keeping heat within your home, so you're making the most of the energy you pay for whilst being more environmentally friendly at the same time.
Read more about External Bi-Fold Doors