Adding external sliding doors to your home is an excellent choice for boosting its appeal. They provide your interior with an abundance of natural light while adding modernisation to its exterior.
Many people have a lot of questions surrounding exterior sliding doors; are they better than French doors? Can they be installed in a small opening? We have collated our most frequently asked questions about sliding doors to hopefully give you peace of mind that you've picked the best external door for your property and lifestyle.
If you need additional information on our external sliding doors, take a look at our article, Different Types of External Sliding Doors.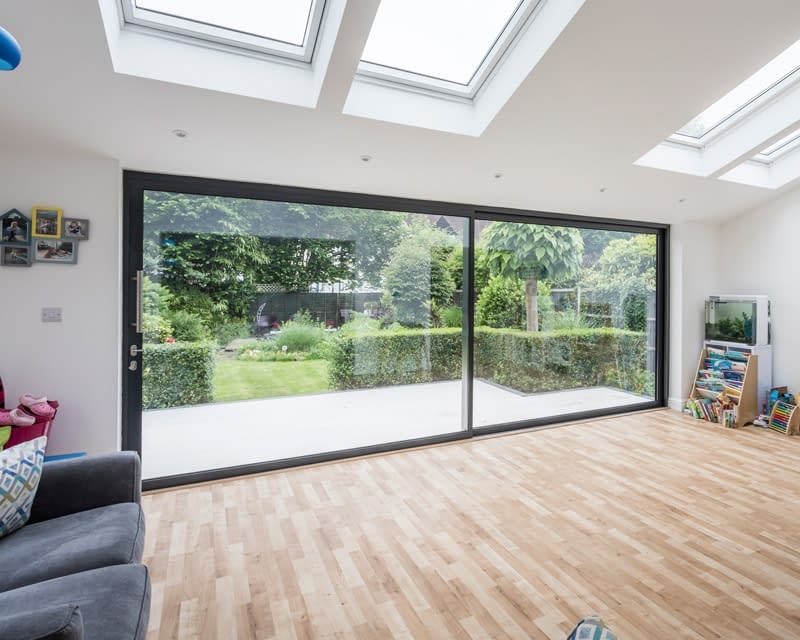 Can Sliding Doors Slide Both Ways?
Sliding doors can slide both ways; they're very versatile.
You have a sliding door that opens to the left, a sliding door that opens to the right, or a sliding door that can be pulled either way.
Before you pick the desired direction for your sliding door, you must ensure that it's realistic towards your surroundings, obstructions, and opening size.
Which is More Secure, Sliding Doors or French Doors?
There isn't a set answer for this as many factors can affect the security of your external door. Sliding doors can have triple glazed toughened glass, that in some cases, is more durable than a wooden frame; however, a sliding door wouldn't be as secure as French doors if the quality of your French doors is second to none, i.e. triple glazed glass inserts and aluminium frames.
The motion that the doors open and close also impacts its security standard. A French door can be easier to break into as they open in an inward motion; this means that using force from the outside, could cause the doors to easily bend inwards and open. Whereas sliding doors haven't got that bend due to the sliding nature of the doors.
If you're not sure whether to pick sliding doors or French doors, you can take a look at our comparison guide of French and sliding doors.
What is the Best Material for Sliding Patio Doors?
There are pros and cons for all external door materials. Some materials have a hefty price tag but offer more security and stability against the elements. In contrast, others are inexpensive and cover the basic needs of external doors.
The best material, in general, is composite. Composite is a manmade material that comprises the best qualities from all the different types of materials.
How Much Do Sliding Glass Doors Cost?
The cost of sliding doors depends on a few factors:
The number of panels you use.

The material that you choose for the frame.

Whether the glass is single, double, or triple glazed.

The brand that you choose.

Whether you use a professional to install the door or not.
For high-quality aluminium sliding doors, our prices start from £2,999.00
Do Patio Doors Slide Inside or Outside?
As a general rule, sliding doors should slide inside of the fixed panel. They can slide outside of the fixed panel; however, it's more secure for the panel to slide on the inside.
If your sliding door slides on the inside, the track for the door will also be inside. This decreases the chance for the track to become damaged over time from harsh weather conditions.
We'd always advise that you purchase sliding doors that slide on the inside.