Over the years we've sold many external back doors. It's safe to say that we know our stuff and, most importantly, we know your stuff, too. From the many conversations that we've had with our customers, we know what you want, what's right for the exterior of your home, what's best for your family, and what makes the most sense for the size of your property.
In order for us to provide you with the best and most up-to-date information on our range of external back doors, we've decided to produce this article containing the questions that we get asked the most.
If you have a special case, and these FAQs just don't quite cut it, give our experienced team a call, we're always more than happy to help.
Can You Use an Internal Door Externally?
There's nothing to stop you from using an internal door externally; however, there are plenty of reasons why this isn't a good idea:
Internal doors aren't weather-proof. You can prime your door to make it so; however, internal doors aren't designed to be up against the elements.

External doors are manufactured with the elements in mind. They're put together using strong material and held in place by extremely strong, and weather-resistant glue.

Internal doors aren't thick enough. External doors are much thicker than internal doors to provide safety and resist harsh weather. External doors average a thickness of 36-inches wide, whereas internal doors average 30-inches.

A major downside to using an internal door externally is its strength. Aside from not being thick enough, they're also not strong enough. Internal doors are much easier to break down, therefore making you susceptible to break-ins.
What Are External Doors?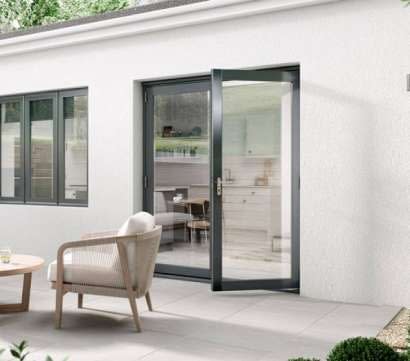 External doors are barriers to the outside world. A door that is erected in an opening and sits between your home and the outside is classed as external, no matter the type of door.
There are numerous types of external back doors:
Standard external back doors

French doors

Sliding doors

Bi-fold doors
How Much Does it Cost to Fit an External Door and Frame?
Installing an external back door and frame isn't a cheap purchase; however, sometimes it's necessary. If your back door is old, we'd recommend that you purchase a new door and frame to improve the security for your home.
The cost of purchasing and installing an external back door and frame comes down to many factors:
The material that you choose.

The glazing for the glass.

The type of back door that you choose: bi-fold, sliding, standard, French.
What Is the Frame Around an Exterior Door Called?
The frame of an exterior door is the same as an internal door. It's simply called a frame. For a more technical approach, the 2 sides of the door frame are called side jambs, and the frame that sits along the top of the door is called a head jamb.
What Is a Standard External Door Size?
The standard size for an external back door is 38-inches (3ft) wide and 80-inches (6.6ft) high. For a more in-depth look at the sizes required for external back doors, take a look at our External Back Doors: Size Guide