Internal bifold doors are a great way of injecting some character and charm into your home. Due to their unique construction, they can act as a removable transition between rooms. They can be extremely wide, which means that they're able to fit a variety of gaps. If you're decorating a new or existing home, bifold doors are the perfect addition. Whilst adding increased natural light flow, these beautiful doors can invite the sense of spaciousness into your home. Look no further than interior bifold doors for increasing your home's value.
In this article we'll help you find the perfect sized interior bifold door for your home.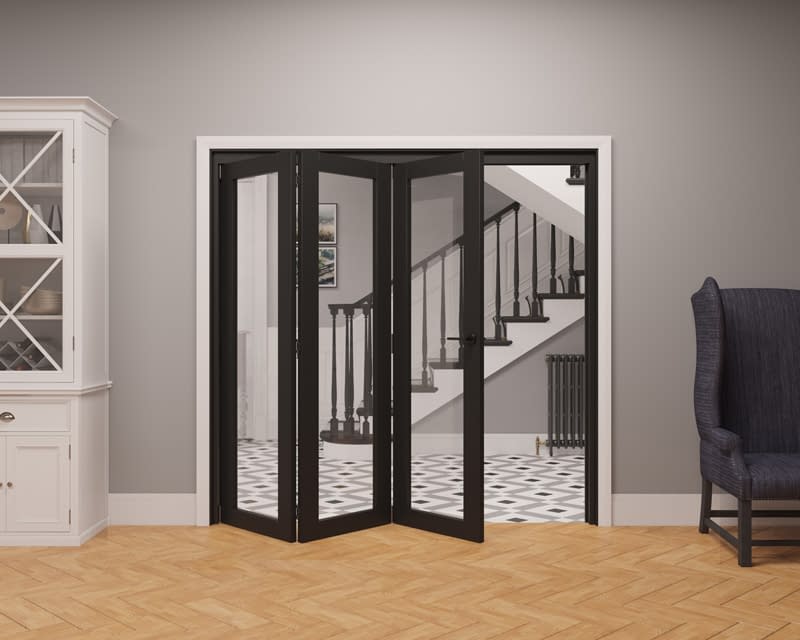 How are internal bifold doors sized?
Most suppliers will provide a few different options for their folding door configurations.  We at Aspire provide our bi-fold doors in a total of eighteen different sizes. 
Bifold doors fold into each other, and are comprised of a number of door panels. Compared to internal french doors, which fold either inwards or outwards, bi-fold doors do not impose on your living space. With sleek and slender door frames, they are a perfect solution for space conservation.
The total size of your internal bifold doors will be determined by the size and number of the door panels which make up the door. You'll also need to consider whether you'd like a large number of smaller panels or a small number of larger ones.
Internal bi-fold doors are designed to fit a door opening that s larger than a 1.8 metres. The largest of them can be nearly five metres wide. Within these sizes, doors can be configured in a host of different ways. These configurations are typically described in terms like '5+1' or '4+0', with each number in a pair describing the number of panels attached to one side of a frame. A door where both numbers are equal would open from the centre.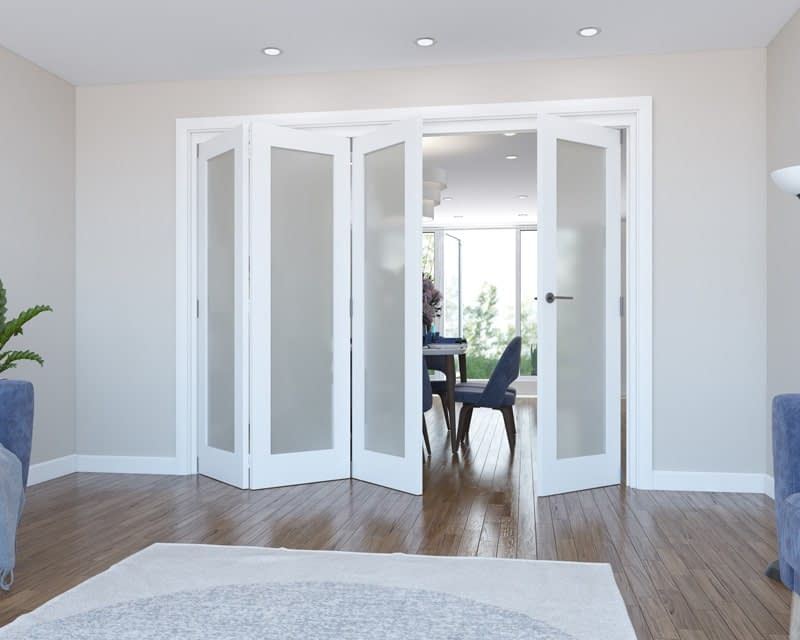 What are the standard internal bifold door sizes?
A standard size bifold door is typically described in millimetres. This is because of the precision required to ensure that there aren't any bothersome gaps around the edges of the door. These gaps can present a heat-efficiency and security concern for external bifold doors. They can also cause aesthetic problems in your interior – which makes proper measuring for the ideal size essential.
The standard height of an opening for a door is 2095mm. For the width there are several standard sizes, and a few non-standard ones in between. These include:
1905mm, 2130mm, 2370mm & 2820mm
You can look at more options using the filters in our bi-folding doors section. Before you do so, however, you'll want an idea of what size door you require – and in order to get such an idea, you'll need to measure your opening. For some door openings, you will be looking at custom bifold door sizes for the perfect door that'll match your requirements.
How do I measure the size of internal bifold door I need?
Measuring your door opening might seem straightforward, but there are a few things to consider before you begin. Any errors in the measurement process can result in inaccurate measurements, and you may end up ordering a door that doesn't fit.
Mistakes here can waste time, energy and money. It's best to ensure that the task is performed correctly from the start. For this reason, many prefer to call in professional help to perform the measurement on their behalf. If you'd prefer to take care of the measuring yourself, however, then it's easy to do so.
Measure the gap
The first step is to measure the height and width of the aperture. Note that while doing this, you'll need to account for a slight gap between the edges of the gap and edges of your door. This gap is known as the 'fitting tolerance', and will allow you some leeway if the edges aren't quite parallel to those of the door. When we're dealing in millimetres, such unevenness might not be obvious at a glance – and it might not become so until the door begins to rub against the frame where it shouldn't. A fitting tolerance of between ten and fifteen millimetres is typical.
Measure the angles
You'll want to measure the angles before proceeding any further. Do this using a large spirit level. Place it flush to the edges of the gap in order to ensure it's as square as possible. It's also best to take multiple measurements of both the width and height of the gap, in order to account for any unevenness in the frame of the door. Use the smallest measurement when considering the size of the gap. A door that's slightly too small will cause far fewer problems than one that's too big.
Decide on a door
Now that you know the precise dimensions of the door you're looking for, you'll be able to start composing a list of suitable options. You'll need to consider whether you'd like the rail to be on the floor, ceiling, or both. It's also worth considering whether you'd like the rail to be flush or raised, as this will have an impact on the size of door you can fit into the gap. Raised rails tend to protrude 45mm from the floor or ceiling they're protruding from.
SUMMARY
When you're choosing interior doors, size matters perhaps more than any other consideration. In order to be sure that your door matches the gap you intend to place it in, be sure that you take the necessary steps to measure your door before you place your order – that way you'll restrict the likelihood of a costly error to a bare minimum!