If you're shopping for a wooden door, you'll need to choose between a door that's been pre-finished at factory level, or one that arrives unfinished, so you can finish it according to your own tastes at home. So, what's the difference between prefinished and unfinished doors?
What are prefinished doors?
Prefinished doors come factory-finished, covered in multiple coats of paint or wood stain. All you need to do is fit the doors – a process which takes a matter of minutes, if you know what you're doing.
What are unfinished doors?
Unfinished doors, by contrast, are those which lack a finish, so you'll have to apply one yourself. This allows for maximum flexibility and helps cut costs at factory level.
What is a primed door?
If you can't decide between prefinished or unfinished doors, it's worth bearing in mind that there exists a happy medium between them – pre-primed doors. Pre-primed doors, also known as primed doors, are a great choice if you want to paint your door yourself.
Pre-primed doors arrive with a base coat of primer, onto which you can apply a layer or two of paint. Since primers don't vary as much as top coats in colour, this eliminates some of the work without limiting your options. Obviously, primer is only necessary if you're painting your door – transparent wood treatments don't require it.
Do You Have to Paint a Primed Door?
Your primed door may arrive looking pretty finished, but it will still need to be painted. The primer will provide a smooth surface, covering the permeable surface of the wood. However, the paint is required to provide extra necessary coverage against wear & tear, temperature changes, water splashed and more.
You can learn more about all the different kinds of door, including styles, compositions and finishes, here.
Why choose a prefinished door?
Let's consider the advantages of prefinished doors. The most obvious is that you have very little work to do once the door (or doors) arrive. Simply attach the hinges and screw it into the frame. You'll need just a handful of tools, and the help of a volunteer.
Your prefinished door will have a professional quality finish and will also save you the time it takes to paint multiple layers of paint and wait for them to dry.
Why choose an unfinished door?
So what about the benefits of unfinished doors?
As we've mentioned, your doors will arrive sanded smooth, but without primer or a final coat. This option will allow you the freedom to choose whatever finish you'd like – however outlandish it might be. If you think that your living room will benefit from a bright yellow matte-finished door, then you'll want to start from a blank, unfinished canvas. Similarly, if there are other doors in your home you'd like to match your new door to, unfinished is the way to go. If you are opting to wax, varnish or oil a wooden door rather than paint it, then an unfinished, unprimed door is the way to go.
For those in search of a new DIY project to sink their teeth into, an unfinished door is probably the optimal choice.
So, should you choose a prefinished or unfinished door?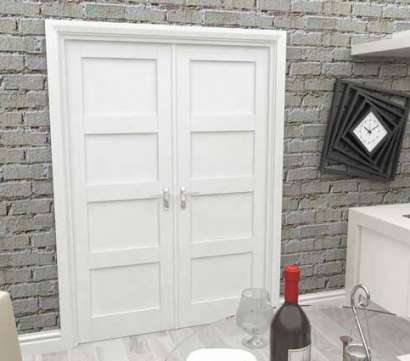 Cost
You might assume that an unfinished door would be a wonderful way to cut costs. Up front, this is the case; unfinished doors are indeed less expensive than finished doors – but that's not the end of the story.
Factor in the time investment you'll need to make, as well as the price of the paint itself, and the costs begin to mount (and that's before you even contemplate any additional tools you might need, like belt-sanders and sawhorses). You'll also need to secure some old blankets to control the mess.
Prefinished hardwood requires that more money be spent on the actual door, and less on the labour involved in installing it. In the case of unfinished hardwood, the opposite is true. If you're bringing in outside help, bear their motives in mind. Since they make their money from the labour, the job will be more profitable for them, even if the cost to you is the same. They might therefore advise you to go down the unfinished route, simply to create more work for themselves.
If you're going to follow the DIY route, then it's worth considering what might happen if you botch the job entirely. You'll probably need to start again from scratch – and that's going to cost you. As such, inexperienced DIYers should probably stick to prefinished doors.
Durability
Prefinished hardwood tends to be far more resilient than unfinished hardwood. While you might apply just two or three coats of paint at home, at the factory level they're able to apply more than twice that, which will increase the durability of the door.
Ease
It should probably go without saying that a pre-finished door just makes life easier.
One factor that few consider is the mess that finishing a door will create. To achieve a smooth finish, you'll need to apply several layers of paint. Each of these will need time to dry, so you'll need to clear a space in your home for the doors to lay flat. You'll also need to sand the doors down slightly before each coat of paint is applied. This will invariably create quite a lot of sawdust.
Colour matching
If you'd like your door to precisely match the décor around it, you have very little choice – you're probably going to need an unfinished door. You'll be able to choose any colour you like, so getting one that fits isn't such a big ask.
So what's best: a prefinished or unfinished door?
While it might seem like a cop out, there's no set answer to the question of which is best – it'll depend on your circumstances and personal preferences.
Customers with little DIY experience tend to underestimate the work involved in painting a door at home (or the cost of getting someone else to), as well as the upheaval such an undertaking will cause. This is especially so if you're painting several doors at once. In this case, you can't beat the convenience of a prefinished door. On the other hand, if you have your heart set on a particular colour or style that door-makers simply haven't yet made available, an unfinished door might be the only way to proceed!
Aspire Doors offer a wide variety of quality doors. We provide all finishes of internal door, including fully prefinished doors and unfinished doors. For expert advice or if you have any questions about our products, don't hesitate to contact our friendly team.
Posted on: 10 May 2018