If you're renovating your home, or even working on a new build for yourself, you've probably put a lot of thought into the layout of the property, the type of windows you want, and things like carpets, drapes and soft furnishings – but have you stopped to think about the doors that will connect each room?
Which Style of Internal Door?
There are a few styles of internal door that are particularly popular in the UK. One-leaf, single doors are the most common. French doors are two-leaf doors where each leaf opens in the opposite direction, and bifold doors are multi-leaved doors that slide and fold onto each other.
French doors are popular options for external doors where you want a grand entryway, but internal French doors can be a nice way of letting extra natural light into a dining room. Internal bifold doors often join kitchens to living areas, offering privacy when needed, with the flexibility of open plan living too.
What Are the Different Internal Door Materials?
Wooden internal doors can be made from hardwood or softwood, and the doors themselves may be made from solid wood or veneer. The type of wood will help determine how the internal doors are constructed.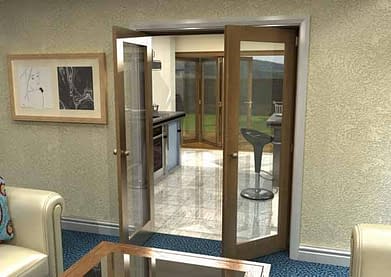 Vision Fully Finished French Doors
Hardwood doors are robust and heavy. Woods such as oak and walnut are hardwoods; they're a great choice for doors because they are so resistant to dents, scratches and cracks. Hardwood doors can be expected to last for many years. If they do get dented or damaged then they can be sanded smooth and repainted or stained.
Softwoods, such as pine, are lighter and less dense. They have an appealing grain to them, and for this reason, many people choose them if they are creating a rustic or understated look. Softwoods are quite inexpensive, but one downside to them is that they dent and scratch more easily than hardwoods.
Solid doors are made from pieces of softwood or hardwood that are cut into the right shape, and that interlock as necessary to create the full height and width of the door. Solid wooden doors are more expensive than veneered doors, but they have a satisfying weight to them, they are durable, and you can sand/stain and repaint them many times over their life. They also offer good thermal and noise insulation and are quite secure. The main downside to solid doors is that depending on the material they are made from, they could be vulnerable to warping or swelling in humid conditions.
Veneered doors are either hollow or made from an engineered wood core, with a hardwood or softwood (usually hardwood) veneer over the outside. Engineered wood has been cut into strips and glued together, and the veneer is a thin (usually measured in mm) layer of wood that is attached to the outside of the door. Veneered doors are less expensive than solid wood doors, but do not feel as heavy. They are less likely to warp in humid conditions than solid wood, but you must take care when sanding or planing them because the veneers are very thin.
Internal Door Design and Finish
Some internal doors are simply large, flat wooden doors with the 'finish' being the grain of the wood. Perhaps more popular are panelled doors. These feature several raised or recessed panels to add depth and texture.
Popular internal door glass designs include glazed, frosted or obscure glass. They're sometimes seen on single doors and are a standard feature of French doors and bifold doors. Glazed doors with clear glass will let a lot of light through and offer an unobscured view of the adjoining room. Some people use clear glass on French doors, but then hang a beaded or net curtain to filter the light and reduce glare.
Obscure glass is sometimes used in areas where privacy is important, since it softens the light and makes it harder to see through the window. Frosted glass achieves a similar result.
Things to Remember When Buying Internal Doors
If you live in a relatively modern home then there is a good chance that all of your door openings will be a standard size. If that is not the case, then you might need to either sand down the door slightly (there are hardwood lippings on the outer edges of each door that can be trimmed to fit), or get a door made to a custom size. If your openings are unusually large, then another option might be to get sidelights on one or both sides of the door.
If you are buying a folding or sliding door, you'll need to think about the layout of your property and the room itself. Pocket doors slide into the wall, and bypass doors slide onto each other. They're both ideal for saving space, but the space required 'inside the wall' for the doors to move freely means they aren't suitable for all homes. Bifold doors have a hinge in the middle, and they pivot at the edges, so you will need some space around the area where the doors hinge to allow them to move freely.
French doors open like single doors, with one leaf going to the left, and one to the right. This means you will need space in an arc in front of the door. If you want the doors to lock, then one handle will lock, and the other will be a 'dummy handle' that is used purely for the operation of that door. This means you need to think carefully about which door you will want to use on a day-to-day basis when you are fitting the lock.