Choosing the right front door for your home is important. Your entryway sets the tone of your home and makes an all-important first impression on visitors. There are many types of doors to choose from, but not all offer the same benefits.
Veneered oak doors are an excellent choice for homeowners because they are low maintenance and highly durable – two things that every homeowner wants out of their front door!
But what makes veneered oak doors so great?
In this article, we will take you through everything you know about veneered oak doors so you can decide if they are right for your home

What is oak veneer?
Oak veneer is a great way to get high-quality wood without sacrificing any of the original characteristics. This method preserves oak by using thinner slices, which are placed on top of an even lower density core in order to keep their appearance and durability while still preserving all that makes wooden doors so special.
Benefits of Oak Veneer Doors
Low maintenance
One of the biggest benefits of veneered oak front doors is the lack of maintenance they need. Unlike solid wood, which can require regular staining and refinishing to maintain its original beauty, veneered oak doesn't require that kind of care. The surface has multiple layers which makes it extremely durable while maintaining the same charm that makes oak doors special.
Affordability
Veneer oak doors provide a high-quality look without the need for large amounts of expensive wood, so they're an excellent choice if you want your home's exterior to have the character and style of solid oak doors without the price tag.
Durability
Unlike other front door materials, oak veneer won't crack or split. It's durable and long lasting for all year round use.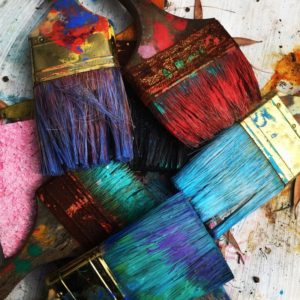 Are oak veneer doors any good?
An oak veneer front door is a great choice for your home. With their low cost, excellent durability and high quality look they still offer all the benefits you could want from an exterior door.
It's a common misconception that by choosing an oak veneer door over a solid wood one, you're sacrificing quality. But this isn't true. In fact there are many benefits of going with an oak veneer door. The oak veneer door is a great option for those who want durability, style and quality at an affordable price.
Can oak veneer doors be painted?
Oak veneer doors are a unique type of door that you can treat just like any other wood. This means they're perfect for staining, priming and painting.
You can make your front door stand out with unfinished oak veneer doors. These are ready to be painted, giving you the chance for a personalised look that's perfect in any style.
When it comes to painting your front door, you've got a lot of options. Do you want an exterior color that's light or dark? What about gloss finish for added brilliance and durability against the weather elements? The choices are endless! Let us help by checking out our detailed guide on painting external doors so they look great from every angle.
Adjusting Oak Veneer Doors
You might think that with an oak veneer door what you see is what you get but there are plenty of ways you can customise and adjust your door to meet your needs.
Sanding your oak veneer door is an option but you should be careful when doing so. Make sure you only sand into the finish and not the veneer itself.
Solid-core oak veneer doors also come with a solid timber lipping. This means you can cut them down without ruining them. Oak veneer doors usually allow for around 10mm to be trimmed off on each side. This is to make sure that the screw for the hinges are still able to grab.
Choose an oak veneer front door from Aspire Doors
At Aspire Doors, we understand that a lot of thought goes into choosing the right front door. That is why we aim to make the decision an easy one. Choose from our wide range of stunning oak veneer external door designs, all available in a variety of styles. It's never been easier to find the perfect front door for your home!
Want to find out more about the doors we offer? Get in touch and a member of our team will be happy to assist you.
Posted on: 13 December 2021