Last updated: March 1st, 2021
Great things can be achieved in the comfort of your own home. After all, you're in the space you're most attuned to which can free up your motivation and creativity. You're also far more likely to have some nature nearby, even if it's just a tree you can peek at through the window.
If you live somewhere with stunning natural views, like a nearby river you can see from your bedroom window, or perhaps patio windows opening into glorious rolling hells, they can be used as a source of inspiration every day.
It's been proven that being closer to nature and experiencing it every day can improve our mood, and incorporating this into the home has had some famous effects indeed. Whether that's through a carefully-tended garden or a strategically placed shed.
So how can you position yourself closer to nature in your home?
We've illustrated some famous creative spaces, so you can see how some of the world's greatest creators did it and the views that inspired their amazing work. It's interesting to see that all of these world-changing personalities saw their natural surroundings as a powerful creative force.
With remote jobs on the rise, as well as burnout and fatigue, the importance of being able to find that focused headspace at home has never been more important. Take a look at these famous creative spaces and be inspired!
We may not all be lucky enough to have the cobalt blue walls of Frida Kahlo or Newton's orchard but that doesn't stop us from getting inspired. Even a well-placed plant on the windowsill or growing some roses underneath a windowsill can make the world of difference.
Dylan Thomas – The Boathouse Shed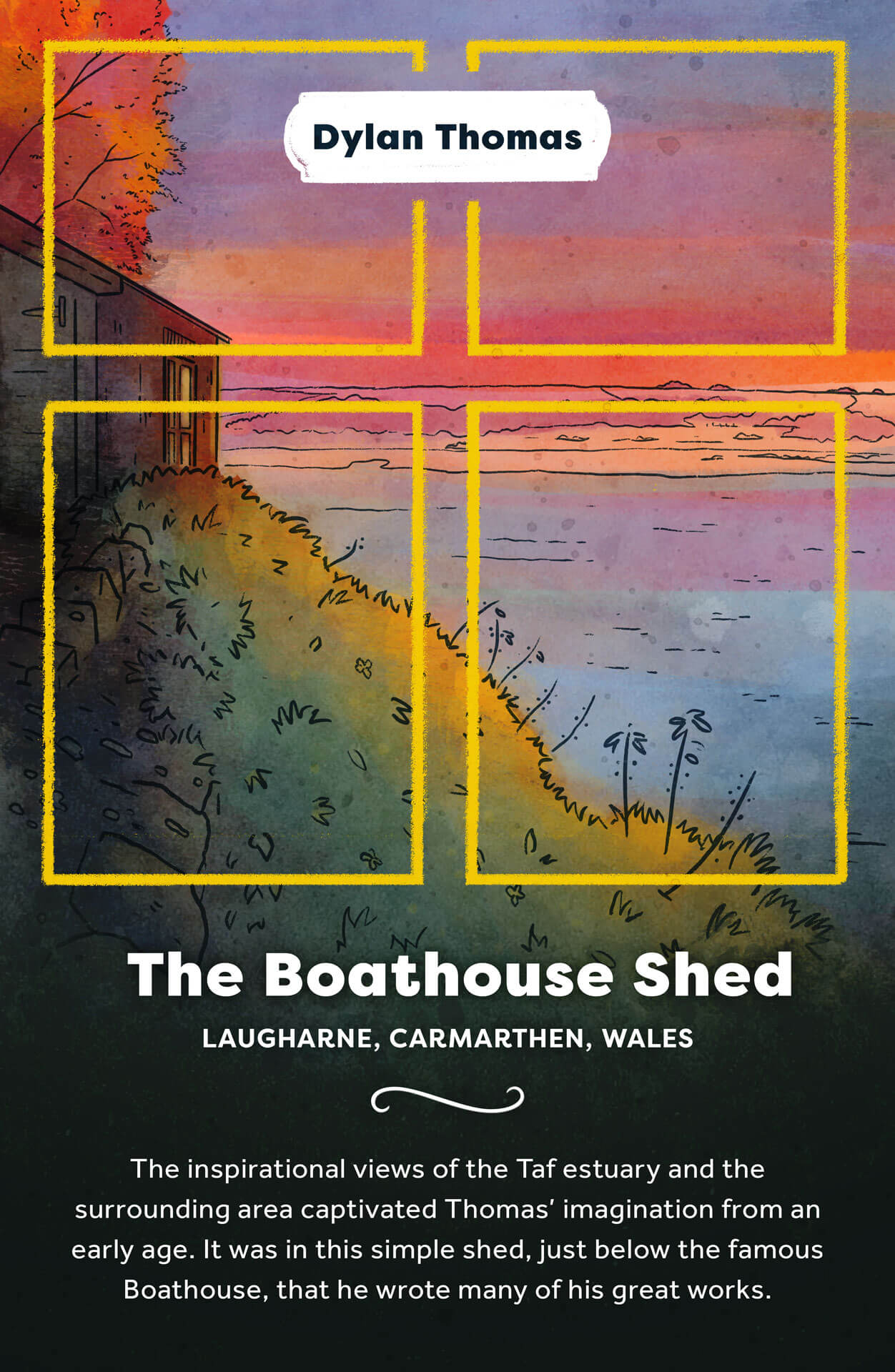 Dylan Thomas, a famous Welsh poet, would do some of his most famous and best work from a simple, shabby shed that overlooked the Taf estuary. It was a powerful source of ideas for Thomas. The expanse of the Celtic Sea rolling on as walkers, strollers, and boats passed him by.
It wasn't just the raw beauty of the views from the writing shed but also the solitude and peace. To focus the mind and attention on one thing, with just one view for inspiration. Are you too distracted in your workspace? Does your view inspire you?
Frida Kahlo – Casa Azul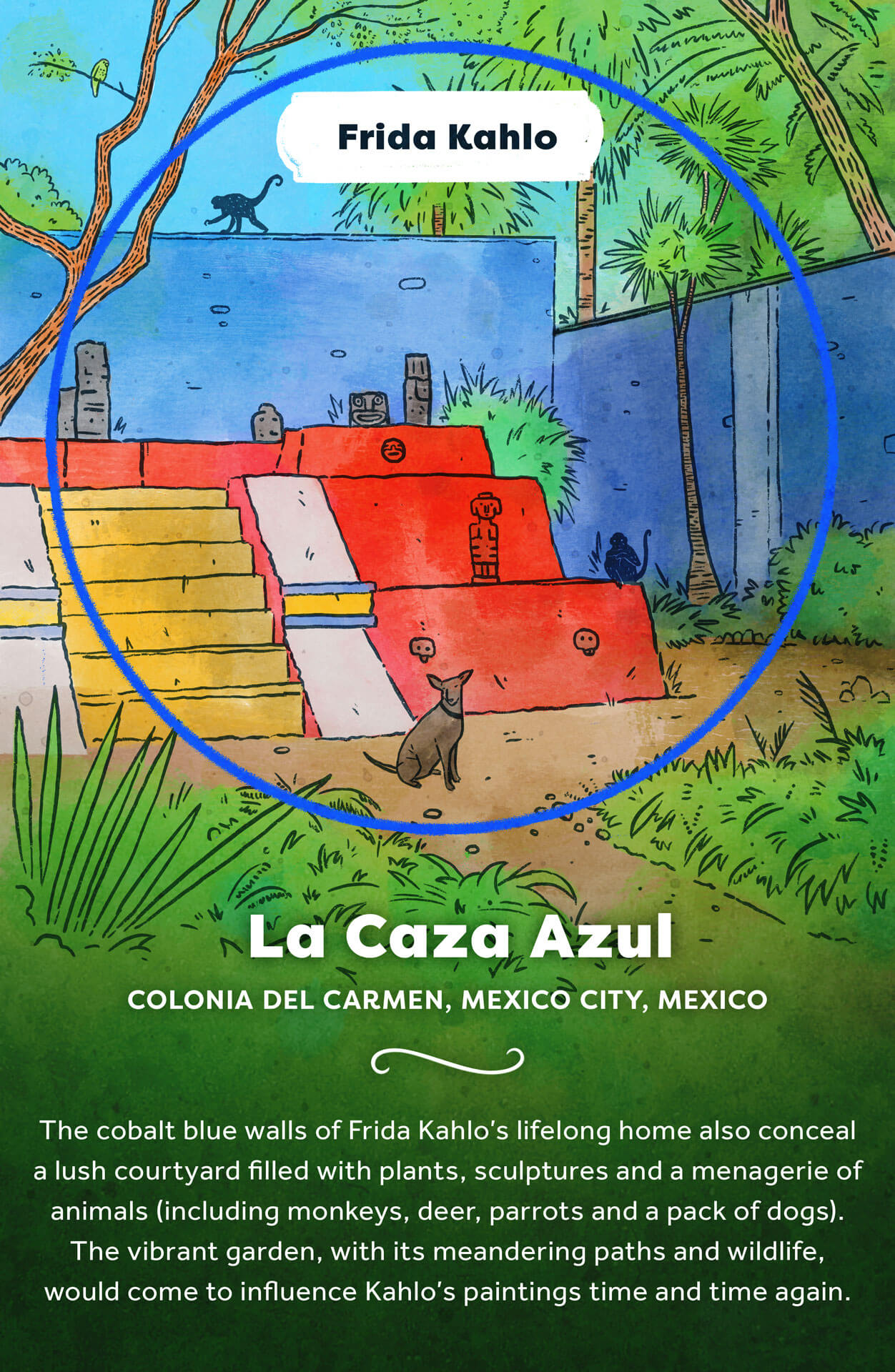 One of the most interesting characters to live, Frida Kahlo also understood the benefit of having a creative space within the home that's linked to nature. An artist from Mexico, Frida Kahlo is a totally unique artist that has inspired so many millions around the world.
At her lifelong home of Casa Azul in Mexico, the garden became another way to express her creativity and national pride. The garden was filled with exotic animals, the European plants and trappings exchanged for inherently Mexican flora and fauna. How involved is your garden with your satisfaction at home? Can you create a space in your home that not only serves as inspiration but a way for you to express yourself?
Isaac Newton – The Orchard
We all know full well who Isaac Newton is. One of the greatest scientists of all time, he 'discovered' gravity. The story goes that he was sitting under a tree, and an apple falls on his head, which caused him to come to the realisation that there must be some kind of force that brings everything to the ground.
This story is actually false. Newton's grounds at Woolsthorpe Manor had orchards, and he used the analogy of a falling apple to visualise his theory. It just goes to show that it's not just artists and writers that benefit from immersing themselves in nature.
Pablo Picasso – Le Vieux Village

Perhaps the world's most famous artist, Pablo Picasso was the father of Cubism and spearheaded the way for many different forms of artistic expression. Originally from Spain, Picasso incorporated influences from all parts of the world and believed in his abilities enough to become the artistic giant we all know him as today
In a life filled with travelling, even Picasso knew that he would have to stop moving around and settle somewhere he can be permanently inspired. Which place inspires you all the time, and how could you incorporate it into your workspace?
Roald Dahl – Garden Shed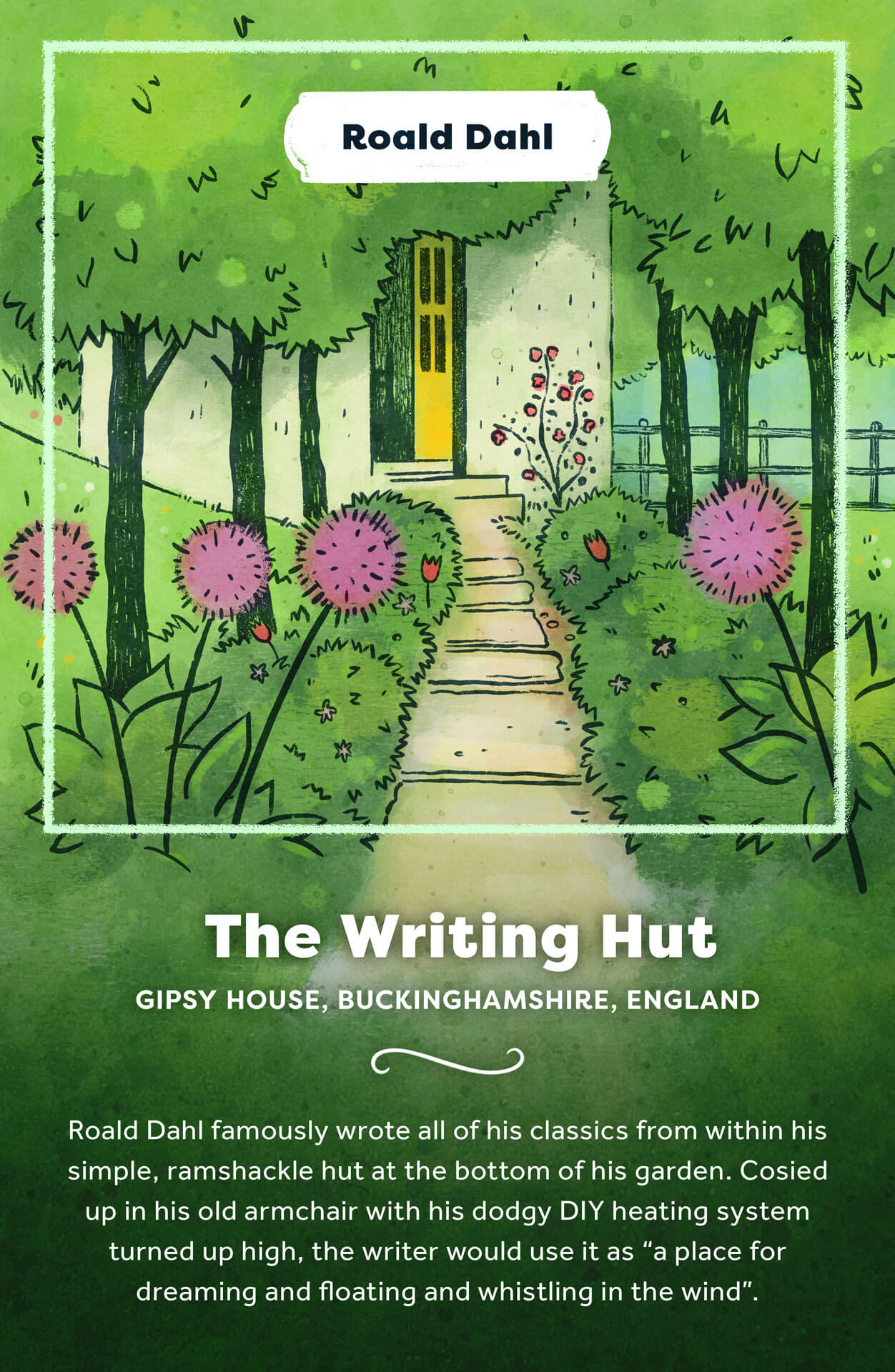 You don't have to up sticks and buy a chalet in the south of France like Picasso did. Roald Dahl did much of his famous writing in a shed at the bottom of his garden in Buckinghamshire. It was, like Thomas' boat shed, a place of complete solitude.
There is something to be said about the separation from the rest of his house here too. The brain's power of association is very powerful. We might associate our lounge, kitchen, dining room as a place to relax, to cook and eat, and switch off rather than to think and be creative. But a designated space for working and creating can do wonders for your productivity.
Virginia Woolf – Monk's House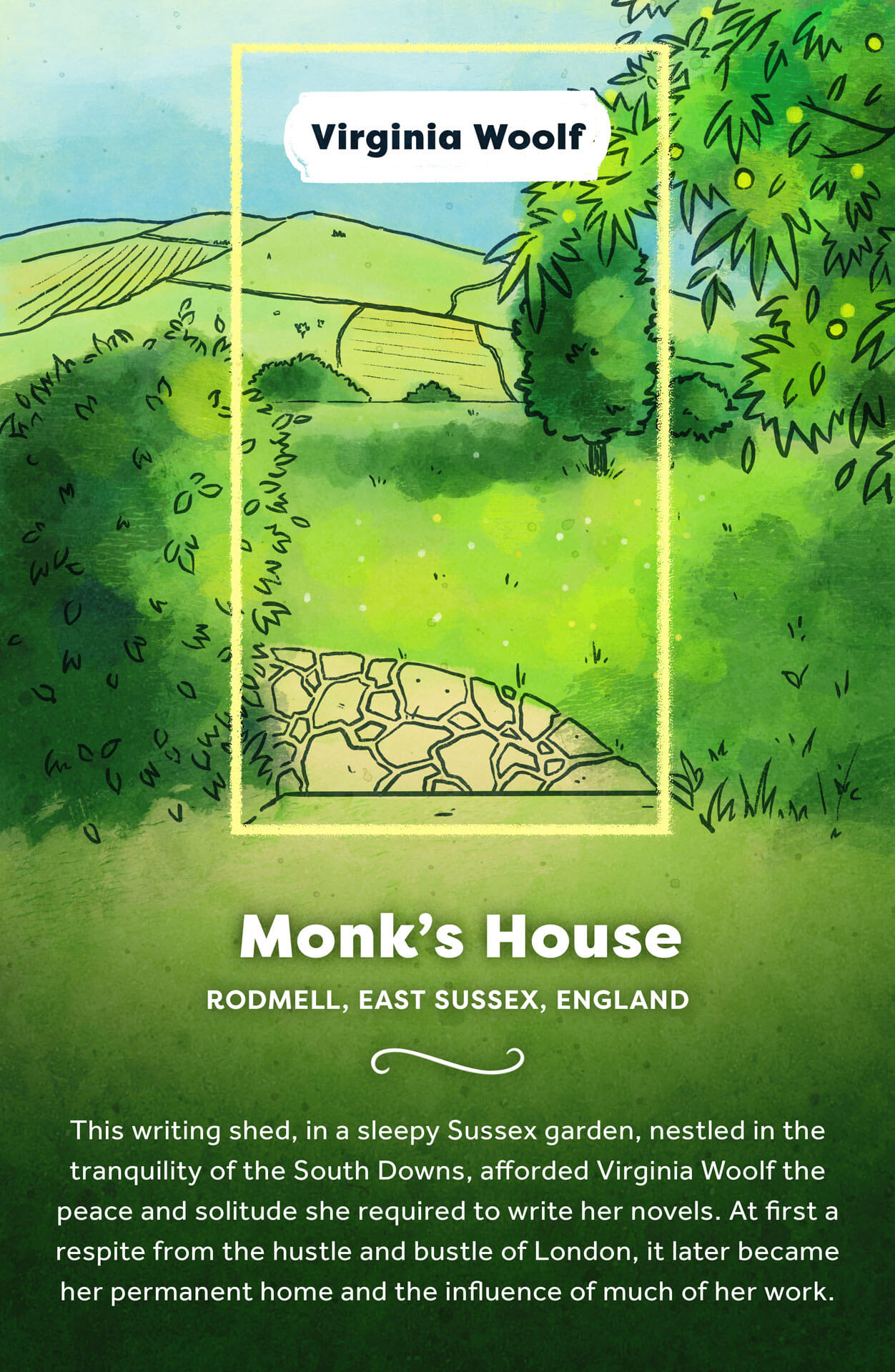 Finally, Virginia Woolf's writing shed. There's a bit of a theme going on here with writers and sheds. Originally to be used as a getaway from her busy London home, Virginia Woolf found that she could tap into her best creative self at Monk's House in the South Downs of England.
Rolling hills, stunning natural beauty in all directions, and contemplative peace. Woolf eventually relocated permanently to her Sussex residence, which had inspired so much of her work.
So, try and take inspiration from the creative spaces of these accomplished, famous, and legendary giants of history. They all saw the benefit of finding headspace at home, weaving nature into their day-to-day, and using it as a source of creativity, whether that was for a painting or a world-changing scientific discovery.
More and more modern roles are remote, meaning that more than ever, we need to learn how we can set ourselves up for success in the home and beyond. We need to access our own creativity and know exactly what conditions we thrive in as the working world begins to change.
Shop our ranges of internal and external doors for competitive prices. Frame your garden view with a set of contemporary modern bifolds or evoke an aristocratic class with some French doors. Save money when you buy online today!
Posted on: 12 February 2020