Last updated: 1st March 2021
Many of us have a city that we love. Even if we've never been there, there's an idea in our head of a city so beautiful and perfect, we'd move there in a heartbeat.
Scandi cities are famous for their minimalism. New York City is known for its loft apartments. The neon lights of Tokyo will stay with you long after you've left them. Unfortunately, upping sticks and moving to a gorgeous world city is much, much easier said than done.
That doesn't stop you from appreciating design from around the world though and bringing it into your own home. There are a number of guidelines you can use to design a room in your home, some go for colour schemes and others prefer an era in time.
In this post, we've been inspired by some of our favorite cities and made these 3D mock-ups to get your creative juices flowing and think about how you can achieve a similar look in your own home.
Edinburgh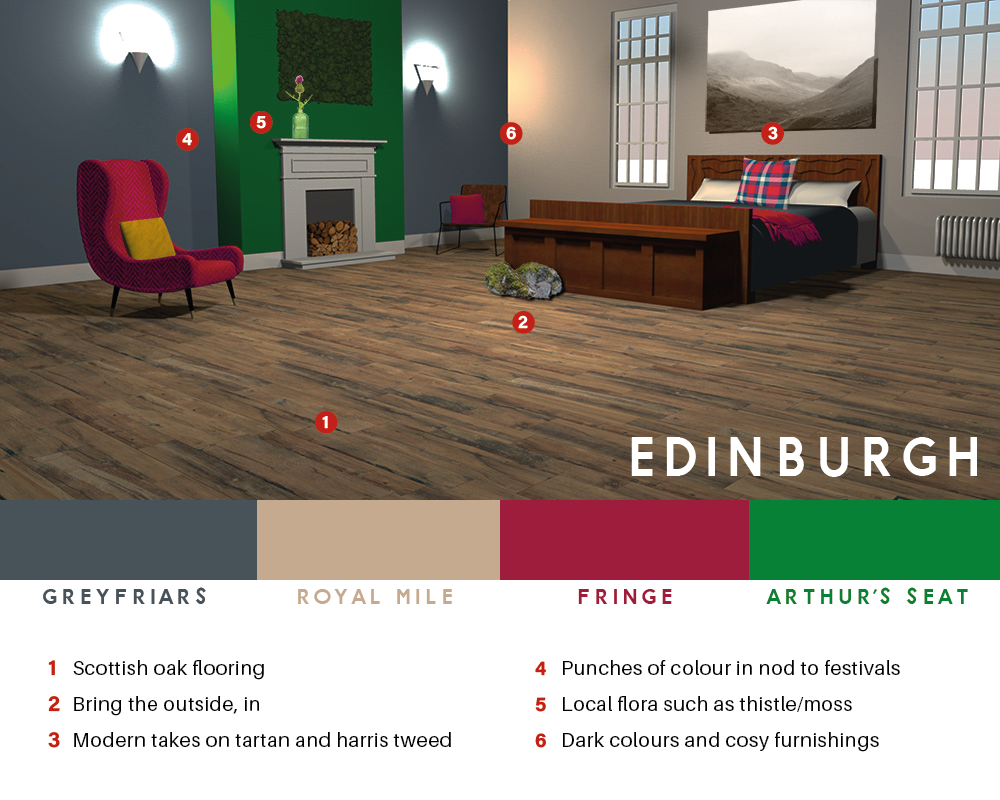 The capital of Scotland, Edinburgh, is hands down one of the prettiest cities in the world. Steeped in history, almost everywhere you look is like a postcard. The Old Town is like stepping into another era and the New Town is just as vibrant and fresh as any global city. Walking up the Royal Mile is an absolute must, with Edinburgh Castle sitting at the top – offering glorious views over the whole city.
For our Edinburgh-inspired room, we've gone for Scottish Oak flooring. The colour scheme hits all those Scottish notes with deep purples, moss greens and more. Add in a couple dashes of brighter colours for accentuation and of course, some modern versions of the traditional Scottish tartan and Harris tweed patterns. The Scottish weather can be very unforgiving, so warmth and cosiness are the main things to keep in mind to get it right.
Marrakech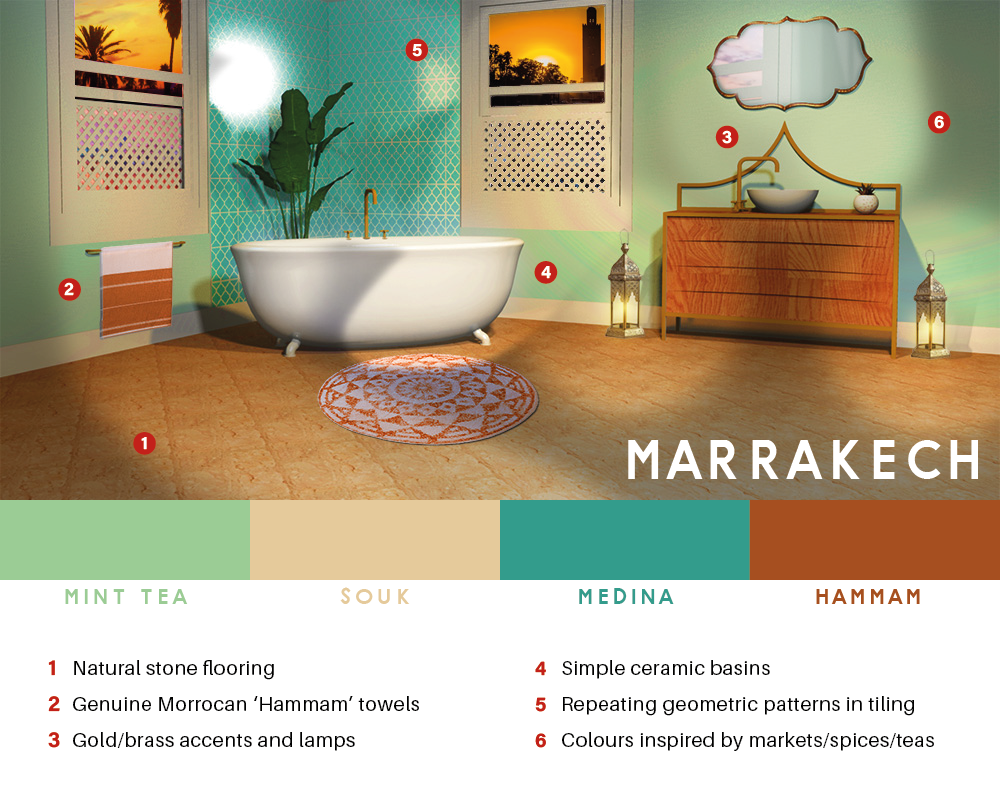 One of the most important cities of Morocco was founded in 1062, nearly a thousand years ago, and has stood proudly as a city rich in culture and history. Known as 'The Red City' for its red sandstone architecture, Marrakech is a must-see city of the world. The Old Town of Marrakech has been declared a UNESCO World Heritage Site and it's not hard to see why. Beautifully vibrant colours, a delightful mix of African, Arabian and European culture, all basked in glorious sunshine throughout the year.
We've decided to opt for a Moroccan bathroom, with natural stone flooring and bright punchy colours. We've been inspired by the markets and spices of Morocco, set against muted North African neutrals. Marrakech is known for its textiles and we've added some geometric patterning alongside gold accents and details to keep it perfectly on theme. Simple ceramic basins for the bath and sink are a pleasant mixture of modern minimalism with a nod to the Marrakech aesthetic.
New York City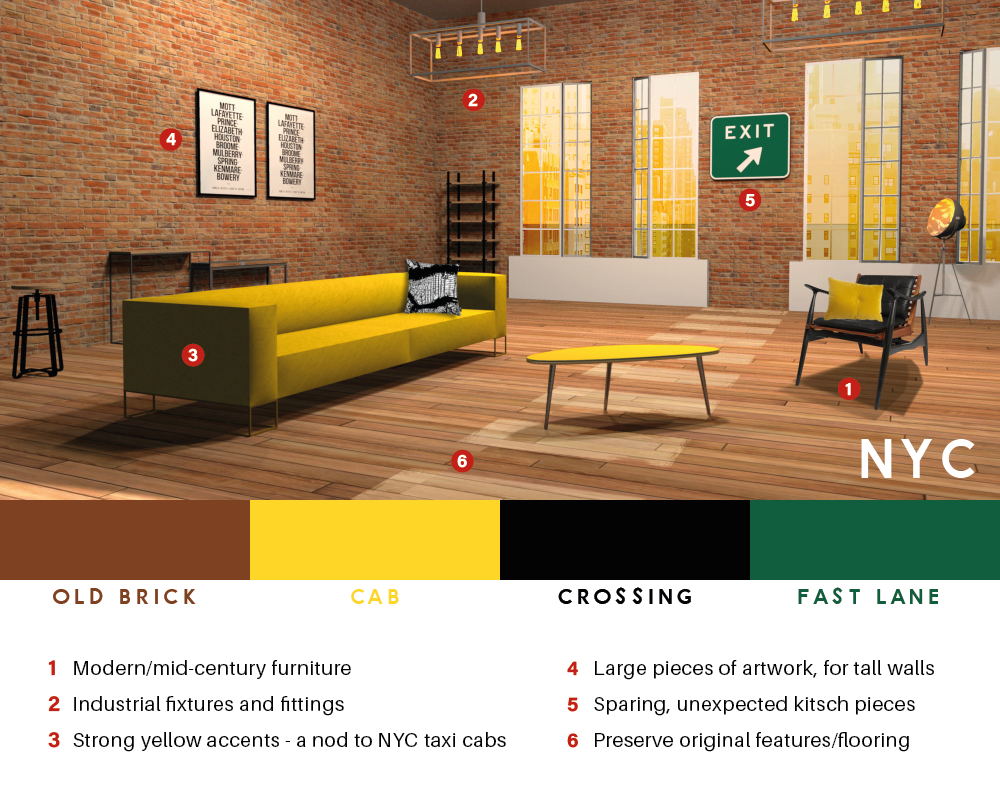 The cultural powerhouse of America, New York City is relatively young as global cities go. Over the years it has passed from Dutch to English rule and played witness, and even battlefield, to the American Revolution. Since then, immigrants from all over the world have been pouring into the Big Apple. This big melting pot has become one of the most culturally rich and diverse cities on Earth as a result.
Famous for its loft apartments, New York dwellings have a slightly industrial feel set against modern minimalism. Exposed brickwork and industrial fixtures are a must. We've peppered in splashes of yellow as a nod to their famous taxi cabs. Big exposed walls naturally lend themselves to large pieces of art to break up that monotony a bit. Add in some modern furniture (sparingly!) and you've got that NYC look, feel and tone.
Stockholm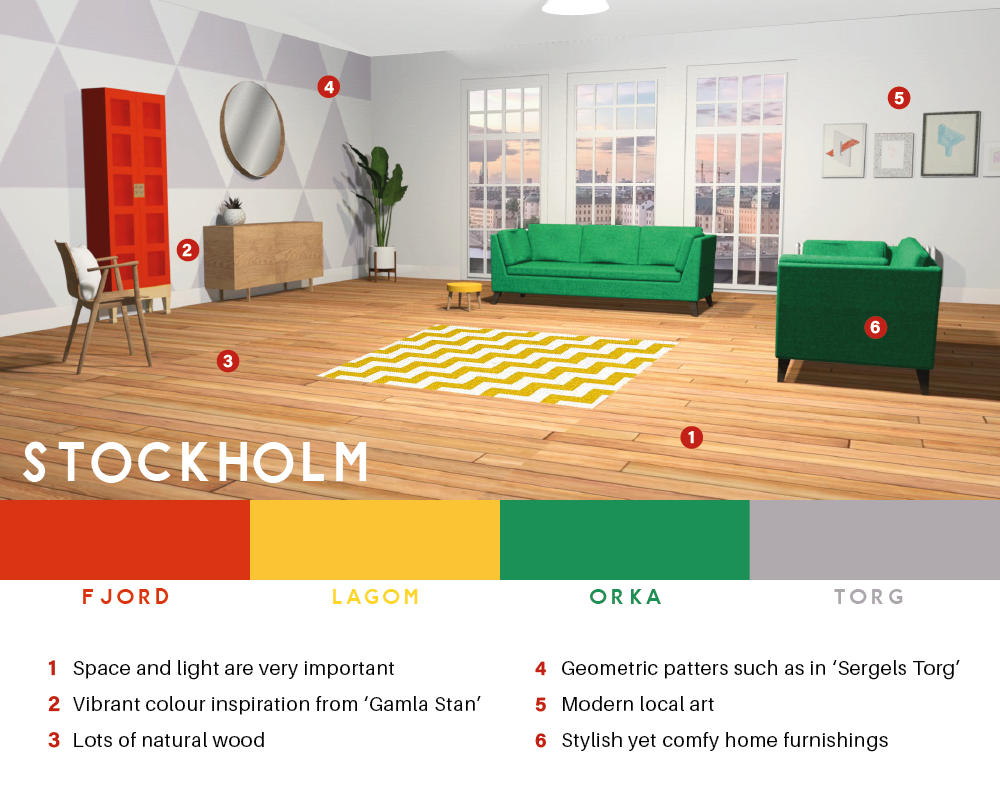 If you're a Scandi-phile then Stockholm is probably your idea of heaven. The capital of Sweden is a gorgeous historic city that brings light and warmth to a brutally cold area of the world. Home to over two million people, this multicultural city is growing in size and population rapidly. Stockholm is so unique and beautiful in fact, that one of the co-founders of Studio Ghibli used it as inspiration for an ideal city untouched by war in his work.
A couple of the main things to keep in mind when designing a Stockholm-inspired room are space and light. Filled with natural wood features and vibrant colours, the furnishings are also carefully curated to meet those two overarching maxims of Scandinavian design: comfort and style. Really simple geometric patterning gives it extra depth and some modern local art adds to the vibrancy of the walls.
Tokyo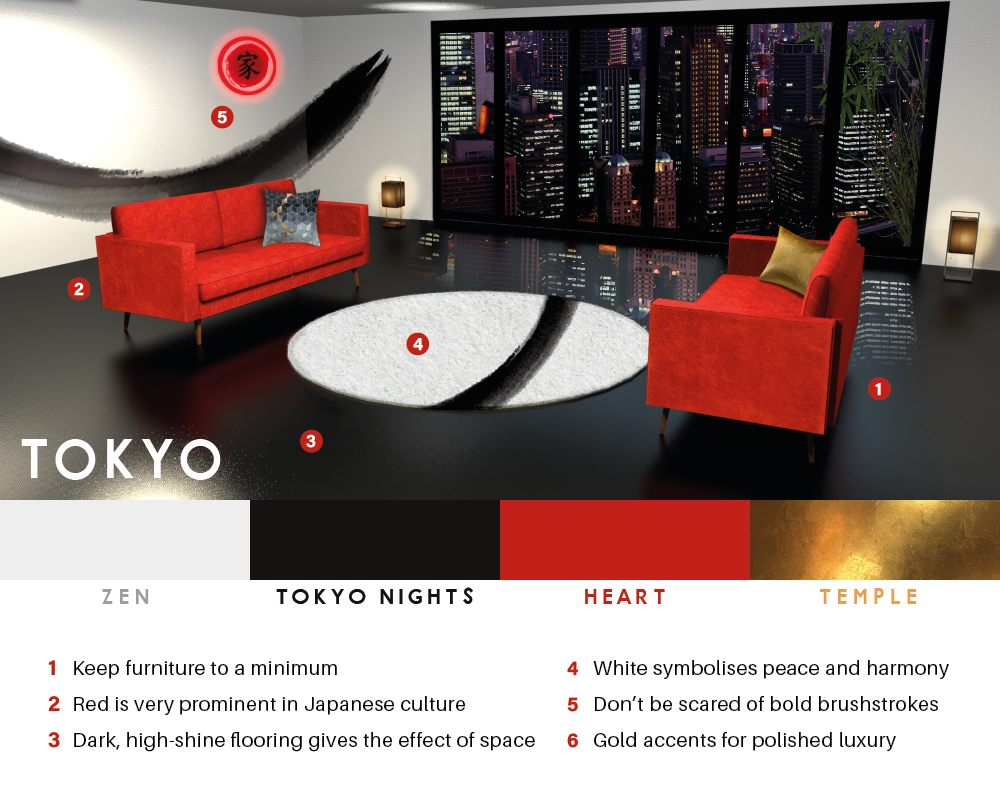 Host city for the 2020 Olympics, Tokyo was completely rebuilt after the Second World War, ushering in a new era of modernisation and embracing of Western ideals. Tokyo has become an icon of the modern world with its bright neon lights, monolithic skyscrapers and its almost unbelievable efficiency and modernity. With lively markets, historic palaces and beautiful gardens, it's very rare that you'll hear anyone come back from Tokyo and say that they didn't love it.
For our Tokyo-inspired room, we have Western decadence meeting Japanese minimalism and symbolism. Furniture is to be used sparingly and you'll notice bold lashings of red and white. When these colours are juxtaposed, it symbolises happy or auspicious occasions and red especially is a prominent colour in Japanese culture. Gold accents represent that embracing of some Western culture where displays of personal luxury are encouraged. In Japan, they take a slightly more humble approach to luxury in the home. Altogether, you have a really great-looking room that nails the Japanese look and feel.
Use these images as inspiration if you fancy a change in your house – whether that is a complete renovation, a repaint or adding internal bifold doors to maximise space. Investing in your personal space can have huge returns not just in terms of money, but in your happiness and delight in your own home. And, with these city-inspired rooms, you can keep a little slice of that town, country and culture with you.
Posted on: 30 January 2020