2021 was another long year, with a lot of time spent pacing our homes and staring at our own four walls.
The initial lockdown saw a huge increase in renovations and a flurry of DIY. While 2021 saw the rate of home improvements slow, our interest in interiors continues to flourish. This is reflected in the wide variety of interior design trends expected to take off in 2022
The interiors of the last year have focused on comfort. This is looking to continue throughout 2022, with added style twists and retro vibes.
1. Granny Chic
Perhaps it was a trauma response but 2021 saw the rise of 'Granny Chic' across interior design.
We're talking floral accents, floaty trims, and plenty of pale pinks and yellows. If you're looking for comfort from your interior decor, the nostalgic aspects of granny chic are perfect. And it's definitely sticking around for another year.
Gingham prints are seeing a huge comeback. Flung with abandon across soft finishings, this distinct chequered design is a mainstay of granny chic. Along with busy floral patterns and wallpaper, it's going to be adding interest to interiors throughout the year.
Intricately carved coving and dado rails will help partition rooms and allow for more decorative exploration. Fireplaces will be dotted with brass companion sets, and antique tables will be artfully scattered with ornaments.
Pale and pastel colours will be a big feature too, with a particular lean towards lilac and lavender taking a softer view of Panatones 'Very Perri' colour of the year for 2022.
With a focus on antique, vintage and upcycled furniture, granny chic represents the sustainable, eco-friendly design we all need to bring into our homes. It's no wonder it's going to be even more popular in 2022.
2. Japandi Design
The Japandi interior design trend is the amalgamation of Japanese and Scandinavian home aesthetics. When it comes to design, both styles focus on simplicity, using natural materials with a utilitarian approach.
Making the most of natural light, natural materials, and lighter tones, the Japandi style is a clean take on interior design.
This is another style with an emphasis on sustainability, with minimalism and high-quality materials at its heart. It will suit those whose concerns about climate change can't quite overcome their aversion to chintz enough to invest in the other trends of 2022.
3. The Natural Look
These last few years we have been closer to nature than ever before. For months at a time, the only place's we've seen are our homes, gardens, and local nature, it is no surprise to see nature themes prominent in current interior design trends. Houseplants, sustainable furniture and earthy tones are at the forefront of modern decor ideas.
Feeding into this environmental importance, 2022 is going to be a year of plants plants plants!
Houseplants in home decor are nothing new, but this year we're going to see them go from an occasional touch to a full-on feature.
Build your own indoor jungle of succulents and vines, or even just turn your kitchen windowsill into a tumbling garden of herbs. Bringing the best of the outdoors inside is a 2022 trend that won't just change the look of your home, it will make it a healthier, happier space too.
4. Seventies Style
As if the florals, cheques and antiques of granny chic aren't nostalgic enough, another vintage vibe is making a modern comeback in 2022.
Even as a 'nostalgia' style, this isn't the first seventies renaissance we've seen in the decades since its first trip out. All the expected retro influences will be on display, from bold geometric prints to lush accents of swagged velvet and brushed brass.
And glass. An awful lot of glass. Coloured, smoked, tinted – glass tableware and decorations are going to be everywhere.
Curvy furniture, from swooping sofas to tub chairs will also be everywhere. We're already seeing an increase in interest for rattan and bamboo furniture that will only increase throughout 2022 as well, as people enjoy the mix of nature and vintage coming together with a handmade twist that once again plays into that all-important sustainable ethos.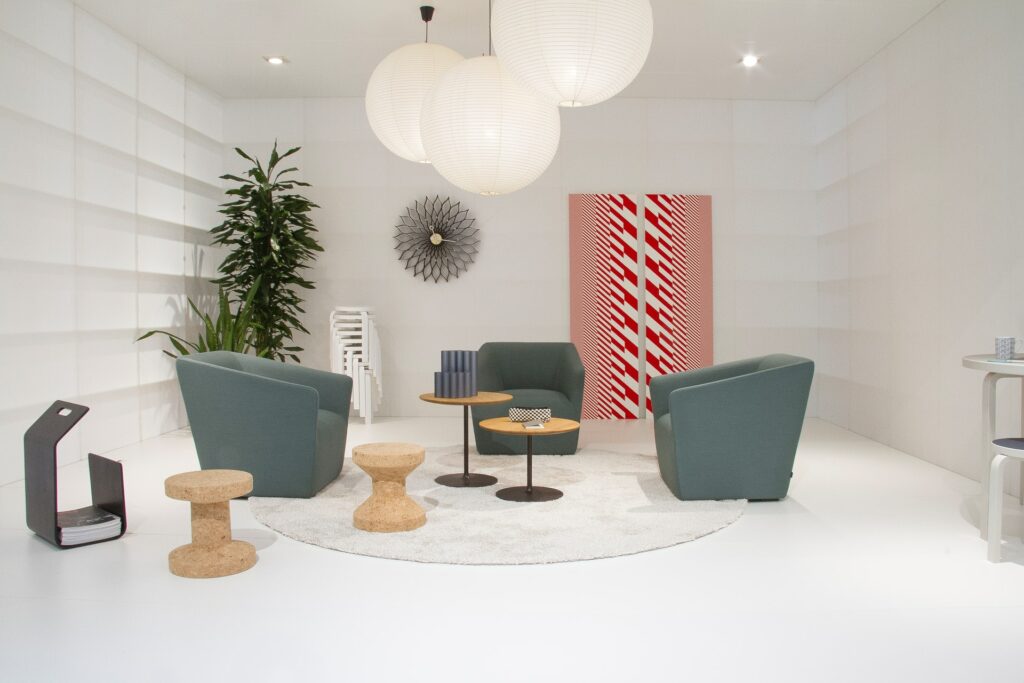 Photo by Jean-Philippe Delberghe on Unsplash
6. Industrial Style Doors
A style that just keeps getting more popular is the classic industrial design. This style has already enjoyed many years of popularity, and this is going to roll right through 2022 as well.
As part of our desire to open up our homes into bigger, brighter spaces, this will develop into an even bigger rise in industrial/heritage style doors.
Heritage style doors allow plentiful light flow within the home, and can really brighten neutral-themed rooms.
Interior design trends for 2022 are seeing less focus on the perfectly designed home. It is no surprise that the personal, comforting, cozy feeling of home decor is prevailing. With a lack of a utilitarian feel, homes are less designed for practicality, and more of a place to provide comfort and relaxation. Following these trends, we are likely to see further evolutions in home decor inspirations.
Posted on: 23 December 2021