Winter is here again, and the temperature outside is dropping. You want to keep your home as warm as possible, but you don't want to turn up the heating too much. So how do you balance these two? By winter-proofing your house.
Don't. just grab another blanket when the deep cold strikes – there are pre-emptive things you can do in advance to prepare your home for winter.
Join us as we take you through some of the best ways to keep your home warm this winter.
10 ways to prepare your home for winter
The winter season can be a really tough time for your home. It's cold and wet, and the snow days can seem endless. But, by being prepared this winter, you can enjoy the beauty of the season whilst staying snuggled and warm in your home.
Here are some of our best tips to make sure your home is winter-ready this year:
Install draught excluders
If you're suffering from cold draughts in your home this winter, there are some things you can do to prevent them. One of the easiest is installing draught excluders which will eliminate any pesky little air leaks and keep warm air inside where it belongs.
Draught-proofing your home is a winter essential that can keep you feeling warm and save you money on your energy bills.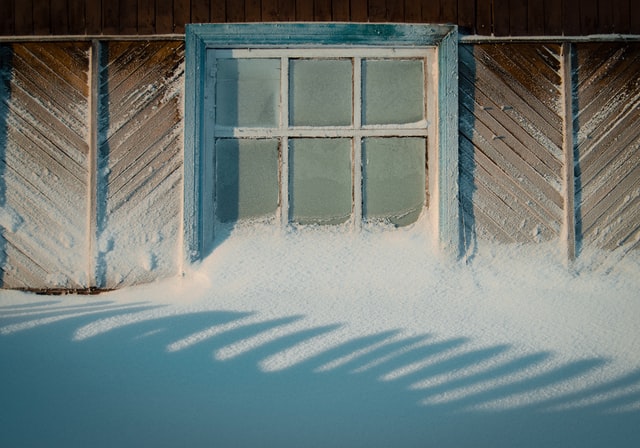 Upgrade your windows
Your windows are your home's best friend, especially during the winter. They keep the cold winter air out and keep the lovely centrally-heated air in. But if your windows are old or ill-fitting, they might start failing at this important job.
If you want a home that's both comfortable and energy-efficient, double glazing is an excellent option. By investing in windows with double glazing, you will undoubtedly feel the difference they make to the temperature of your home. If you aren't ready to fully replace your windows, you can always use a DIY double glazing kit as a temporary measure.
Clear out your gutters
This one is less about keeping your home warm and more about keeping it dry. Though clearing your gutters is most likely not one of your favourite jobs, it is an essential one. Over time debris can build up in your gutters which stops them from effectively draining water away from your house. With heavy winter rainfall (or even snow) a clogged gutter could lead to it flooding and damp getting into your walls.
Invest in loft insulation
You may not realise it, but a lot of the heat that escapes from our homes' gets out through the roof. This makes insulating your loft an important long-term investment that will save you money on wasted energy and comfort not only during winter. It's not a hard job, just grab your protective equipment and some insulation and you can easily do it yourself.
Close your curtains
This sounds simple but you'd be amazed at the difference closing your curtains will have on keeping your house warmer.
When it comes to trapping the warmth inside your home, the thicker your curtains are the better. You could also line them with a thick material to make them even more effective.
Be sure to keep your curtains open during the day to ensure as much sunlight can fill your home as possible. This won't just help you keep the winter blues at bay, it the sunlight will help heat your home too.
Seal gaps in the floor
In homes without floor insulation, your flooring is partly responsible for the amount of heat that escapes your home. The best way to tackle this is by filling up any gaps or cracks in your flooring with a silicone filler.
If you have wooden floors, these can become very cold even with the gaps filled. It is a good idea to invest in rugs in the winter to keep in the warmth.
Upgrade your boiler
If your boiler is old then it might not be effectively heating up your home. By replacing your boiler with a modern boiler, you will be amazed at the difference it makes. Although this has an upfront cost, you will also start saving money on your heating bills straight away.
It is important to regularly get your boiler serviced by a registered engineer to ensure that it is functioning properly.
Insulate your pipes
Pipe insulation is important because it covers the exposed pipes between your hot water cylinder and boiler, preventing heat from escaping. This helps to keep your water hotter for longer. Insulating your pipes is a relatively simple process but one that can save you money on your energy bills each year. It can also prevent your pipes from freezing, ensuring that your boiler is able to work in colder temperatures.
Be smart with the thermostat
It is inevitable that you will have to use your heating at some points during the winter months but by being clever with it you won't have to blow your whole budget on heating costs.
Most modern thermostats allow you to programme them to automatically turn on at certain times of the day or when it reaches a certain temperature. This can be extremely useful for times where you are not at home. Whilst it is not the best idea to turn your heating off entirely when you're not at home, you can set it to a lower temperature and then increase it when you are home.
Check your doors
Your front door is one of the most important parts of your home. Not only is it responsible for keeping your home safe, but it also plays an important role in keeping it warm. So if your current front door is not up to standard it could be letting out vital heat. After all, a draughty front door is never ideal.
Although replacing your front door might sound drastic, it can do wonders for the appearance, security and overall energy efficiency of your home.
If you're looking for an external front door that not only looks good but will go a long way in keeping your home warm, then why not check out our beautiful range of front doors here?
Posted on: 02 December 2021