As interior home design heads towards a more open plan, spacious living environment, it's no surprise to see a rise in traditional patio doors.
With many different styles of patio doors on the market, it's impossible to ignore the effect your garden can have on your living spaces. With that in mind, knowing how to best utilise your internal and external spaces so that they flow together is just as important as having a patio door itself.
Taking a look at several patio door ideas, we'll consider what might be best for your home and how best to utilise your patio dors.
French Door Garden Ideas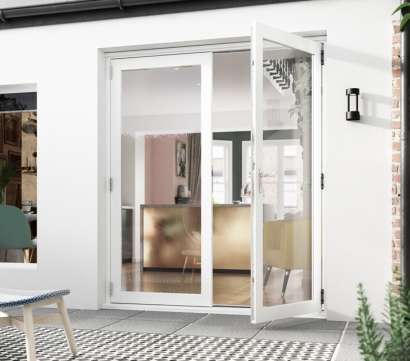 While often thought of as being very traditional, French doors to the garden can actually make a great addition to contemporary homes.
A set of stunning French patio doors leading to the garden make a great match for smaller properties, too. They're simply constructed, consisting of just two doors attached to opposite sides of the frame. Locking together where they meet in the centre, these patio doors are also fantastic for increasing your home's security. This means fewer moving parts, which in turn means more glazing.
You'll want to consider the direction in which your French Doors will open when planning the surrounding space. If you've placed a garden table immediately outside the door, then you'll want to allow a little extra room to avoid collisions. For smaller gardens, it may be worth having your french doors open into your home, as opposed to your garden.
It's also worth bearing in mind how open to the weather your property is. In windier locations, french doors may not be ideal. They can get blown about in stronger winds and cause detrimental damage to the structure of the door. The last thing you want is for your glass doors to be repeatedly slammed on a blustery day.
If your choices are limited, then there are a few ways to combat blustery winds affecting your patio doors.
You might tether your doors to the external wall using a small hook-and-chain, or you might prop them open using a rock or plant pot.
This latter option will require moving heavy objects back and forth every time you want to keep the door open, which will understandably be a little inconvenient.
You should also consider that an isolated pair of plant pots might well appear out of place. It's therefore worth making a feature out of it and arranging a few dozen pots around the edges of your door.
Another option is to have your doors open internally. This will encroach on the space inside your home but will mean you don't need to worry about the wind. What's more, you'll be able to incorporate more decorative features around your French doors, like climbing plants and other ornaments. You don't want to overcrowd the entranceway, as this limits how much light can enter your home. However, a few subtle touches can often go a long way.
To emphasise the divide between your home and garden, you might build a set of steps from your French Doors to your patio. You'll be able to feel like a real Parisian aristocrat as you descend them en-route to your barbeque!
Bifold Patio Door Ideas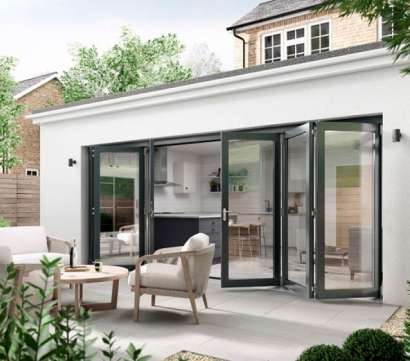 Bifold doors leading to your garden can look spectacular. Their folding, sliding concertina-style design allows them to cover wall spaces of five metres and more. These sliding patio doors are the perfect match for uninterrupted stretches of wall which adjoin the patio.
Internal bifold doors allow you to open up or divide rooms as desired. With their minimal framing, natural flow flows seamlessly in your home. With a little ingenuity, you can achieve the same effect in your garden. Match your patio's tiles with those of your kitchen-diner, and you can create a seamless living space that's perfect for barbeques.
You might even go one step further and have the floor of your patio and kitchen align perfectly, with the rail of your folding patio doors built into the ceiling rather than the floor. This will create the ultimate harmonious living space. This will require you to consider draughts and drainage (you don't want water leaking beneath your door, after all), but get it right and it'll look amazing.
If you've got wooden decking installed outside, then another option is to raise it to the same level as your internal flooring, and minimise the gap between the levels.
While you're unlikely to want to match the decking with the sort of hardwood flooring you're laying in your lounge, wooden decking allows for rainwater to drain through, and if properly cared for will last for several decades.
Folding patio doors also make a great addition to conservatories and garages that have been converted into living spaces.
In the latter case, they're particularly useful. Since garages aren't built with light dispersal in mind, they will benefit from the glazing that a bifold door provides. If your garage is set behind your property, then installing a large sliding door along the side of it will solve the light problem in a second, and provide you with a fantastic living area.
As with patio doors, you'll need to think about the direction in which the bi-fold doors in your garden open. Having them extend out from the building is a logical choice, as this will maximise interior living space. It will, however, limit how much decoration you're able to place immediately outside the door. Why not counteract this by placing potted plants and raised borders on the other side of the patio?
Given the considerable size of a bi-fold door, they can dominate exterior walls; even in larger properties. The best way to avoid this is to ensure that the room beyond is suitably varied and well-decorated, and to divide the patio with regular features. A long dining table that runs parallel to the door will achieve this. It's a perfect setting for summer parties, and it'll ensure that the eye isn't confronted with a large empty space.
For the sake of convenience, you might wish to install a retractable canopy just above your bi-fold doors. This will eliminate the need to clutter up your patio with parasols. You'll want to consider the angle at which sunlight will meet the door, however; even when retracted, your canopy might well cast a shadow over your bifold doors at certain times of the day.
Sliding Doors Patio Ideas
Sliding doors are the perfect amalgamation of bifold doors and French patio doors. With their large glazed doors, they can increase the natural light flow into your home.
The main issue with sliding doors is that they impose on the traffic flow into your garden. As only one side of the sliding patio doors opens, half of the opening is forever closed.
Much like other patio doors, sliding doors are fantastic for any home looking to increase its internal and external living spaces.
For other fantastic patio door ideas and information, contact our team today.
Posted on: 22 August 2018