It's a fact of modern life that renting is on the increase. Property prices keep creeping up, as does the cost of living. For most people, saving a deposit for even a small starter home feels like a long-term goal.
But living in a borrowed house is not always ideal; especially when rented house décor can be painfully bland. Cream walls, beige carpet – many rental properties can feel like a symphony of magnolia. This can be disappointing for people who want to spice things up and introduce some personality to their rented home.
Luckily, there are some steps you can take to stamp your individuality on a property you don't quite own.
Can you decorate a rented house?
This question can only be answered by your landlord as it depends on how flexible they're willing to be with the decorating.
They are not legally obliged to let you decorate the rented house and some tenancy agreements will forbid it outright. You may feel like you are doing your landlord a favour by brightening their boring magnolia with a splash of colour, but that isn't always the case.
Magnolia is neutral – it appeals to (or at least, doesn't offend) most people. Any bold colour statements or decor could scare off future tenants.
Ask your landlord – they may see your redecorating as a positive thing since it saves them having to do it themselves. If they seem reluctant at first, you can always suggest a temporary change. Offer to return the house to a neutral colour before your departure and incentivise your landlord with a property that is refreshed and ready to rent as soon as you leave.
If your landlord does agree, make sure you get that permission in writing. If you don't, your deposit could be in jeopardy if they change their mind at a later date – and they may even call it a breach of contract.
Decorating can also be more extensive than just changing the colour of the walls. You may want to install fitted furniture, shelving, new curtains or even change the internal doors – but don't rush into making drastic changes. Anything that will make a lasting impact on the property, including screws in the plasterwork, will still need to be approved by your landlord. It can also be costly, so think carefully about what you want to do – will you be living in the property long enough to enjoy the full benefits of your investments?
If you do decide a personalised property will be reward enough, then read on for some simple ideas to decorate rental homes without incurring too much cost.
How to decorate a rented house or flat
Decorating a rented house doesn't have to mean making grand or permanent changes. Colours, textures and even light can be introduced in subtle ways that can still transform a bland rented space into a warm, happy home.
Below are some rented house hacks to decorate your rental property and help you live in a place you are proud to call home.
Ways to decorate a rented kitchen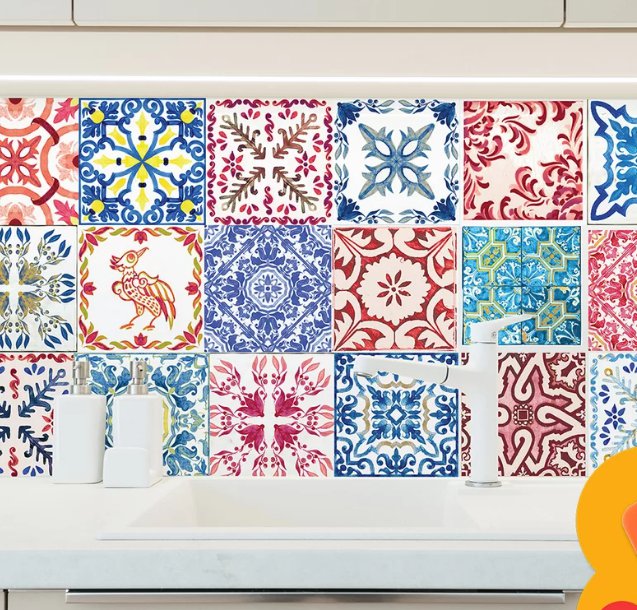 PVC Peel & Stick Mosaic Tile from Wayfair
Removable 'peel and stick' tile paper will allow you to add colour and texture to your kitchen without the commitment of ceramic tiles.
Create your own display spaces
With a little careful arranging, open shelving allows you to turn your kitchenware into decoration. If this option doesn't currently exist in your kitchen, you can always remove the doors of one or two cupboards to turn their interiors into a display.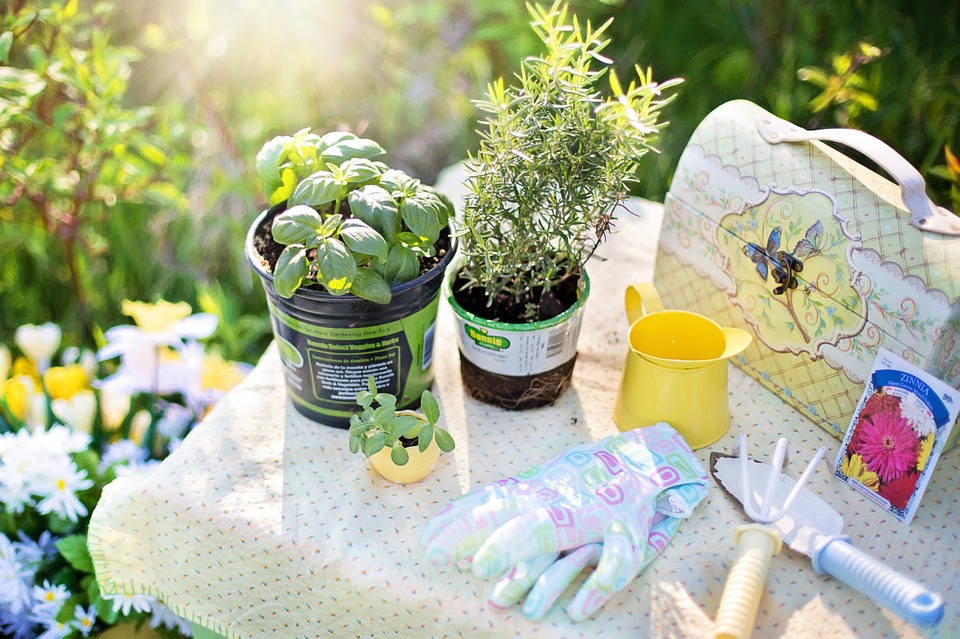 For decoration that is as functional as it is visually pleasing, pot a couple of herbs and place them on a sun-drenched windowsill. Thyme, rosemary, mint and parsley grow well indoors and are inexpensive in garden centres. The positive effects of having plants inside will be further enhanced when you are able to scatter fresh herbs into every meal.
Ways to decorate a rented bedroom
Invest in a new floor covering
A large rug can change the look of any room. It's also cheaper than a carpet, with the added benefit that you can take it with you when you leave.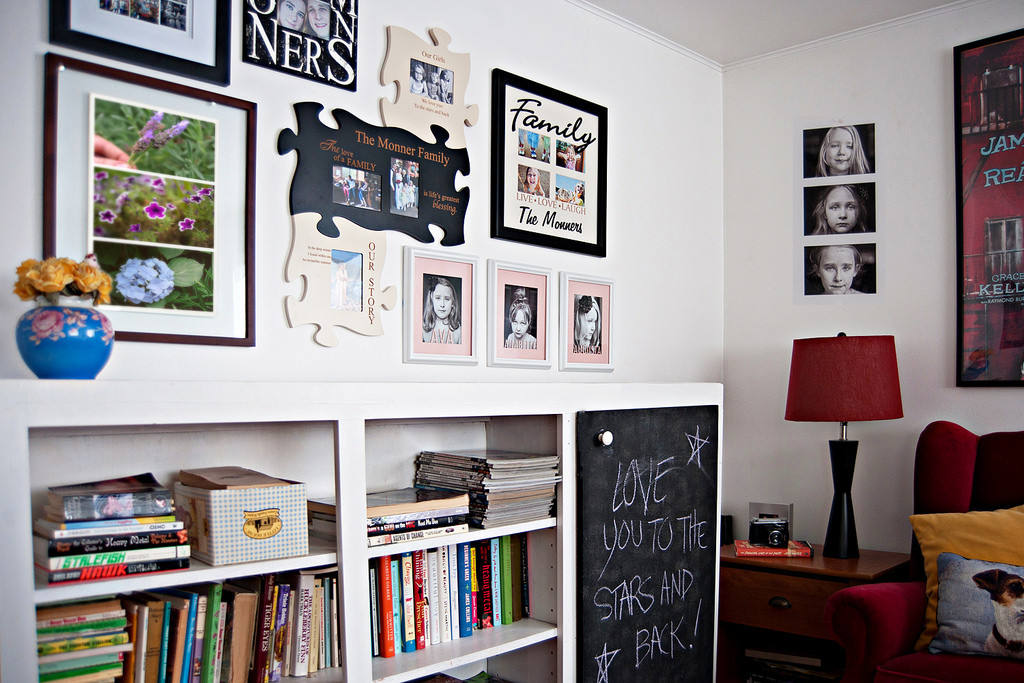 Turn your own friends and family into a feature wall using this tutorial. Just make sure to talk to your landlord before putting any picture hooks into the plasterwork, as this may count as damage.
These large, transferable stickers are easy to find online and can be used to add a simple silhouette or text-based design to your walls.
Ways to decorate a rented bathroom
The Harpster Home shows how doubling up your shower curtains can create an impact. Something this attention grabbing will detract from old tiles or stained grouting, as well as actively hide a substantial portion of it.
Another small change that makes a massive difference. Stack towels in bright, complementary colours and create a focal point for your bathroom that you completely control.
Transform plain wooden storage crates into unique bathroom furniture using this tutorial from Home Depot. The open fronts will allow you to turn each space in to an artful display as well.
Ways to decorate a rented lounge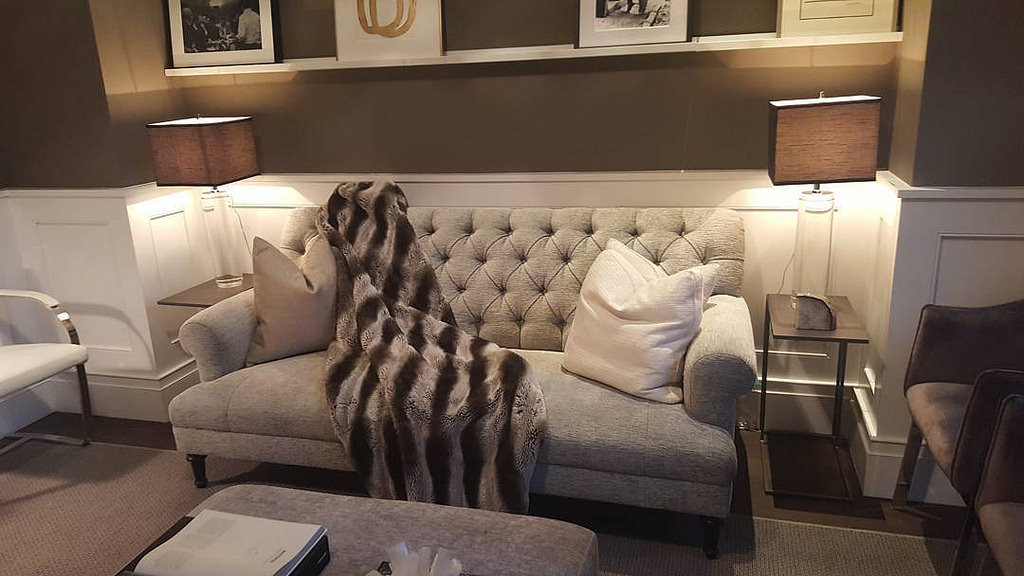 It might seem an obvious suggestion, but it's easy to underestimate the impact that a bright, bold throw can have on an old sofa or chair. As well as covering any worn patches, the block of colour will make a beautiful contrast to magnolia walls.
Customise a plain bookcase using paint, self-adhesive coverings, and even wooden trim. Artfully arrange vases and photos among the books and you'll have feature furniture that will lift the whole room.
You may not be able to commit to a whole wall, but that doesn't mean you can't use wallpaper at all. Buy two or three blank canvases from an art supply shop and cover them instead. A lot of wallpaper brands offer self-adhesive paper these days, or you can use a can of spray mount for a lasting fix.
Frequently Asked Questions about Decorating Rented Properties
How often should my landlord redecorate?
There is no legal requirement for landlords to redecorate their properties. Good practice suggests that it is done every 3-5 years but no one actually enforces that. If you are concerned that your rented home is looking worn, you should definitely approach your landlord with a polite request for redecoration. Just remember that it is up to them to make the final decision.
Can I paint my rented property?
This is entirely up to your landlord. Your tenancy agreement may have specific terms that state you can or can't redecorate, so consult that first. Of course, even if the document forbids it, you can still choose to put the proposition to your landlord. If they are initially hesitant to hear you out, offer to retain a neutral colour scheme or to repaint in magnolia before you leave, and they may be persuaded.
Can I wallpaper a rented house?
If you wish to use wallpaper, ensure you make this clear to your landlord. This can be a contentious issue. Despite claims made by certain manufacturers, removing wallpaper is rarely an easy job. The walls may even need to be resurfaced before they can be repainted.
What's the best way to hang pictures in my rented house?
Bluetack, tape and Velcro can all damage plasterwork and your tenancy agreement may have a clause forbidding their use. This is another thing to ask your landlord, who may agree that if you promise to rectify any damage you cause before moving out. If they say yes, try using 'damage free hanging strips', which use a removable adhesive to attach a hook to the wall. Just be sure to check the 'load' weight before use.
Hopefully this post will have demonstrated that life in a rented house does not have to mean living in shades of beige. Just remember to keep your touches superficial and easy to rectify, and you can confidently conduct your own rented house makeover!
Posted on: 10 December 2018