It's easy to make assumptions when shopping, so many homeowners might assume that, when buying an internal door for their home, it will ship with a pre-set handle and fittings ready to be mounted and hung.
More often than not, however, that is not the case.
This is largely because most door manufacturers know that for many homeowners, choosing a door handle is just as important as choosing the door itself. The right door handles not only need to function adequately; it also needs to match the other doors in your home, the décor of the rooms it is to adjoin and, of course, the doors they are going to be 'working with'.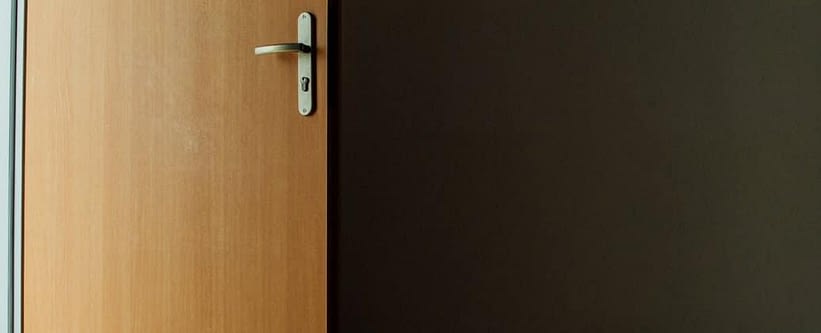 Door Handle Designs
Whether you're designing a new home from scratch, giving your existing home a complete refit, or are simply replacing an old, outdated door handle, it's paramount that the designs are consistent and fit with the rest of your décor. With the vast amount of door handle designs available, this can be a challenge, but it's really no different from choosing any other furniture in your home.
Door Furniture
The handle, hinges and latches are colloquially known as 'door furniture' and are not always supplied together unless you buy a latch pack, which should contain all the furniture in one purchase. As such, you might not only need to make sure the handles match your doors and existing décor, but that they match the latches and hinges you'll be using.
If you are replacing a handle on an old door, you might even be able to use the existing furniture, so it then becomes a case of matching the handle to the latches and hinges.
Remember that you won't actually see much of the furniture besides the handles, so whilst you don't want the furniture to clash, your priority should be choosing the door handle.
What's Better? Door Knobs vs Door Handles
Whilst door handles are generally more common these days due to the greater level of grip they provide, doorknobs are still used in homes throughout the world. What you choose will always come down to individual taste.
Knobs
Doorknobs are often considered more 'decorative' and generally suit older period properties as they've been around for longer than door handles.
There are countless designs to choose from, ranging from statement door knobs to the more subtle and sophisticated.
The classic ball shape (which many find to be hard to grip) isn't the only option. There are many egg-shaped or oval doorknobs available that offer a better grip.
Even so, a doorknob will never be able to offer the same level of grip as a door handle.
Handles
Handles (or levers) are simply more convenient than doorknobs and are far easier to open, particularly if you don't have your hands free. If you've ever tried to operate a doorknob with your elbow whilst carrying two cups of tea, you'll know exactly what we mean.
Whilst doorknobs are generally set further from the door than they used to be, it's still easy to graze your knuckles on the door when using them. This will never happen with a door handle.
There are generally more design options available with door handles, not to mention various backplates.
Door handles can, however, get caught on loose items of clothing and will require more maintenance as there are more moving parts to consider.
Ultimately, the decision to go with door handles or doorknobs will depend on your personal preferences and the style you're going for. Mixing and matching handles and knobs in homes is not unheard of either, but as a general rule, we'd always recommend going with one or the other.
What Are Dummy Door Handles and Privacy Set Locks?
Some door knobs are designed to sit static on a door to be pulled without interacting with a latch at all. There are also handles designed this way, however, and these are known colloquially as 'dummy handles'.
These are decorative solutions for doors where only a pull is required and no latch is installed. They are most often seen on wardrobe or pantry doors.
Privacy door set handles are typically seen on rooms like bathrooms and home offices.
They look like any other handle but they also feature a locking mechanism that allows the door to be locked from the inside. Unlike a security lock however, a privacy lock can be opened from the outside.
What Are the Best Door Handle Designs?
When considering the design you want for your door handles, contemplate the room and the home as a whole.
Conventional door handles and knobs are offered in various materials and shapes.
If you're fitting a new home from scratch you'll probably want to make sure all of the handles in the home match up. This means sticking to either one shape (subtle curves, straight or more severe bent handles for example) or material (such as brass, chrome, glass or steel).
Conversely, you might choose to contrast styles, materials, colours and shapes against each other to match not the overall home, but the individual rooms. It will depend very much on your individual style and personality. If you have different styles of door already installed throughout your home then you might be more willing to experiment. The choice really is up to you, but we would always recommend at least an element of consistency.
Below we've included a list of the most common door handle (and doorknob) building materials for your consideration:
Chrome door handles – chrome is a classic and elegant solution; ideal for both modern and traditional homes.
Stainless steel door handles – similar to chrome but not quite as shiny (meaning its better at hiding fingerprints).
Glass door handles – ideal if you want to make a statement.
Brass door handles – a bold choice for period properties.
Porcelain door handles –commonplace in older properties. Ideal if you want to maintain the traditional appearance of your home.