An elegant external door solution that is finding increasing favour in traditional and contemporary homes, bi-fold doors are an attractive and convenient replacement for French doors or more common hinged doors, particularly in conservatories.
Why Are Bi-Fold Doors So Popular?
This is primarily because of how much extra light they let into a home, as well as their fantastic energy and space saving properties. As such, if you're considering installing a bi-folding door system in your home, as a rear or front-facing external door option, we certainly think you'll be happy with your decision.
That said, safety and security should always be a paramount concern, particularly in a family home. This is one of the few reasons that many homeowners might initially be put off bi-folding doors, as they have somehow earned a reputation for being insecure. Many of the rumours that might spawn these hesitations, however, are completely ill-founded. Indeed, as long as you take the sensible precautionary measures, bi-fold doors are just as secure as conventional patio or French doors, potentially even more so.
How Secure are Bi-Fold Doors?
Besides the obvious aesthetic improvements that bi-fold doors can offer your home, there are numerous security reasons why you might want to consider installing a set of bi-folding doors. Here are some features which help to keep your bifold doors secure:
Multi-point locking system – Most modern bi-fold door systems will be installed with a multi-point locking system and an in-line tracking system that an intruder will find it almost impossible to lift the door from. This is because the doors will be attached to a gear within the bottom track, so to remove the doors, they would need to remove the gear also (which will be manufactured from hardened steel). They are not going to manage that without making a LOT of noise.
Glazing – The glazing options for bi-fold doors (which we'll go into in more detail later) are numerous. At a minimum they'll feature double-glazing, which will also help with your home's thermal efficiency. Double-glazing is not only incredibly sturdy, but in a bi-fold door, the internally beaded frames of the doors should also overlap with the glass panels, for even greater protection.
Not the target many assume – Many homeowners wrongly assume that thieves target bi-folding doors as they are easier to break into than more traditional, conventional doors. This is simply not the case. This misconception is born from the fact that many burglars target conservatories, but this is because conservatories are often less secure than the rest of a home, and has nothing to do with the doors. In actual fact, bi-fold doors are typically more difficult to crack than French doors or sliding doors.
Bi-Fold Door Security: What to Look For
If you've made the decision to install a set of bi-folding doors, you should really know what you're looking for when shopping around. This will ensure you purchase bifold doors that are as secure as possible, as well as ones that suit the aesthetics of your home.
Locks
The primary feature you'll want to keep an eye out for when shopping around for bi-folding doors is the locking system. Not only do you want a system that keeps potential thieves out, but you also want a system that can be easily operated by you and your family. Of course, all modern bi-fold doors will be secured by a multipoint locking system (as described above), but these systems will still require a lock in order to operate and there are a number of options available for your bi-fold doors.
Twinpoint Locks – This is possibly the most common and attractive locking system for bi-folding doors. It is built around a handle at the centre of your doors that will operate locks at the top and bottom, holding the doors in place when engaged.
Dropbolts – These are typical dropbolt locks affixed to the top and bottom of your doors that will add an extra layer of protection. We do not recommend, however, relying on them as your only source of security.
Deadbolts – This will most likely be the system installed with your bi-folding doors as standard and, in the vast majority of cases, is more than satisfactory. They can be controlled either with a key or with an internal, twisting locking mechanism.
Childproof Locks – If you have small children in the home and want to keep them safe and secure, but don't want to batten down the hatches and make your home feel like a fortress, a childproof lock could be a sensible option. These come in a variety of configurations, with the most common being simple top-mounting locks that slip over the top of your doors to stop them being opened.
Glazing
The thickness of the glass is obviously something to consider regarding the potential safety of your bi-folding doors. Toughened glass is an option that we seriously encourage as it will not only keep all but the best-equipped intruders at bay, but will also safeguard against accidents and reduce energy bills, thanks to its advanced thermal insulation properties.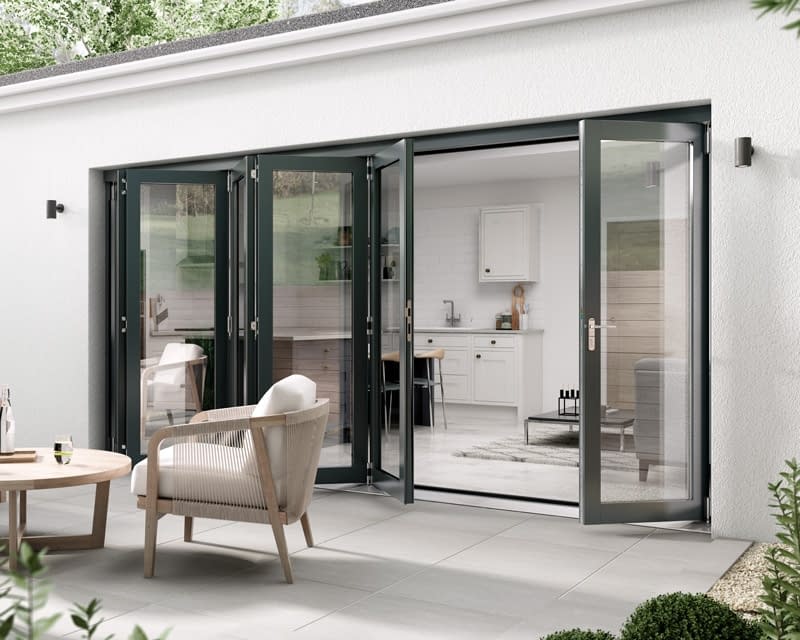 How to Make Bi-Fold Doors More Secure
If you're after some extra protection, there are many inexpensive ways to further increase the security of your bi-folding doors. Here are some options if you're looking for extra security for your bifold doors:
Security Screens – These are mesh screens that can be mounted either behind or in front of your doors, and will allow you to keep the doors open (in the summer months, for example), whilst providing an element of security.
Security Systems – If you really want proper burglar proofing bi-fold doors, you may want to consider investing in a security device that activates if the doors are tampered with.
Laminated Glass – Laminated glass features an extra layer of vinyl between the two sheets of glass, which makes it impossible for glass cutters to work. It is also impact resistant, and less dangerous when broken.
If you are looking for high quality external bifold doors, take a look at our range. If you have any questions about bifold doors, don't hesitate to contact our helpful team.