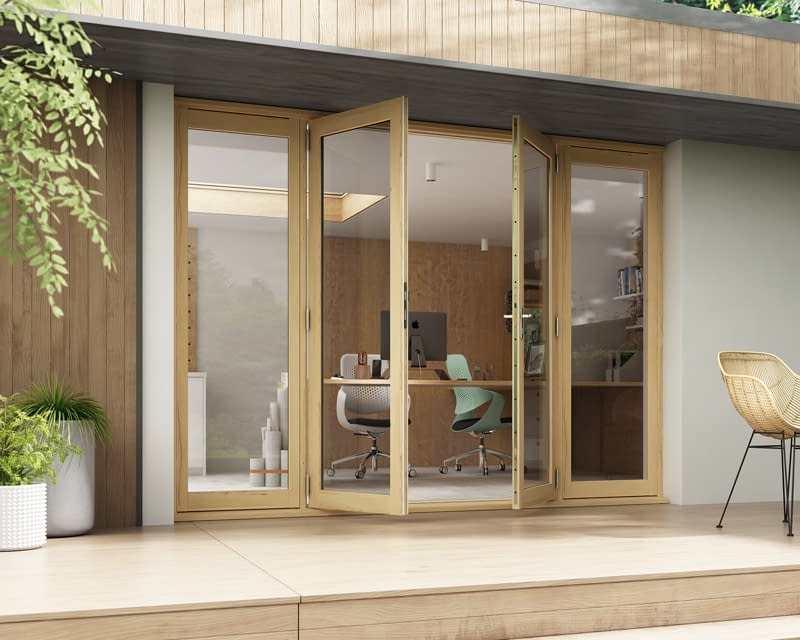 As attractive and functional as bi-folding doors might be, they can fail. After years of daily use, doors can fall out of alignment or refuse to lock properly. This is particularly likely if you live in an area prone to harsh climates. Houses in fluctuating climates are more likely to move. That's why if you have bi-folding doors in your home, it's a good idea to learn about adjusting bi-fold doors.
Thankfully, however, it's far from a difficult or complicated skill to master adjusting bi-fold doors. Often it can simply be little more than a case of shifting them up, down, left, or right a little until they slot back into place. Even in this scenario, however, it's important to understand exactly how your doors work and why they require adjustment.
What's Gone Wrong with My Bi-Fold Doors?
The first step in any fix should always be to identify the problem. More often than not, bifold door problems are related to the doors not closing or locking properly. In this case, it's probably because the doors have fallen out of alignment with the tracking and will require adjustment.
If this isn't the case, your bi-fold doors have probably dropped and will need to be lifted back into the system. The exact adjustments you need to make will depend on whether your doors are top hung or bottom rolling. This refers to how and where the weight of the doors is distributed when the doors are folding. With top-hung doors, the doors are effectively suspended from the top tracks, whereas with bottom rolling doors, they will roll along a bottom track.
Can You Adjust Your Bi-Fold Doors?
The second step should be to quantify if your doors actually can be adjusted. Unfortunately, they might need replacing entirely if they can't be adjusted. This will depend largely on the age of the doors and how severe the damage is, if there is any damage, of course.
As they are external doors, they will have been exposed to the elements. This means they'll almost certainly have worn to some degree. This is especially likely if the doors are constructed from a less durable material, such as uPVC. The weather is not the only contributing factor, however, as general use might have worn down the tracking hardware. If the doors are practically falling out of the hardware, or have been weather damaged to the extent that they appear beyond saving, you might be better off replacing them.
Otherwise, read on and we'll teach you about adjusting bi-fold doors.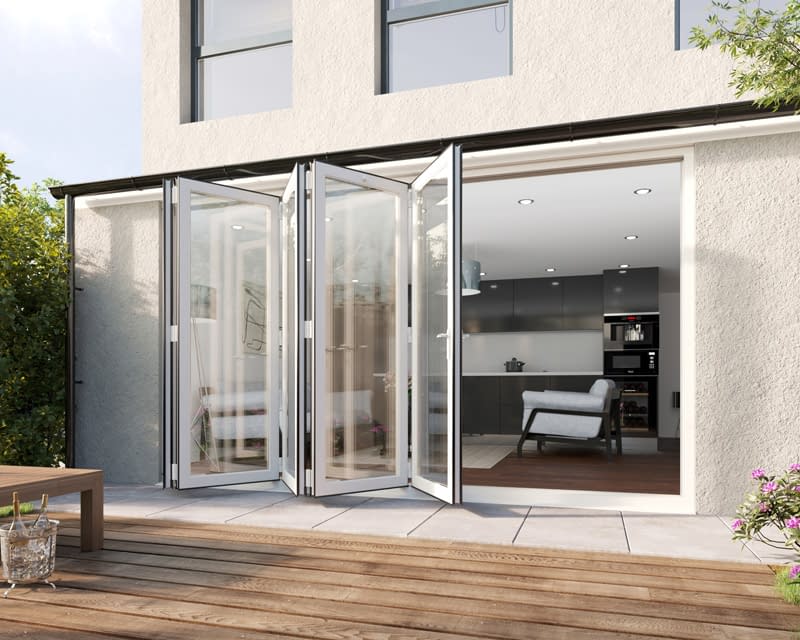 Adjustment
Here we'll guide you through the process of diagnosing the problem and fixing it via readjustment, removal, and/or repair. Note that every job will be unique, but these points should provide you with a good foundation on how to fix your bi-fold door.
How To Adjust Bifold Doors
Begin by opening and closing your bi-folding doors to figure out the specific location of the problem. Start with the lead door (the one you pull and shut to move all the other doors in the set). Play with it a little and see if it is binding to the door jamb or not sitting properly within the opening. If this is the case, it might need some horizontal adjustment in order to make it sit well with the other doors. If the problem is that your doors are dragging or popping out of the track, skip ahead to point 3.
Adjust the hinges fixed at the sill, or threshold, with the help of a trusty Allen key. You can also adjust the hinges in the tracks if necessary. Experiment a little, sliding your doors until they sit flush and comfortable with one another.
If the problem is that your doors are dragging or dropping out of the tracking system, you can adjust the height. The height can be adjusted using the hinge bolts on the doors themselves. Extend the bolt to raise the doors and push it to lower them until you have found the right balance. All doors will vary, so it's very much a case of trial and error. But, it's certainly worth experimenting before calling anyone in. That's because this is largely a simple and non-intrusive fix. Anyone with a small amount of DIY knowledge should have no problem.
Removing and Altering Your Bi-Fold Doors
If the problem is more than a simple alignment issue then you might need to remove your bi-fold doors from their tracks to repair them before reinstalling them. Get in touch with the manufacturer and find out the best way to remove the doors for maintenance. Some modern models can be as simple enough to work around as simply popping the spring-loaded pin at the edge of the doorframe. This might require you to use a decent amount of force, so don't be afraid to push hard (they are built to last after all). That being said, don't go too far!
Once the pin has been pushed down far enough, the doors should literally pop right out of the tracks. Make sure you're ready to catch them!
With the doors free of the tracks, you'll be able to give the tracks a good clean. Start by removing any debris that might have accumulated in them over the months and years of operation. It could well be the case that the debris in the tracking system was causing the problem. But, whilst the doors are off the tracking, it might be wise to give them a little care and attention before remounting.
The doors themselves might have warped over time, particularly if they are built from wood. In this case, consider sanding or even filing if the warping is severe enough. Finally, give the hardware some care and attention with a decent wash – warm soapy water is always your friend here. To help keep the action of the mechanism smooth, a little WD40 or similar lubrication may help.
Rehanging the doors should be as simple as popping them back in and giving the spring-loaded pin the reverse treatment. Note that this can be incredibly fiddly work and a help from a friend or two here is best.
Repairing Your Bi-Fold Doors
If you have gone through the steps above and your bi-folding doors are still not sitting right, you may need to make some more intricate repairs.
One of the most common repairs involves fixing the bottom pin, which might have been worn out of its seat. This is often the case if your doors appear wobbly, as the pin that guides the doors into the tracking system might be loose in its hole.
The most obvious fix here is to remove the pin, fill it in with filler and drill a new hole for it. If the pin itself is the problem, however, it might need replacing.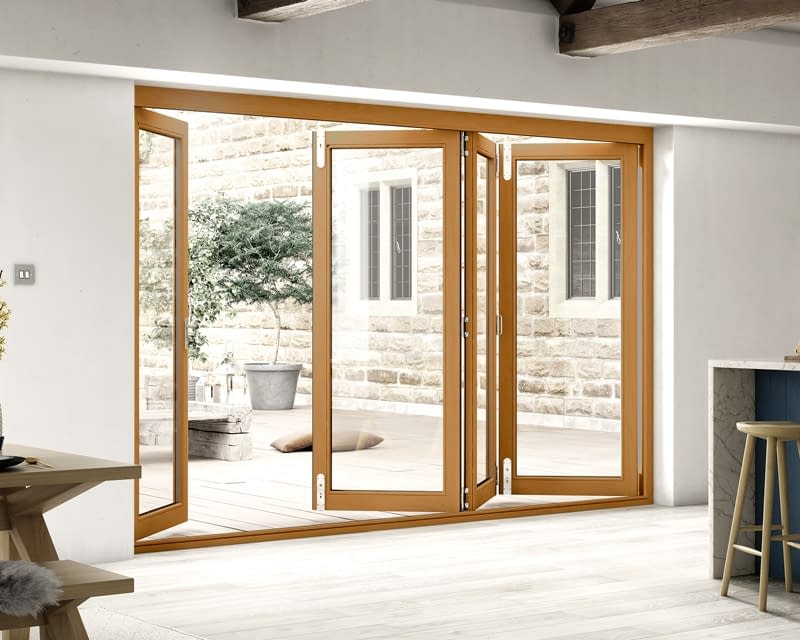 SUMMARY
If the above section seems a little daunting, don't be afraid to reach out to a handyman or more experienced friend. Rest assured, however, that more often than not your bi-folding doors can be saved with just a few minor adjustments. As long as you check up on them every so often (particularly after a bout of severe weather) and you keep your wits and patience on standby, you should be more than capable of maintaining and adjusting bi-fold doors.
If you have any questions, we're always happy to talk! Find the best way to get in touch by visiting our contact page.