There are many reasons a homeowner might choose to install a set of French doors. They boast a classic, traditional style, let heaps of light into the house, and are designed to be as easy to operate as they are on the eyes. One area that might be of concern, however, is in security. Many believe that the more open nature of French doors means that they are more inviting to thieves than conventional external doors.
This is simply not true – particularly with modern French doors.
Let's talk more about French doors and security. The security of your French doors will depend on the build quality of the doors themselves, the quality of the glazing, and the locks. The most secure French doors can be just as, if not more, secure than patio doors or sliding glass doors – you just need to know what to look for!
French Door Security: Are French Doors Safe?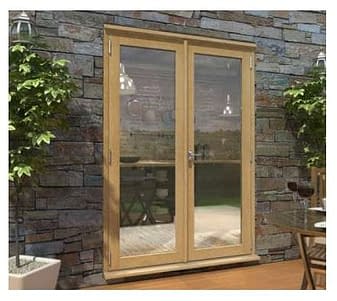 It goes without saying that a poorly built and/or poorly installed set of French doors will be easy to break into, so arguably the best way to secure French doors is with an installation from a good professional joiner or handyman. A high quality set of French doors which are professionally installed will offer good safety and security for your home.
Of course, if you're an experienced DIYer it's perfectly possibly to carry out the installation yourself. Just make sure you know what you're doing and that, once the installation is complete, the doors are tight in their frame with no obvious space between the threshold and the doors themselves. You'll also want to ensure the doors can be opened and closed with ease.
Another thing to consider are the security devices your French doors come with. These will vary between both brand and product ranges. All our external French doors are supplied with a secure multi-point locking system as standard.
Which Material Is Best For French Door Security?
French doors are generally constructed from either wood or uPVC. Wood is typically deemed to be more desirable and durable, but it is also more expensive. Thin, poor quality wood, however, will be just as fallible as uPVC (and it'll probably cost you more, too). As such, we would recommend choosing engineered or hardwood French doors whenever possible.
Learn about the difference between engineered and solid doors here.
French Doors and Glazing
The vast majority of homeowners choose French doors as the bridge between their garden or patio, and their home. This maximises how much light those large glass panels can let inside.
That said, these same glass panels can put many prospective shoppers off, with many assuming they are the weakest part of the door. There really isn't anything to be concerned about, however, so long as the doors are double glazed, and use toughened glass.
Locks and Latches For French Door Security
Mortice lock – traditionally, the most common lock you'd find on a set of French doors is the 5 lever mortice lock.
This operates in a similar manner to the locks found on most front doors, so is just as secure; however, the rear of the house is less exposed so break-ins from the rear are far more common. This means that your rear doors should be supplemented by a more secure locking system.
Multi-point lock – similar to the systems you'll find in most bi-folding doors (and many modern front doors), a multi-point locking system works like a mortice lock, but it locks the door (as the name suggests) at multiple points, all operating at the same time with the turn of the key. This is arguably the best and most secure lock for French doors.

We recommend that this is what you should be looking for when buying French doors.
Extra Security for French Doors
If you feel your home needs extra protection, there are a number of ways you can make your French doors even more secure – effectively turning them into high security French doors. For the very best French door security:
Choose laminated glass. Laminated glass is manufactured in the same way as any other double glazing, except a sheet of plastic is positioned either between the glass or on the outer pane, adding extra protection.

Consider installing window bars. Many of these come with built in alarms, which will activate if someone tries to open the doors.

Add a French door security bar. Security bars for French doors add an extra layer of security by stopping the door's handles being moved, from both inside and outside. Many security bars come with built in alarms, too. These are a great way to make older French doors more secure, on which the handles are a weak point.

Security screens offer a great last line of defence against potential intruders. Whilst they are not generally considered to be the most attractive option, they can be easily pulled back when not in use. They are also very easy to install and cost-effective.

One step above security screens, security grilles for French doors are sturdier and just as easy to install, though they are harder to obscure.

If you don't have one already, invest in an alarm system; either specifically for your French doors or for the entire house.

A sensor alarm can be installed to prevent a forced entry before it begins. These can be mounted on the doors themselves or on the walls outside your home, and will detect anyone approaching the home before they have a chance to attempt a break in.

In a similar vein, wedge alarms can be set under your doors to act as a pressurised trigger whenever the doors are moved. Remember to set the sensitivity though!
Summary
Of course, the best thing you can do to keep your French doors secure is to actually remember to lock them before you leave the house or go to bed at night. Before any burglar resorts to more extreme measures they will always check to see if the door has been left unlocked, so don't make it easy for them!
Also, remember to check your French doors occasionally for signs of wear and tear. They are external doors after all, so they will be exposed to the elements. This is particularly important for wooden doors. While timber typically lasts many years longer than uPVC, this won't be the case if the doors aren't properly cared for. Keep up the maintenance on your French doors and they will last longer and offer better security.