Over the years, the definition of "standard size" for an internal door has changed many times. This means that depending on how old your home is, when you last renovated, and the look your architect was going for, the size of the internal doors in your home could vary massively. This means that before you can go and buy a new internal door you need to have an idea of what size that door should be.
There are some minimum requirements for heights and widths in new builds, but the sizes for a single door can range from as small as 475mm x 1981mm all the way up to 926mm x 2040mm. The most common "standard" sizes are:
457mm x 1981mm
533mm x 1981mm
610mm x 1981mm
686mm x 1981mm
762mm x 1981mm
838mm x 1981mm
861mm x 1981mm
813mm x 2032mm
525mm x 2040mm
626mm x 2040mm
726mm x 2080mm
826mm x 2040mm
926mm x 2040mm
The above are just the most common sizes – there are other sizes that are stocked by dedicated door vendors, and there is nothing to stop an architect from deviating from the "standards" either. In some cases, you can make a door fit a non-standard opening by planing down the hardwood lippings, but if your door opening deviates from the standards by more than, say 10mm, then you may need to have new doors made to measure.
Of those popular sizes, the 1981 x 457 or 533mm doors are usually used for walk-in cupboards, while 1981 x 610 or 686 doors are usually used in areas where wall space is at a premium. As a general rule, you will likely find that older properties have smaller doors. As the population has gotten taller, door sizes have changed to match, and accessibility regulations have also started to push for doors to be bigger to accommodate wheelchairs, although this is more of an issue for public spaces and offices than it is for private homes.
The 1981 x 838mm doors are a popular choice for accessibility. This is the required width for wheelchair accessibility if you need to comply with the Part 'M' mobility requirements.
What Size do Fire Doors Come In?
Many standard sized UK doors can be purchased in fire door variations. Fire doors are thicker than standard doors – at 45mm. The extra thickness is to give space for extra core materials that will allow the door to withstand a fire for a set amount of time. Note that a fire door must be fitted in a frame that can also withstand fire, and that you should use intumescent seals and appropriate ironmongery. A fire door fitted improperly will not offer sufficient protection in the event of a fire.
For a door to work well, there must be a gap around it that will allow the door to move freely. This gap could potentially allow smoke or fire to spread. Intumescent seals will expand when they are exposed to heat. Typically, these are fitted onto a door frame, but in some cases they can be grooved into the edge of the door. Make sure that there are seals fitted, and that the seals are in good condition. If there ever is a fire in your property, have the door inspected and replace the seals as appropriate.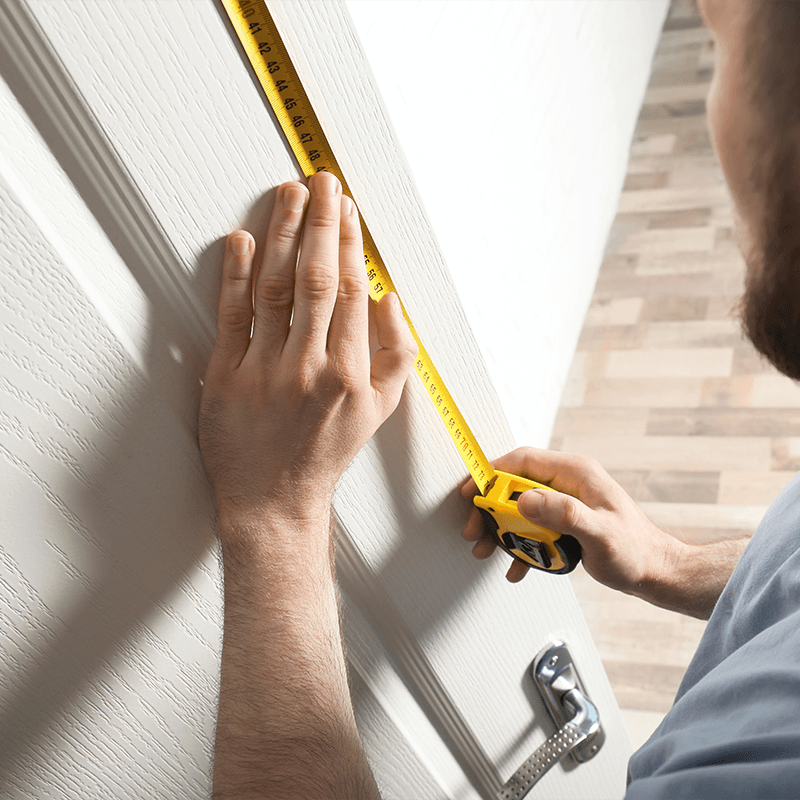 What is the Most Common Size of Door? 
If you live in a relatively new property, then there is a high chance that your internal doors will be 762mm x 1981mm, or 2ft 6in wide by 6ft 6in tall. The other "standard" door sizes are typically used for cupboards or for things like toilet doors.
How Do I Measure a Door Opening?
Before you purchase a new internal door, make sure that it will fit by measuring the opening. You should take three measurements:
Measure the width at the top, middle and bottom of the frame. The widest measurement is the desired width of your new door.
Measure the height, taking one measurement from the left, one from the right, and one from the middle of the door. Again, the longest measurement is the desired height of your new door.
If there is a significant difference between each of the three measurements, this suggests that the door is not square or the jambs are not plumb, and you may need to adjust the frame.
When you are buying a new door, remember that you can reduce the size of the door but you cannot make a door bigger, so choose carefully.
NOTE: you should measure the door frame, not the door itself. Double check each measurement to make sure that you are definitely buying a door that fits.
If you are buying a door that is intended to fit a non-standard opening, make sure that it is a solid door, or that the lippings are big enough. Flush doors and hollow cored doors are often not intended for trimming, and if you cut too much off the lippings it will reveal the hollow core inside. UPVC doors cannot be trimmed, so you will need to make sure that if you buy one of those it will fit perfectly. Confirm that the frame is square so that fitting the door is a hassle-free process.
If you have an unusually large door opening, then it may not be possible to fit a standard door and you should consider either French doors, or perhaps doors with a sidelight.