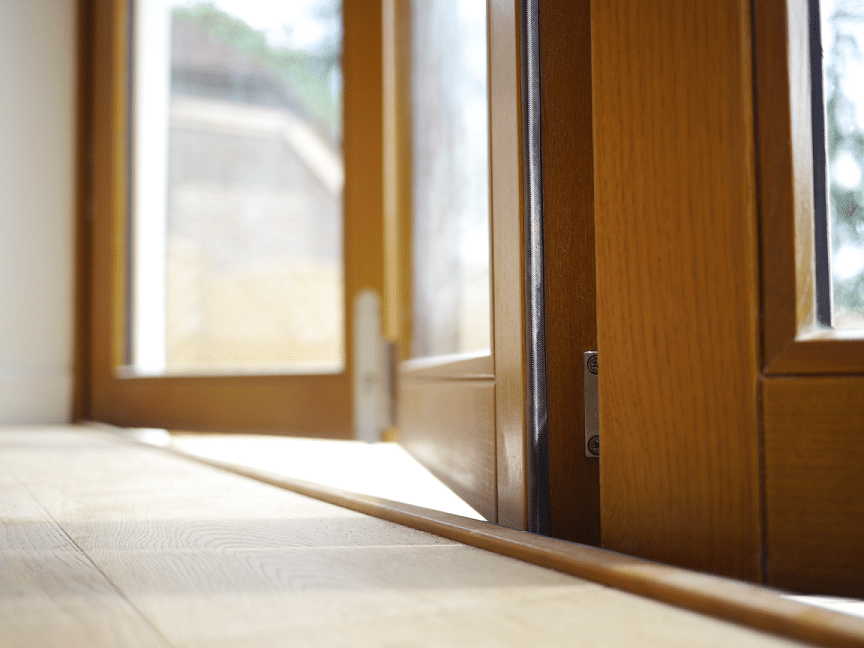 Nothing is more likely to take the shine off a brand new door, than hanging it from a tatty old door frame.
While a new lick of gloss can often work wonders on a door jamb or frame, if the wood is warped or damaged, you'll need to take more serious action.
You may even need to replace an interior door frame for an old door. If the wood has changed shape due to swelling or warping, it can cause your door to stick or not close properly. Sometimes paint isn't enough to save a damaged, dented or dirty frame for a perfectly presentable door either.
In any of these situations, the simple solution is to replace your door frame. Luckily, this is not a difficult task. It should be easily achievable for any homeowner, with the right tools and willing helper.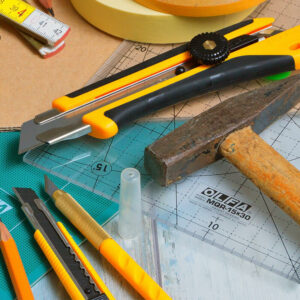 Tools:
A screwdriver
A pair of safety goggles
Crowbar
Spirit level
Plumb line
Chisel
Screws
Hacksaw
Emulsion
Hammer
Nails
Some spare wood
Sealant
A new door frame kit
Mortar
DPC Strips
Before You Start:
Before you can start fitting your fresh door frame, there are a couple of preparation steps you need to take.
Measure and order the new door frame. The first thing you need to do is to get hold of a door frame kit to replace the existing frame. If you are installing a door for the first time, you just need to measure the rough opening in your wall. If you are replacing an existing door frame, you should measure the width and height of the door opening but then add an extra 10cm to allow for the new frame.
Remove the old door. Door leaves can be heavy and cumbersome so make sure you have help. Tap the hinge pins loose, then gently push the door open and lift it off.
Remove the old frame. This can be quite a delicate, detailed job on its own and you should allow enough time to do it carefully.
Start by removing the old trim or architrave. If you plan to re-use this, then be careful not to damage it. Use the sharp corner of a chisel to get in between the plaster and the wood, then ease the architrave off. Gently. Take your time and try not to damage the plaster -patching up small marks takes minimal effort but huge chunks will take a lot of fixing.
Next, remove any door hardware from the frame including the strike plate for the door handle. If you are reusing this, tidy it up and store it somewhere safe. With the opening revealed, remove any excess plaster, caulk or sealant around the door to expose the frame.
Cut through or pull out any fixings that are holding the door frame in place. Once it's loose, cut through the jambs. Saw through the top-centre part of the jambs at a 45-degree angle, then break them away from the masonry using a pry bar or crowbar.
Finally, clean the rough opening and smooth it off.
Once the old frame has been taken out, you can start the task of installing your replacement door frame.
Steps for Replacing an Internal Door Frame
Apply DPC strips to the underside of the rough opening. These damp proofing strips will prevent moisture from penetrating the door jamb or frame or damaging your brickwork. For extra damp proofing, coat the nails you use to hold the DPC strips in place with a suitable emulsion as well.
Carefully lift the new frame into the opening, and hold it in place with wooden supports. Use a spirit level and a plumb line to make sure the door frame is 100% straight and centred. If it is out of alignment, use shims to correct it.
Drill three holes into each jamb to fit the screws. Make sure that the holes are evenly positioned and spread the load correctly.
Drill screws in to secure the frame in the opening.
Carefully fill any gaps where the frame meets the wall. You can use mortar, plaster or a specific door sealant for this.
Once the mortar has set and hardened, apply caulk around the outer edge of the frame. Use a utility knife to cut the caulk at the point where the jamb meets the wall.
Finish the frame. Most door frames are supplied unfinished, as finishing them is a relatively simple task. You can do this with paint or varnish, depending on your interior design intentions. Take care around any nail holes or other imperfections as this is your best chance to minimise them.
Fit your door into the frame. If you don't know how, then check out our guide on how to install a door.
When the door is replaced you may want to double-check your paint job, particularly around the trim and where the hinges sit.
Replacing External Door Frames
If you need to replace an external door frame, it's often better to do so using a pre-hung door kit. These kits are already weatherproof, so you can be confident of creating a solid seal between the door and the frame. You can be sure the door will lock securely too.
You will still need to ensure the door frame is secured in its opening to prevent damp and leaks and ensure maximum security. This can be done with a combination of sealant, minimal expanding foam insulation and beds to be done to a high level. But buying your exterior door prehung will make the job a whole lot easier.
Leave it until the door and frame are fully installed to apply spray foam insulation between the frame and the wall. This will help keep your home insulated and secure. For more tips on how to seal your external door frames, we have a guide to help.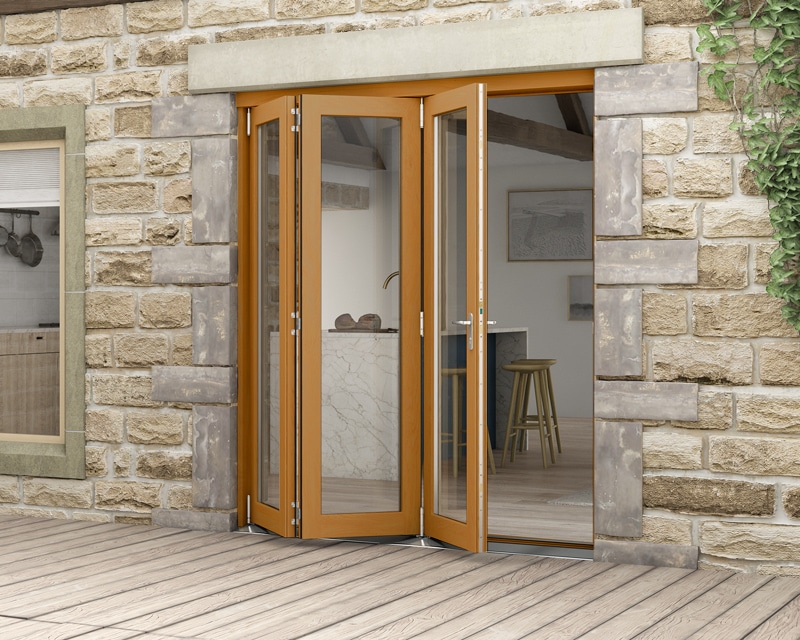 Replacing a Door Frame: FAQ
Before you start the process of replacing your door frame, here are some frequently asked questions that may help you decide whether this is a task you'd like to try yourself or ask for help with.
How Easy is it to Replace a Door Frame?
This is a medium to difficult job. You do not need past experience, but it is best left to a professional if you lack confidence in your skills, don't have a lot of time, or are unable to get someone to lend a hand.
If you are attempting the yourself it should only take a few hours, but you will need to make sure you have all the tools for the job before you start.
What's the Difference Between a Door Jamb and Frame?
If you're replacing your own frame, you might need to know the difference between a frame and a door jamb. The entire frame that sits around the door is called a door frame, whereas a jamb only refers to part of it (although there are two jambs in every frame). A jamb is the part of the frame that sits on either side, between the frame and the wall.
Can You Replace Just a Door Frame?
It is definitely possible to replace an old door frame without replacing the entire door leaf as well. You may need to be a little bit more careful in lining items like the strike plate up, as you won't be able to adjust this on the door itself. Still, it is possible and shouldn't necessarily be any harder than installing a new frame and door leaf at the same time.
This advice applies more to interior door frames though. When it comes to external doors, you can easily buy a prehung door which will usually be more secure and more thermally efficient than the one you've installed separately.
When Should You Replace a Door Frame?
If a door frame is rotten or damaged then it's a good idea to replace it. As mentioned above, you don't have to replace the door itself if that is still standing strong.
Using a decorative architrave will hide any minor mistakes or cosmetic damage to the plaster around the wall, but it is important to work slowly and carefully to ensure the door is perfectly aligned and the frame is secure and weatherproof. If you are completely renovating a room, you can replace the door frame first, then plaster and paint, to ensure a nice, smooth, clean, and professional finish.
Can You Replace a Door Frame Yourself?
Installing a new door frame is a job that you can do yourself, in a pinch. However, installing a full pre-hung door, or a new solid door, is something that is best done with a helper.
Doors can be deceptively heavy. Your existing door may swing nicely in its frame, but that is because the hinges are taking a lot of the weight. When you remove the door from the hinges, you may be surprised at how heavy it feels – especially if it is not a hollow door. Rather than trying to move it by yourself, and risking injury, have a friend or family member on hand to help.
How Much Does it Cost to Replace a Door Frame?
Replacing an internal door frame will cost around £60, if you decide to get a professional in to fit it for you. This is based on an assumption that the job would take around 2-3 hours to complete.
This is a rough guide, and many things could impact the exact cost. The material the frame is made from, the size or shape of your door opening could all have an impact. It may cost as much as £100.
Installing an exterior door frame is usually a slightly longer job. This is understandable when you consider how much more secure and energy-efficient it needs to be.
Ready to shop for a new door? Shop external French doors, bi-folds, internal single doors and more. For advice or more information on our doors, just get in touch.
Posted on: 25 September 2015