For the most part, modern doors are made from one of three materials: timber, uPVC plastic, or aluminium. Each of these materials offers its own unique strengths. For example, a high-quality oak door might offer a distinctive look and feel that'll complement a dining area, while the affordability and ease of maintenance offered by a uPVC door makes it a great choice for patios.
If you're in the market for a new set of doors, you'll need to consider factors including your budget, décor, and personal preferences. Aluminium doors are an attractive option that's well worth considering.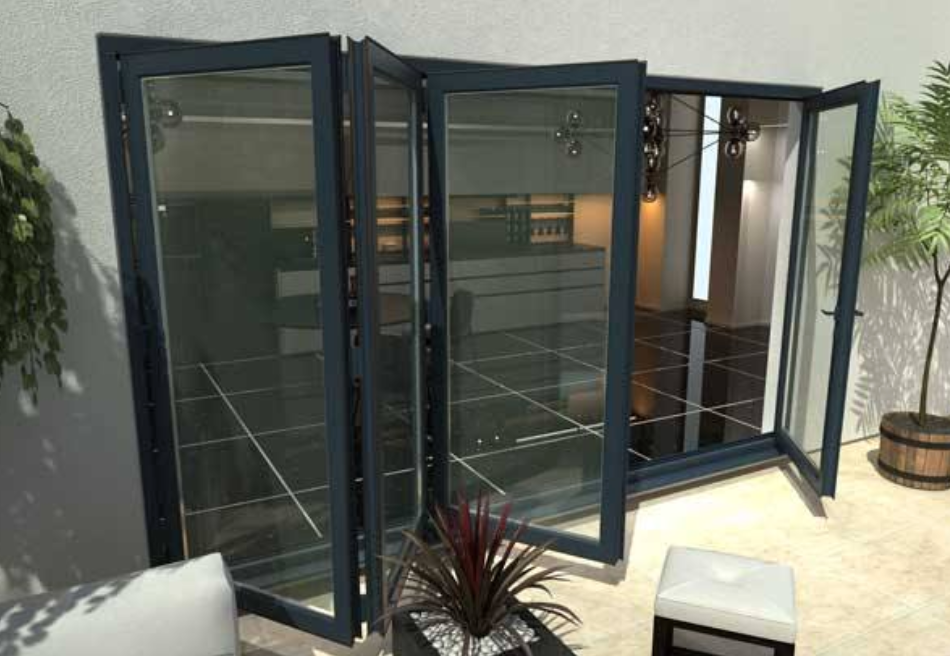 Revere Grey 3600MM Aluminium Bifold Doors
Benefits of Aluminium Doors
Aluminium Doors are Strong
Aluminium is an inherently strong material. This removes the need for extra-bulky supporting frames, and maximises how much glass can be incorporated into a single door, and how much light can enter the home.
Aluminium Doors are Easy to Maintain
While timber might need occasional re-finishing, aluminium comes powder-coated with an extra-tough finish that'll resist nicks and scratches and look fantastic for the lifetime of the door.
Aluminium Doors Offer Good Thermal Performance
Metals are excellent at transmitting heat, which means you might write off aluminium doors as an option if you're looking to cut your energy bills. However, aluminium door manufacturers have anticipated this and worked to resolve it by incorporating a layer of insulating material into the frame. What's more, because the frames are so thin, the majority of the door is formed of double (or triple) glazed glass, which helps keep out the cold.
Aluminium Doors are 100% Recyclable
While environmental impact might not be at the top of most homeowner's list of priorities, it is an area where aluminium excels. The material is 100% recyclable with no degradation, which means when your doors eventually do need replacing, they won't end up in landfill.
Disadvantages of Aluminium Doors
We've looked in detail at the many benefits of aluminium doors, but they do have some disadvantages, too.
Aluminium Doors are Difficult to Customise
As mentioned, aluminium doors are powder-coated at factory level, and can't be altered later on. That said, this is rarely an issue, as the choice of colours is considerable.
Aluminium Doors Don't Suit All Styles of Property
While aluminium can look stunning in flats and modern homes, it often makes a poor match for period buildings. But as we've said, there are plenty of colours and styles to choose from – so if you do own an older house, it's still worth considering the merits of aluminium doors.
Aluminium Doors are Expensive
There's a reason why not everyone has made the switch to aluminium: on a door-by-door basis, the material tends to be on the pricier side, particularly when compared with uPVC. If you're undecided between a timber door and an aluminium door then you should bear in mind that when it comes to maintenance, the cost of aluminium doors is close to nil.
Ready to shop for aluminium doors? Browse our range of Revere aluminium bi-fold doors in grey or white or our Exceed aluminium sliding doors in anthracite grey.
Posted on: 07 May 2019