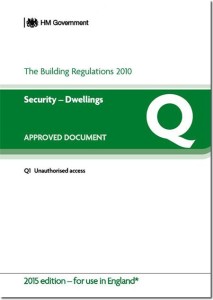 When ensuring homes and dwellings are safe and secure, many factors need to be considered. This is why building regulations exist: to maintain minimum standards within the industry.
Approved Document Q lays out a set of building regulations regarding the security of new residential dwellings. They are intended to minimise access potential for casual or opportunistic intruders.
The standards set out in this document came into force in October 2015, and apply to any new building that is going to be used as a residential dwelling. This includes buildings that have previously been used as something else and have been converted into residential properties, such as warehouses, pubs or barns.
Approved Document Q and Doors
The regulations do not only apply to doors. Approved Document Q covers anything that could provide an easy access point to a building, like low-level windows.
In this post, we'll explain how this approved document may affect you and what features you can expect from a door that meets the standards it enforces.
What Does Part Q Compliant Mean?
Approved Document Q refers to the security of homes and dwellings.
It is intended to make sure that all entry points to a property, i.e. windows and doors, provide a certain level of security against casual intruders.
Any door that is marketed as compliant with Approved Document Part Q will have been tested to ensure it meets the requirements of PAS 24. This means it was able to withstand a cylinder and hardware attack test in line with European Standards.
If a door or window is compliant with Approved Document Q, you can be certain it will be secure enough to meet these legal requirements.
How Do Part Q Building Regulations Affect Me?
Anyone who installs a door or window in a new residential property needs to make sure that the product in question meets these regulations.
Note however that Part Q building regulations only apply to new residential dwellings. You are under no legal obligation to meet these standards when replacing doors in older, pre-existing buildings.
That said, if you are converting an existing premise into a residential dwelling for the first time, the regulations will apply. Whether you're a large scale developer, a tradesperson, or simply converting a building independently, you are obliged to pick a door that is compliant with the standards set out in this document.
It is also important to note that these regulations cover any door or window that could provide an entrance point to a dwelling; not just the main access point or front door.
Any external door that can provide access to the building is covered. This includes garage doors. If the garage is connected to the property and has an internal access point to the house, the door installed within will need to be Part Q compliant.
For apartments or multi-occupancy buildings, this access point designation also covers any door intended to provide privacy or security to the occupant. If a door connects a communal area with a private one, then it must meet these standards.
You should also consider that this legislation applies to any easily accessible window, too. This includes all basement or ground floor windows.
This legislation may seem to apply directly to renovators and builders, but if you are purchasing a new residential property you should still enquire whether all applicable doors and windows meet this standard, since the answer may affect your insurance.
Though it is only a legal requirement for new residential properties, it is recommended that you seek to meet these standards when installing or replacing external doors. This way, you can be reassured that your door can withstand a casual attack.
What Are the Common Features of an Approved Document Q Door?
Approved Document Q sets rigid restrictions around the keeps, locks and wood that can be used in the construction of external doors for dwellings.
These features include:
A higher security multipoint lock that meets the standards PAS 24.
A viewing window in main entrance doors, or else access to a window that shows any potential entrants to the house.
A door chain or limiter.
A letter box that is no bigger than 260mmx40mm.
A flap across the letter box that prevents it being used to remove or retrieve keys.
Hinge bolts on any hinges accessible from outside the building.
Any glazing in or around the door must be a minimum class P1A.
Where Can I Buy Approved Document Q Doors?
Aspire Doors were proud to offer the first off-the-shelf Part Q compliant solid oak doors in the UK.
Both of our solid oak Icon Part Q doors, available in bi-fold or French styles, are Part Q compliant. View our Part Q compliant French doors here, and our Part Q compliant bi-fold doors here.
Oak is a naturally strong wood, providing a super secure frame for these doors, while the construction techniques we use maximise the stability of the base material.
All the panels in these doors are double-glazed, laminated, and fully compliant. This means that they will resist deliberate damage, and even if they shatter they should stand firm.
Finally, these doors feature PAS 24 compliant multi-point locks. These particular locks have hooked points for maximum security protection.
All Aspire doors are thermally efficient and EU compliant, as well.
We hope this post has given you a better understanding of Approved Document Q. Complying with this is a legal requirement in any new dwelling but you should consider it a moral one as well. Any house designed to meet these requirements will provide a level of security and safety that homeowners should receive as standard.
Here at Aspire Doors, we ensure that all our doors consider security as a standard feature, and you can trust our external doors will deliver peace of mind and protection, too.
Posted on: 22 January 2019