If you're thinking of investing in some internal doors that make a statement, there's two main options to consider: internal bifolding doors, or internal French doors. Both can make a dynamic and stylish addition to the home, but which one should you choose?  
You'd be forgiven for not 'keeping up' with the world of internal doors. These aren't a purchase you make often so you're probably not acutely aware of how these types of doors fare against each other in a comparison. 
Well as door experts, we do. We've provided bi fold and French doors to thousands and thousands of customers over the years, we know a thing or two about why people want them, what they like about them, and why they've chosen one over the other. 
So let's dig deeper and discuss how these door types compare, so you can go into your purchasing decision with confidence. 
Why Choose Internal Bi-Fold Doors?
The internal bifold can be used in many different ways to create a striking design feature in your home. 
Internal bi-fold doors are designed to concertina in on themselves. They will consist of at least two door panels that are attached together via a hinge. This concertina folding movement means that the doors don't expand outwards they tuck away against the wall.
These door panels are made mostly of glass too,s o natural light can flood freely through the home. You can arrange different configurations of internal bi-folds too. You can have them all collapse in one direction, have one panel collapse to one side, and the rest of the other. 
They can be used to create really massive doors that take up a minimal amount of space too. When used internally, they're really good for segmenting space. For example, you could replace a wall between your lounge and dining room with a large set of bifolding doors. Then you have convertible space. You can fold away the doors to create a much larger space for entertaining.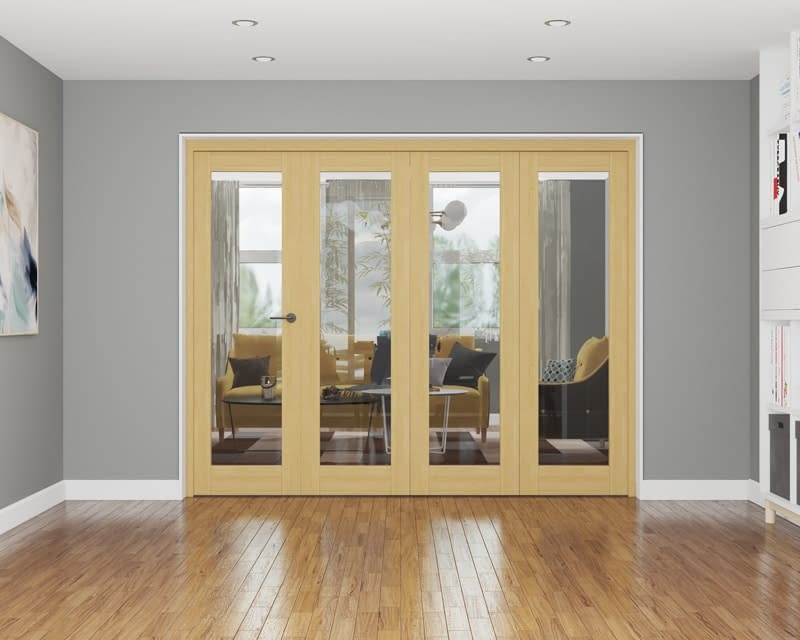 Why Choose Internal French Doors?
In the opposing corner are our internal French doors. By and large, these doors do much of the same things as an internal bi fold, but is slightly more limited in its functionality. This is compensated by generally being slightly cheaper than bifolds.
French doors began life as a must for European nobility centuries ago. This was in a world with no electricity, so these doors were designed as a way of letting light flow through the home. They are now a benchmark of interior style. Their balanced, symmetrical style brings satisfying grace into the home, with that premium touch of class. 
They're very simple too. Simple design, simple function and simple installation. They're generally smaller than internal bifolds so they often cost less to buy and install. This makes them a good choice for those on a tight budget. 
Even though they're smaller, you can purchase extras like transoms and sidelights that will make it look and feel bigger so you have that more expansive look.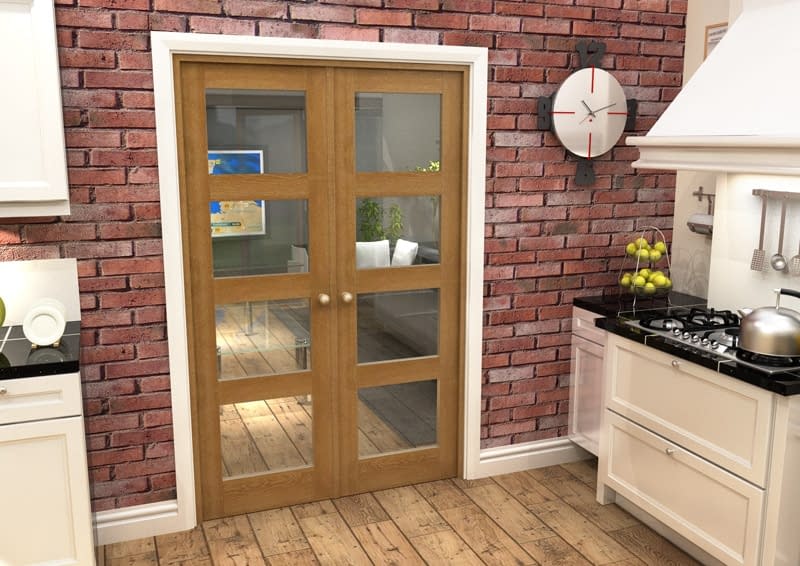 How to Choose Between Internal Bi-Folds and French Doors
So how do you choose between the two? You need to first identify what matters most to you out of the following:
If you have no room in your budget for internal bi folds, then that makes things a little easier. How much space do you have? Would your house benefit more from doors that collapse away for easy storage or do you have the room for them to open outwards? 
It's up to you to determine which one will go best in the space you're going to be putting them. The most important things being space and budget. 
Whichever one you decide to go with, we have extensive ranges of both in premium timber and exuberant materials. We have options to suit any budget and interior. With no hidden charges, fast delivery and responsibly sourced doors, save money when you buy online today at Aspire Doors!