External front doors are the first thing your friends, neighbours, and passersby will see when they look at your home. So why not make a good first impression?
The door that you choose for your front door not only should be aesthetically pleasing, but it also needs to be high-quality and secure.
There are many questions floating around about exterior front doors and windows. We thought it would be a good idea to put together a set of FAQs to give you the most sought after answers straight off the bat.
Should All My Door Knobs Match?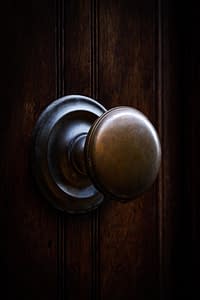 There are no hard and fast rules for matching doorknobs and handles. For aesthetics, we'd suggest matching all your internal doorknobs and matching all your external door handles, but you don't have to.
Suppose you're worried about your door's knob or handle clashing with your interior. In that case, we'd advise that you pick a universal design that you like and change the colour slightly, for example, you could use a silver handle for the exterior and a brush-finish silver for your interior. Or, a brass handle on the interior and a gold handle on the exterior. The possibilities are endless, and they all come down to your personal preference.
What Is the Best Material for an Exterior Front Door?
The best material to use for an external front door is composite. Composite is a manmade material that takes all the best qualities from wood, uPVC, and aluminium, to create one great external door. 
Timber, aluminium, and uPVC all have their pros and cons. It's advised that you research these pros and cons, and make an informed decision before choosing your external doors and windows.
We'd advise not to sacrifice quality over cost. Your exterior front door is vital for the safety of your family.
What Is the Best Exterior Front Door?
Similar to the question above, the best exterior door would have to be a composite door. A composite door can include reinforced glass, wood, aluminium, and insulating foam.
As an overall purchase, we'd advise that you go for the composite material, and use frosted reinforced glass to add character to your front door. A multi-point locking system is recommended for ultimate security. 
Take a look at our guide to Choosing the Best Locks for your Front Door.
How Do You Treat an Exterior Wood Door?
Treat an exterior wood door by applying a primer to it every 6-months. The timescales vary depending on the weather conditions where you live, but as a general rule, it should be done every 6-months or so.
Treating an exterior wooden door is vital for its longevity and strength. Leaving a wooden door untreated leaves it susceptible to damage from harsh weather conditions.
In cold weather, an untreated door will contract. If the door is wet, water will seep into cracks within the wood, and if the door contracts in the cold, the water becomes trapped. This results in the wood rotting. Water does a great deal of damage to wooden doors.
What Is the Best Exterior Door Knob?
A good exterior doorknob will come with a robust locking mechanism. This is vital for the protection of you and your family.
In terms of the outer protection, it's best to purchase an exterior door knob that is made from stainless steel, nickel, or chrome. These materials fare better when exposed to the elements.