Bi-fold doors are a popular choice for homeowners looking to maximise light and space in their home, but dressing them can sometimes pose a challenge.
A bi-fold door consists of several panels arranged in a row. Each is connected to the door next to it via a set of hinges, so that the entire arrangement folds in a concertina. This means that when opened, the doors won't intrude on the surrounding space. You'll find bi-fold doors on the exterior of properties, typically opening out onto the garden and patio, but you'll also find them in the interiors of properties, often bridging kitchens, dining rooms and lounges.
Bi-Fold Doors: Blinds or Curtains?
The complex folding nature of the bi-fold door can mean dressing them is a little trickier than dressing a standard window, but it is easier than you might think.
Dressing bi-fold doors with curtains
Curtains are a popular choice for bi-fold doors, but they pose a few problems, most of which concern space. If your door is very tall, there might not be enough space at the top of the door to accommodate a curtain pole, which automatically rules out the possibility of dressing your bi-fold doors with curtains.
What's more, since bi-fold doors often cover a vast expanse of wall, you'll need a lot of curtain to cover them, and large curtains can be very heavy. If you're installing curtains on bi-folds in a lounge, then you might opt for heavy, blackout-style curtains, which will emphasise the problem further.
There are two problems here.
Firstly, curtains over a certain weight tend to sag. Secondly, the heavier the curtains the more robust a curtain rail you're going to need to hold them in place. This can bump up costs significantly.
To help mitigate this problem you might choose to opt for a lighter fabric. Muslin or voile curtains are unobtrusive and can look spectacular, even if they aren't quite as effective at excluding light and sound, or retaining heat, as thicker curtains.
Dressing bi-fold doors with blinds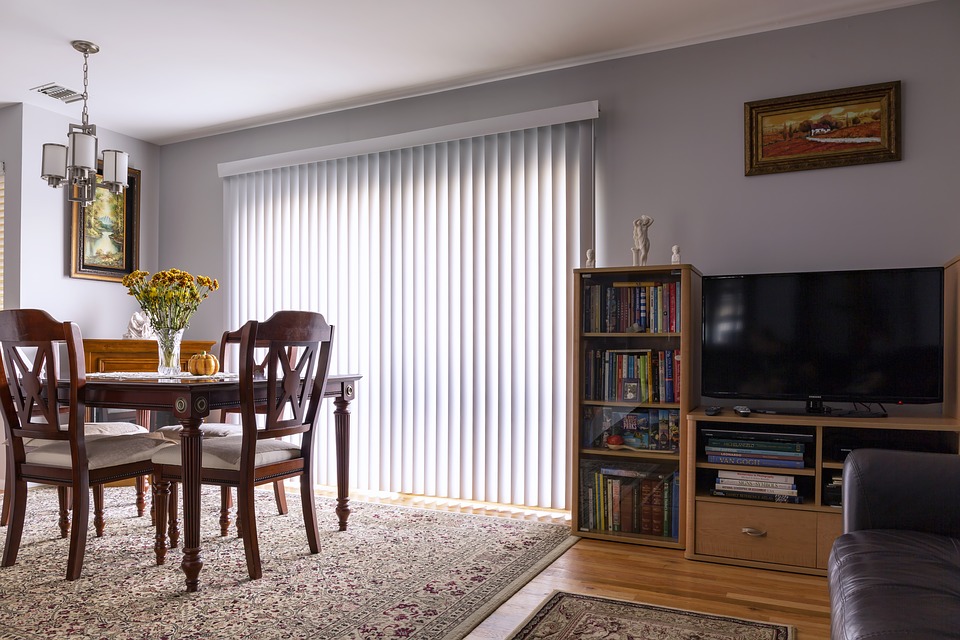 For the reasons listed above, blinds are often a better choice than curtains for dressing bi-fold doors, but how suitable are blinds for bi-fold doors? That depends on their type.
Roman blinds are designed to scoop up when not in use. This means you'll need to leave a little bit of space at the top of the door, much like curtain rails. Roman blinds tend to be quite heavy, which could cause a problem when lifting them to the top of the door. You can overcome this issue however by fitting a mechanised, electric retraction device – but needless to say this will add considerably to the cost.
Roller blinds suffer from much the same problem, albeit to a lesser degree; they collapse into a cylinder which takes up a little bit of room.
They're also much lighter and often elasticated, which makes it really easy to retract them. Venetian blinds offer similar benefits, as well as a unique aesthetic that's proven consistently popular over the years.
Also worth considering are vertical panel blinds. Vertical blinds function more-or-less like curtains, opening from one or both sides. Their only downside is their appearance. They can look distinctly "office-like", which might not be desirable, especially when contrasted with a homely interior.
A problem both curtains and blinds share when fitted to bi-fold doors is what happens when the doors fold.
As they fold, they expand, which may intersect the dressing. This means you'll need to draw a set of curtains or vertical blinds entirely before you're able to open the door.
Bi-fold doors with built-in blinds solve this problem. They're slightly more expensive, more difficult to personalise, and there are fewer of them to choose from – but they offer a clean, elegant solution that'll suit many interiors.
So What Should You Choose for Your Bi-Fold Doors: Curtains or Blinds?
There is no one ideal solution so before you decide, consider the following factors…
Cost
The size of your bi-fold doors will affect how much it costs to dress them – but this is true of both curtains and blinds. Of the available options, roman blinds tend to be the cheapest, but to get the best from them, you'll need to equip them with an expensive motor. If you're replacing one set of curtains with another, then sticking with what you already have will minimise the costs associated with installing new rails and other hardware.
Privacy
Few of us enjoy living in in a goldfish bowl at night-time, so the main purpose of window dressing – besides decoration – is privacy.
Both curtains and blinds should perform equally here, but if you want to be extra sure no-can see what you're up to once the sun goes down, a thick set of blackout curtains are probably your best option.
Light
One of the best things about bi-folding doors is how much light they let into the home. A heavy set of curtains, however, will reduce this. Even when they're fully open, they'll still be covering some of the window, and limiting how much light the doors let in.
Practicality
The amount of space at the top of your doors can make-or-break your decision. If there isn't enough space to fit a curtain rail, you'll need to consider blinds instead.
Posted on: 31 May 2018