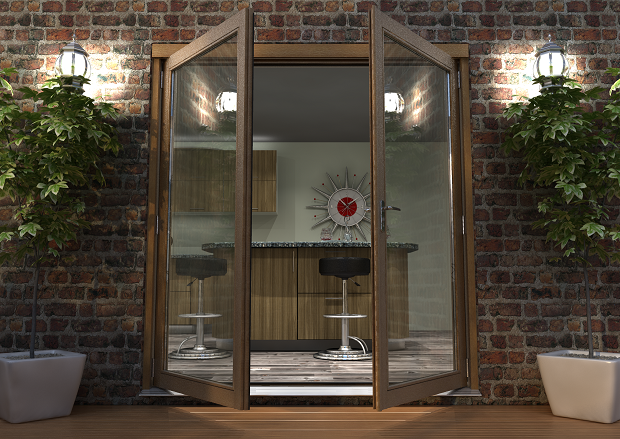 So, you've decided it's time to remodel your home. You spend some time thinking about wallpaper, carpets, lighting and furniture – but what about your doors? Believe it or not, the style of door that you choose for each room can make a huge difference – and not just in terms of how the room looks. The style of door you choose can affect the amount of usable space you have, how much natural light enters your home, its temperature, and even noise transference.
Here's a quick look at the types of doors that are available, and how they affect your home.
French Doors
French folding doors are stylish and iconic. They create large openings and allow lots of natural light into your home. A French door as a divider; between your living room and kitchen, for example, can allow you to enjoy all the benefits of open plan living, with the option to close the doors for privacy when needed.
Are French Doors Right for You?
Internal French doors make great room dividers, and since there are various different leaf sizes, you can easily find the perfect style to suit your home. Openings of 6ft – 8ft are most common, but other sizes are available. In short, a French door will suit almost any home.
External French doors are also a popular choice with homeowners. They make your home feel more spacious and enable you to enjoy a clearer view of your garden. That said, due to security and insulation, it's vital you have external French doors installed by a professional.
Bifolding Doors
Bifolding doors share similarities to French doors, except that they fold by collapsing into themselves rather than swinging open.
Bifolding doors can be top-hung or bottom-hung- which of these they will be will generally depend on the material the doors are made from, and whether the doors are external bifolds or internal bifolds.
That said, when fitting internal bifolds many homeowners prefer them to be top-hung because it negates the need for a break in the flooring. This makes top-hung bifold doors ideal for people who want to enjoy the benefits of open plan living, with a door there when they need it.
Are Bifolding Doors Right for You?
If French doors are going to take up too much space when open, then bifolding doors are a great option, both internally and externally. Just like French doors, they come in a range of materials and sizes, and you can get stylish timber bifolding doors that offer excellent thermal performance while being sturdy and secure. Thermal ratings of 1.8w/m2K are available.
Sliding Patio Doors
Sliding patio doors got a lot of bad press a few years ago for being a security liability, but this is unfair. While it is true that poorly fitted, low quality doors can be relatively insecure and cause draughts, high quality sliding doors that are professionally installed are quite safe. The days of doors that could be easily popped off their runners are long gone.
Modern patio doors have secure runners, strong frames, and highly insulating double glazing that keeps heat out in the summer, and in during the winter. The doors slide freely, opening to provide a large, open space. There is some burden of maintenance in that the runners must be kept clean and oiled, and the top and bottom runners mean that there will be a small lip or break in your tile or carpeting. If you want patio style doors to your conservatory, and don't want a break in the carpeting, sliding patio doors might not be for you. For most people, however, it is not an issue.
Are Sliding Patio Doors Right for You?
Sliding patio doors have declined in popularity due to the fact that only 50% of the door can open, meaning you'll have a permanent obstruction that cannot be moved if you need to open the doors fully for any reason – such as moving furniture in or out.
That said, sliding doors can't be beaten when it comes to letting light flood the home, while modern sliding doors look sleek and are secure. Sliding doors are ideal for those looking for a light, bright and stylish property.
Single Doors
Sometimes, you don't want an 8ft wide door; you just want a standard single door to fit a normal doorway. From UPVC doors with large glass windows, to steel-cored doors for maximum security, or heavy wood, there's no end of choice when it comes to single doors.
Choosing an External Single Door
When choosing a standard external door, your main concerns will likely be security (a steel core door with a good lock system, fitted to a sound frame, can be incredibly secure), insulation (check the thermal rating on the door), and weather-proofing.
Treated wooden doors can be secure and warm but they may need to be refinished frequently, and can be high-maintenance if you live in an area with frequent bad weather. If this is the case, you may prefer a different finish. UPVC doors tend to be hardwearing and long lasting, but they sometimes discolour with age, and this discolouration is harder to fix than cracked or peeling paint.
Choosing an Internal Single Door
When it comes to internal doors, you don't really need to worry about insulation or security, but there are other things you might want to consider.
Doors with large glass panels may not be suitable for homes with young children. Nor would such a door be suitable if you have a noisy family and you want to enjoy peace and quiet in the living room. Remember, your doors act as an insulator, a sound barrier, and a room divider. Think about all of that when you are planning your next purchase.
So What Type of Door Should You Choose?
It's easy to dismiss a door as just being an entry and exit, but the right choice of door can make a big difference to your home's atmosphere and the feel of each room. Before you start renovating your property, stop and think about what you want to achieve with each room. This will help you decide what sort of doors to buy. Consider playing with some room design software, and thinking about things like the direction the doors open in, or the method for opening the doors.
Posted on: 01 October 2015