A door is not just an entrance or exit. It can be the defining element that separates one home from another. It provides a barrier of protection from the outside world and presents us with unique design possibilities.
With the way, we use our doors in homes constantly changing and styles constantly evolving, it can be hard to keep up with the latest door trends.
With 2021 coming to a close, now is the perfect time to look ahead and see what we can expect for door décor in 2022.
Door Trends 2022: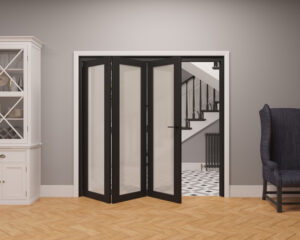 Bifold Doors
Bifold doors are a great choice for homeowners who want to create an open space or room layout.
They can help connect spaces without sacrificing privacy between rooms. Bifold doors also make it easy to decorate because they fold flat against the wall. They are perfect if you have limited floor space in your home.
This door trend has surged in popularity in 2020 and we expect it to keep going strong right into 2022.
Period Doors
The trend of incorporating period styles with modern elements to create a chic look is something we have seen a lot of in recent years.
The rustic feel of period doors makes them great for farmhouses, cottages or homes that want to add a traditional look.
It isn't just period properties where we have seen this either. Many modern homes are starting to incorporate period features to create a greater sense of character.
We expect this style of door will remain popular as ever in 2022 with homeowners taking styles from the past and updating them today.
Glass Doors
Modern interior design is all about creating an environment where natural light takes over. By maximising the amount of light your home gets, you can create a space that feels more spacious and inviting. Glass doors are the perfect way to incorporate an open living plan whilst still creating a division between rooms.
More and more homeowners are utilising the benefits glass has to offer and we don't see that slowing down with glass doors.
Wide front doors
A wide front door can make your house look like it has more space. There is an advantage to having these types of doors because they open up the interior and let light flood in, which gives homes a beautiful appearance.
Whilst better suited for bigger properties, homeowners are going bigger and wider with their front doors, opting for something that's more spacious.
Popular door colours 2022:
The colour we choose for our front door has a huge impact on the appearance and overall feel of our homes. Did you know that the colour of your front door can say a lot about you?
When it comes to choosing door colours in 2022, homeowners are going back to the classics. Here is a list of popular paint colours for doors next year:
Pastels
Pastel colours like soft blue make guests feel welcome. This choice is perfect for modernizing your front door without having to replace anything. It's also very popular in coastal areas because of its serene vibe, which pairs well with relaxing sounds such as crashing waves.
Red Doors
This is a great option for those that are looking to have fun with their front door. Red doors can create an immediate sense of energy, friendliness and warmth which is why they're very popular in homes where you want your guests to feel welcome right away. Red doors also make a striking feature on lighter coloured houses.
Dark Hues
It is hard to go wrong with a darker front door. Giving a sense of elegance and boldness, a darker coloured front door will make a statement in a more subtle way. Black doors have always been a popular choice for their timeless appearance so you can be sure that they will stay in fashion for years to come.
Yellow Doors
The bright and cheery yellow is a popular choice for those who want to make their home feel welcoming. Whether you want to have a bit of fun with colour or create a more welcoming environment, a yellow front door is an excellent choice.
Posted on: 16 December 2021