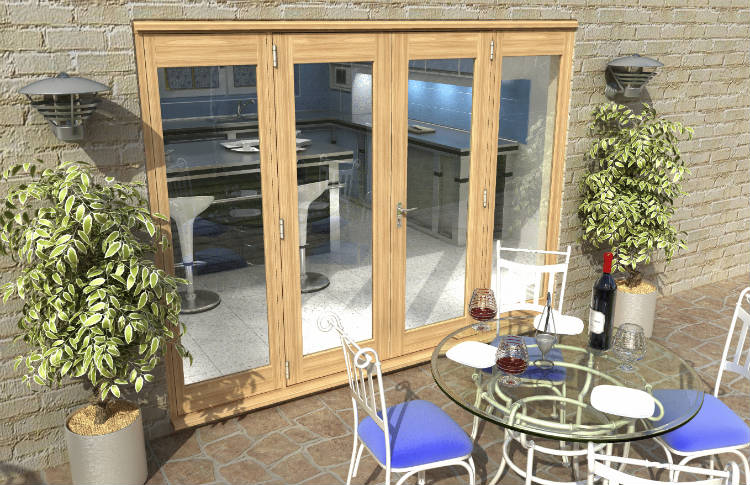 Learning how to maintain wooden doors is a great way to ensure your exterior doors last many years and add to the aesthetic appeal of your home. If you are thinking of selling your property in the near future, then it is a good idea to look after your exterior wooden doors. They're the first thing prospective buyers will see so they are an important part of your home's kerb appeal. A well-maintained outside wooden door will create a great first impression for people who come to view the house. Exterior wood treatment is an easy way to add a lot of value to your property.
In this blog, we'll teach you how to maintain wooden doors so that your home has that instant wow factor.
Common Problems with Exterior Wooden Doors
The things that do the most damage to your property are moisture, intense sunlight, and wind/dirt damage. These will all degrade the finish on the door, and if you don't repair the finish then the underlying wood could also get damaged.
Exterior wooden doors that are not protected by a porch or even a small overhang will suffer from weather damage more quickly than doors that are partly covered. This means that you should inspect them more regularly. You are looking for the following:
Cracks in the finish
Peeling paint
Bubbles
Raised wood grain
Dark streaks appearing in the finish
If you identify any of those problems, then you should take measures to repair the finish as quickly as possible. The sooner you treat the problem, the longer your door will last. In this blog we'll look at the best treatment for external wooden doors, so you can keep them in great shape for longer.
Preparing The Door For A New Finish
Before you can do any repair work, the first thing that you need to do is prepare the door.
The first step is to thoroughly clean the door. Start by removing any visible dirt and dust, and perform a detailed inspection. If there are just a handful of issues on the door, then there is no need to worry about repainting the whole door. Small chips and wear spots can be treated while the door is in place, and there may be no need to repaint the whole door.
However, if the finish is severely damaged then you may need to perform a full finish restoration. This is something that you should remove the door from the frame before you attempt. To do this, carefully tap out the hinge pins, and then move the door. Place it on a flat, level surface and remove all of the hardware (including locksets, doorknob or handle, and hinges). Place these in a safe place while you work on the door. Note that removing a solid wooden door is really a two-person job. These doors can be far heavier than you might expect, so put safety first when you try to move them.
Be sure to strip all six sides of the door to ensure that there's a nice even finish. After you have removed the existing finish, sand the door using 120 or 150 grit sandpaper, taking care to sand against the grain.
Read our full how to paint a wood guide here.
Maintain Wooden Doors With A New Paint Finish
Once you have finished preparing the wooden door, give it another clean to remove any leftover dust and residue from the sanding. Brush away the dust, then wipe the door clean using a cloth that has been dampened with a mineral spirit solution.
Let the door completely dry before you start painting it.
Apply a suitable primer to all sides of the door before you add a new paint finish. Make sure that you let the primer dry completely before adding a finish. If the door is made of very porous wood you may need to add more than one coat of primer.
Once the primer is dry, you can add the top coat – make sure that the paint you have selected is suitable for use on outdoor wood, and that the primer and topcoat are compatible with each other.
It is good to know that different colours will react differently to the outside. For example, dark colours absorb heat so they're more likely to degrade quickly. This is especially true in warmer climates. So if your door is going to get a lot of sunlight, you should consider choosing a lighter colour as this will make it last longer.
You may want to add multiple coats and use polyurethane that includes a UV inhibitor because this will help to protect the paint from sun damage. Make sure that the paint dries out completely before you replace the hardware and re-hang the door.
Varnish vs Paint For Your External Wooden Door
Some people prefer to use stain and varnish as a wood treatment instead of paint for their exterior wood doors. This can certainly be an option if you pick stains and varnishes that are suitable for use outdoors. It is important that you prepare the door properly if you are going to do this, however, because if the door is damp or there are any air gaps or bubbles in the finish then it will degrade very quickly.
How do you Varnish an External Wooden Door?
If you're confident that you have found an exterior wood varnish that will be durable enough for your door then the process is fairly similar to painting.
It's important to note that you can only varnish unfinished doors, like the Westminister Glazed Oak door. If you have a primed door, you can't varnish over white primer and if your door is finished, it will already have its own sealing so your varnish won't absorb.
First, give the door a good wash to remove any dust and residue. This will also help you see any areas that could benefit from light sanding to create a more even finish.
You can then apply the varnish with a brush. Use thin layers with varnish to avoid a streaky uneven finish. If your door has any detailing, be very careful in these areas as varnish can build-up. You can dab them with a brush to remove excess varnish and brush it out for an even finish.
Protecting the Door
Once you have refinished the door, there are a few things that you can do to make sure that the exterior wood finish lasts as long as possible.
One of the best things you can do for your exterior wood door is to be proactive about keeping your doors and windows clean.
Wipe them down whenever there are signs of dirt or water stains. Be sure to clear up leaves and other seasonal debris when they start to accumulate in your garden. If you notice that your door is starting to stick or jam, make a point of trying to find out why as quickly as possible – it could be a simple slipped hinge, or it could be a sign of a more serious problem that needs to be fixed.
If you maintain wooden doors, and you do not live in a place near the sea (wind and saltwater can ruin wood), or in an arid area with extreme weather, then you can expect the door to last 30 years – even more if it is protected by a porch or a patio. The more stress your door is exposed to, the shorter the lifespan will be. Composite and UPVC doors can be quite hardwearing, while doors that are made of steel might only last for a decade, or less. The more proactive you are about keeping the door clean and maintaining the finish, the better. Once decay sets in at all, you will find that the life span of the door is greatly reduced.
View our full range of external doors here.
If you have any more questions, our friendly team is always happy to talk! To find out the best way to get in touch, visit our contact page.
Posted on: 08 August 2015