Bi-fold and sliding doors are a great addition to your home. They open up your space by creating a much larger feel to your room, bring in an abundance of natural light, and provide your room with a statement piece.
Aside from what they do for your home, bi-fold doors and sliding doors are incredibly functional. Both types of doors have similar properties and pros and cons, but they operate slightly differently. So, which one do you choose?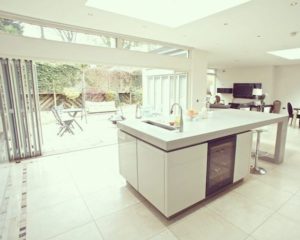 To start with, bifold doors open and close in a concertina fashion. They run on a track and the panes of glass fold back on each other when opening them. Bifolding doors are beautiful to look at and come in a range of different materials, colours, and sizes. The only downside is that you need to ensure that you have enough space in your room for the bifold doors to open effectively. As bifold doors concertina, they'll stack together at the end of the track.
Sliding doors open and close by one pane of glass sliding behind the fixed pane. Like a bi-fold door, sliding doors come in a range of materials such as timber, uPVC, and aluminium, colours, and sizes. Sliding doors also run on a track to make opening and closing them a breeze.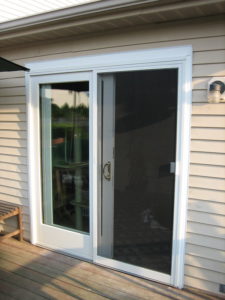 The difference between sliding doors and bi-fold doors is that the stacking of the panes is minimal with a sliding door. However, bi-fold doors out trump sliding doors as you have more options with how you want the door to open. You could have one pane open – similar to a French door – one door folded all the way back to create a door-sized opening, the bi-fold doors opened halfway to create a much larger gap, or the bi-fold doors open fully. With a sliding door, you have fewer options on where you want the glass to sit when you've opened it.
Bi-fold and sliding doors may be predominately glass, but they're incredibly robust. Using high-quality materials and double or triple glazed glass gives the owner a great sense of security. However, their safety features don't stop there. In this article, we're going to take a look at the different types of locks that you can use to make your bifold or sliding doors indestructible.
How do Euro Cylinder Locks Work?
Euro cylinder is a lock that sits inside a lock case or lock body. The lock case is secured to the door by a screw.
When putting your key into the Euro cylinder, the cam inside will turn. This then allows you to lock or unlock your door.
A Euro cylinder door lock comes with an anti-snap mechanism. This mechanism prevents the cylinder from breaking and the key becoming stuck. Although the anti-snap mechanism doesn't completely stop the key from breaking. The idea of this security feature is that the door lock can break, but the majority of the lock will stay intact. This means that if the lock happened to break, your door will remain locked and secure until it's fixed.
What Type of Doors are Euro Cylinders For?
Euro cylinders can be used for the following types of doors:
A front door lock on a home.

An external door lock on your home such as your back door.
An internal door lock. Although it's uncommon to find this type of lock on your internal door, it can be used as one. It can also be used on internal doors in commercial properties, too.
Types of Euro Cylinder Locks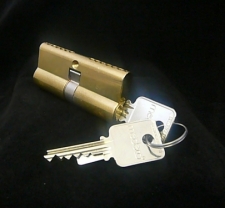 There are 3 main types of cylinder locks; single cylinder, double cylinder, and double cylinder with thumb turn.
A single cylinder is a lock that can only be locked and unlocked from one side of the door.
A double cylinder lock is a lock that can be locked and unlocked from both sides of the door.
A double lock with thumb turn is a lock that can be locked and unlocked from one side of the door and a thumb turn on the other side.
What is a Standard Differ Euro Cylinder?
A standard differ Euro cylinder is the same as any Euro cylinder lock in the way that it operates. However, the difference between this type of lock and a standard Euro cylinder lock is the key profile within the cylinder.
If you have multiple standard differ Euro cylinders in your home, you'll notice that you have to have separate keys for each one. A key for one differ Euro cylinder won't work in another. This is a great lock for security purposes.
What is an All Differ Euro Cylinder?
An all differ Euro cylinder is just another word for the standard differ Euro cylinder. When searching for this type of cylinder, it may be advertised as a standard differ or an all differ.
Are Euro Cylinder Locks Secure?
Euro cylinder locks aren't all secure. It all depends on the type of Euro cylinder lock that you purchase, whether it's been installed correctly or not, and the type of door that you've installed it on.
Security door locks all have their pros and cons. Specifically the issues with lock snapping. This issue is still evident with Euro cylinder locks however there are some types of locks that prevent your lock from becoming completely broken. Some Euro cylinder locks have a mechanism within them that allows the cylinder to become broken, but it keeps intact all the vital parts of the lock so that the door is still secure.
Cheap cylinder locks can be effective, however, they're usually "you get what you pay for". Security is a high priority for many homeowners and the price of a lock shouldn't be skimped on. A security lock should be secure. But you also need to consider the type of door that you install, too.
Euro cylinder have a variety of different types of locks to suit your needs, budget, and door type:
Anti-snap Euro cylinder lock

Anti-bump cylinder lock

High security cylinder lock
An anti-snap cylinder lock and bump-proof locks contain a mechanism within the cylinder that prevents burglars from snapping the lock and handle off your door. It's proven to be very effective.
Image credit 1, image credit 2, image credit 3, image credit 4
Posted on: 24 March 2020